Waddell, Virginia send CWS to decisive Game 3
Cavaliers lefty outduels Vanderbilt's Beede in first career complete game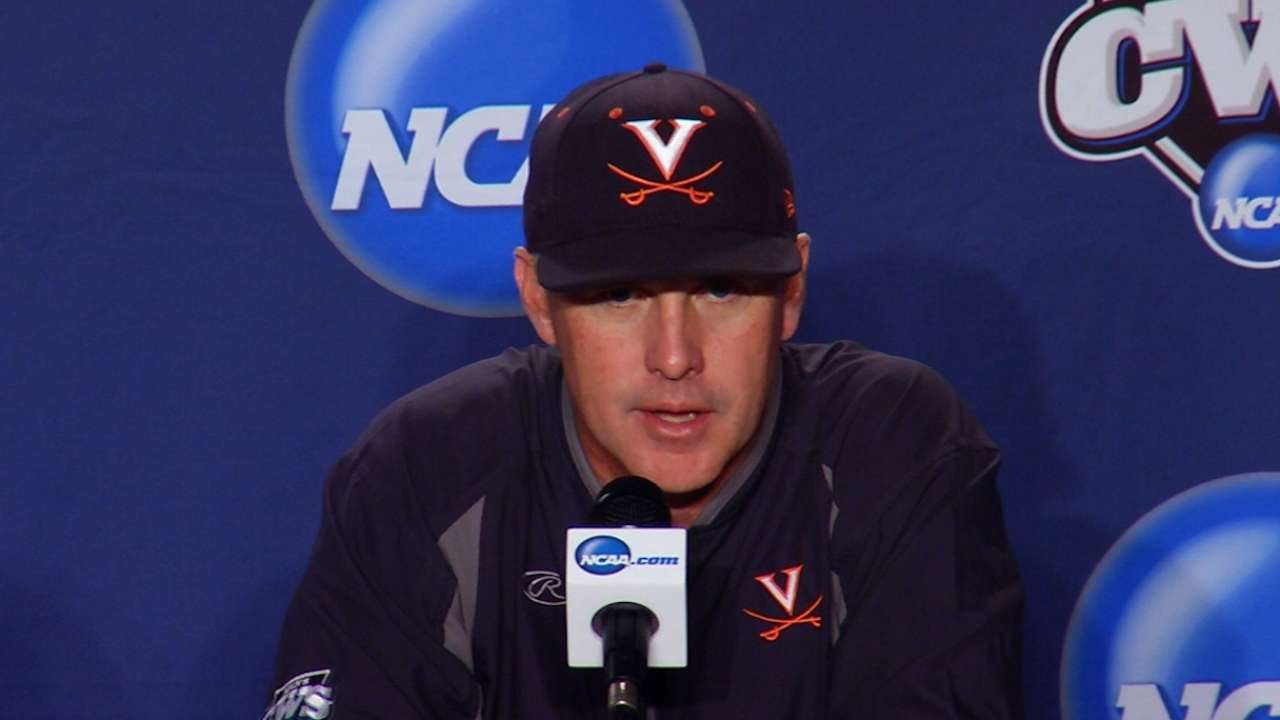 OMAHA, Neb. -- Of the six starting pitchers who will take the mound in the College World Series championship series, Virginia sophomore left-hander Brandon Waddell probably will be drafted the lowest among them. Yet the other five will be hard-pressed to top his performance Tuesday night.
A day after likely 2015 first-rounders Walker Buehler and Nathan Kirby couldn't get past the third inning in a 9-8 Vanderbilt win, Waddell outdueled two-time first-round pick Tyler Beede to keep the Cavaliers' season alive. Waddell threw the first nine-inning complete game of his life, scattering five hits and threw walks in a 7-2 victory.
Virginia (53-15) and Vanderbilt (50-21) will meet one more time Wednesday at 8 p.m. ET, with the victor claiming the first CWS championship in school history.
"That was a little bit different of a starting pitching performance tonight," Cavaliers coach Brian O'Connor said. "Brandon Waddell was just terrific. It seemed like after the first four innings he really settled in, did a terrific job of mixing all of his pitches, kind of keeping their hitters off balance."
The outing continued a strong postseason run for Waddell, who won the decisive game of the Charlottesville Regional against Arkansas and an elimination game in the Super Regionals against Maryland. In his first CWS start a week ago, he allowed two runs (one earned) in seven innings of an eventual 15-inning defeat of Texas Christian. He sports a 1.59 ERA in four NCAA tournament starts.
Against Vanderbilt, Waddell worked with his customary 89-91 mph fastball and spotted it to both sides of the plate. He wasn't overpowering, but he threw strikes with his slider and changeup and mixed all three of his pitches well.
"I felt like in the beginning, I was trying to do a little bit too much," said Wardell, who projects as a top-five-rounds pick in the 2015 Draft. "Trying to put a little bit too much behind the ball and sort of spraying here and there, got in trouble with a couple of walks. But I feel like I settled in later in the game, had most of the pitches working, could put them where I needed to."
Waddell gave up single runs in the second and fourth, then slammed the door on Vanderbilt after junior center fielder John Norwood's RBI double in the latter frame. Waddell struck out sophomore right fielder Rhett Wiseman, picked Norwood off second base and fanned junior DH Chris Harvey, then recorded 14 outs in the next 14 batters.
"Waddell threw a heck of a game," Commodores coach Tim Corbin said. "He basically suffocated our offense for most of the night, particularly as the game went on."
For the second straight night, Virginia's deep lineup flexed its muscle. The Cavaliers pounded out 15 hits in Monday's defeat and 13 more Tuesday, notable production in a CWS where the eight teams have batted a collective .221.
Beede maintained a 91-95 fastball and threw some deceptive changeups in 6 2/3 innings, but the 14th overall pick by the Giants earlier this month couldn't hold 1-0 and 2-1 leads. Junior third baseman Kenny Towns led the Virginia attack with three hits, including a single in the midst of a three-run rally in the sixth and a two-run single in the seventh that drove Beede from the game.
"I thought throughout the game we were getting pretty good swings at him," Towns said. "Everyone was seeing the ball pretty well. As the game was going on, he was starting to leave some pitches up and he gave us some opportunities."
Neither coach would fully commit to a Wednesday starter, but did name sophomore right-handers as their probable pitchers. The Cavaliers expect to hand the ball to Josh Sborz, who limited Mississippi to one unearned run in five innings in a semifinal win Saturday and should be an early-round selection in the 2015 Draft. The Commodores likely will use projected 2015 first-rounder Carson Fulmer, who has a 3.72 ERA in two CWS starts.
"I just really couldn't be more proud of our club facing elimination, facing the end of the season," O'Connor said. "You have somebody like Waddell step up and pitch like that, and our offensive ballclub just would not be denied. Now it all comes down to [Wednesday] night."
Monday's result
Vanderbilt 9, Virginia 8
Tuesday's result
Virginia 7, Vanderbilt 2
Wednesday's game
Vanderbilt vs. Virginia, 8 p.m. ET
Jim Callis is a reporter for MLB.com and writes a blog, Callis' Corner. Follow @jimcallisMLB on Twitter. This story was not subject to the approval of Major League Baseball or its clubs.