Fast start doesn't help Blue Jays best Yanks in finale
Reyes hits leadoff homer, but Hutchison has rough patch in defeat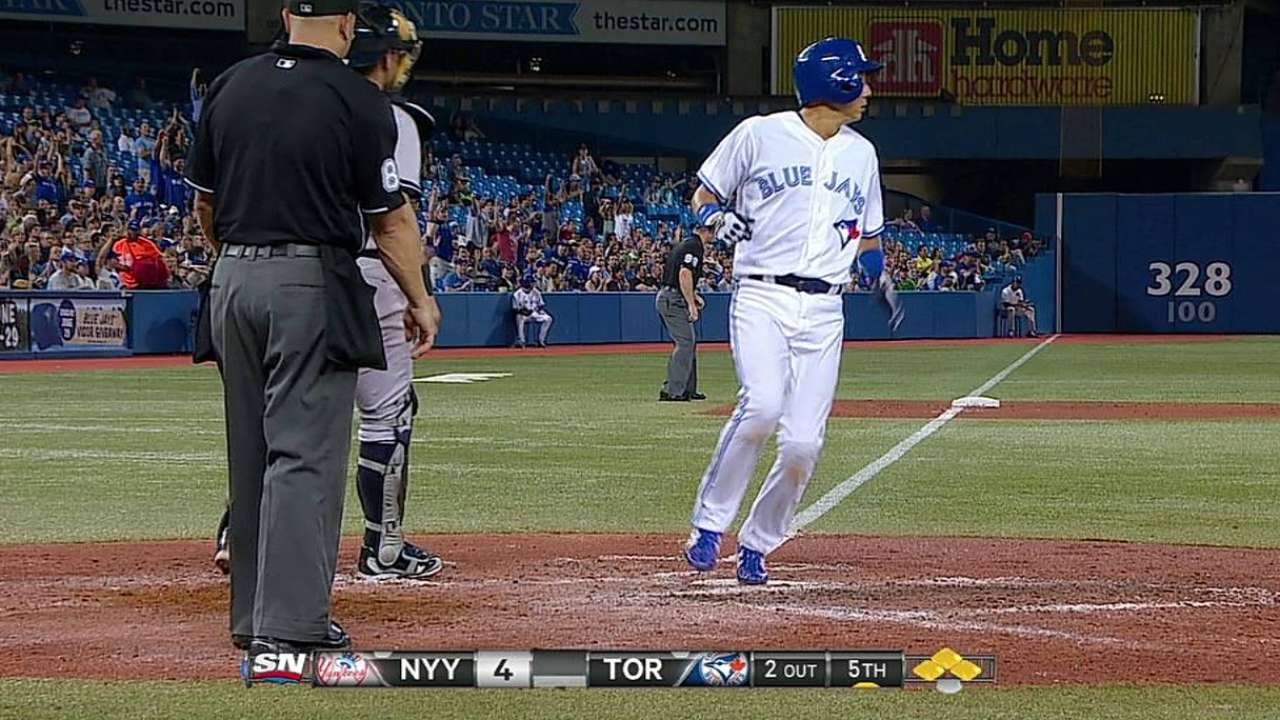 TORONTO -- Drew Hutchison is approximately halfway through what's expected to become his first full season in the Major Leagues, and while there have been some ups and downs along the way, overall it has been a success.
Toronto's right-hander entered Spring Training with the goal of winning a job in the starting rotation. Not only was he able to do that, but he also went on to become one of the club's most reliable pitchers through the early stages of the 2014 campaign.
The one noticeable blemish for Hutchison has been his performance at home, and those struggles at least partially continued on Wednesday night vs. the Yankees as he allowed four runs in the fourth inning en route to a 5-3 loss.
Jose Reyes hit a leadoff homer, and Melky Cabrera plated two runs with a single in the fifth, but the Blue Jays couldn't get anything more against Hiroki Kuroda and the Yankees' bullpen.
Blue Jays manager John Gibbons was pleased with his young righty's performance.
"Overall, I think he has been pretty good, actually very good," Gibbons said. "He's still a young kid, he's going to go through his growing pains, but he has pitched some big, big ballgames for us.
"He's learning along the way, still very inexperienced, a great competitor. Tonight's a great example, one inning got away, but he finished strong, and that's what we want to see. He was much better at home than he has been. It all came down to that one inning."
The high point of Hutchison's first three months was when he outpitched Yu Darvish in a shutout over the Rangers on May 16. Then there was the time he outdueled Anibal Sanchez with seven scoreless innings vs. Detroit on June 3. He also has an overall career ERA of 3.53 vs. the AL East to hang his hat on.
The negatives include his bizarre splits. He started Wednesday night with an 8.72 ERA at Rogers Centre compared to a 2.23 mark on the road, and while those numbers may eventually even out as the season progresses, it didn't quite happen because of one inning vs. the Yankees.
All of the damage came in the fourth, when New York sent eight batters to the plate. The dreaded leadoff walk came back to haunt Hutchison when No. 9 hitter Francisco Cervelli hit an RBI double to center field. Jacoby Ellsbury followed later with an RBI single, and the big blow came on a two-run homer by Mark Teixeira for his 14th of the season.
Hutchison settled in after that, and his best inning came in the sixth, when he struck out the side. The second-year hurler allowed the four runs on seven hits and two walks while striking out six over his six innings of work. His ERA at home dropped to 8.13, but he has now allowed 35 hits, 25 earned runs, eight homers and 15 walks over 27 2/3 innings at Rogers Centre.
"That's the farthest thing away from my mind," Hutchison said of the home numbers. "I'm disappointed I wasn't able to deliver a better performance for us and not give us a better chance to win.
"I felt like I got stronger as the game went on. It was disappointing to have that big inning, especially to allow three runs with two outs and not being able to make that big pitch. It ended up being the difference in the game."
The 4-3 deficit when Hutchison departed was far from insurmountable, but a Yankees insurance run following a pair of walks and a hit batter by Rob Rasmussen in the seventh certainly didn't help the cause.
Toronto's best opportunity to get back into the game came just after Kuroda departed in the seventh inning. Reyes, who was a triple shy of the cycle, singled off right-hander Shawn Kelley to put the tying run on base.
A double steal then put the Blue Jays within striking distance as Adam Lind came to the plate vs. left-hander Matt Thornton. Lind rarely faces lefties and likely would have been pinch-hit for under normal circumstances, but utility man Steve Tolleson was unavailable to play Wednesday night because he has been experiencing some problems with his vision.
Tolleson is scheduled to visit a cornea specialist on Thursday but couldn't come into the game, while the other option off the bench, Brad Glenn, had yet to make his Major League debut and doesn't typically play a lot of first base. That prompted Gibbons to stick with Lind, who weakly grounded out to end the threat.
"He's not a first baseman, I guess he can go play over there, I guess I could, too," Gibbons said of Glenn. "We couldn't put Tolleson over there, because the last couple of days, something has happened with his eyes. ... It kind of hamstrung us a little bit, but if Lindy's in the game, the way the team's set up right now, unless he's DHing, he's going to have to hit against some lefties."
Gregor Chisholm is a reporter for MLB.com. Read his blog, North of the Border, and follow him on Twitter @gregorMLB. This story was not subject to the approval of Major League Baseball or its clubs.