Hahn subdues Giants for his third straight win
Rookie fans eight in six innings; Amarista collects three RBIs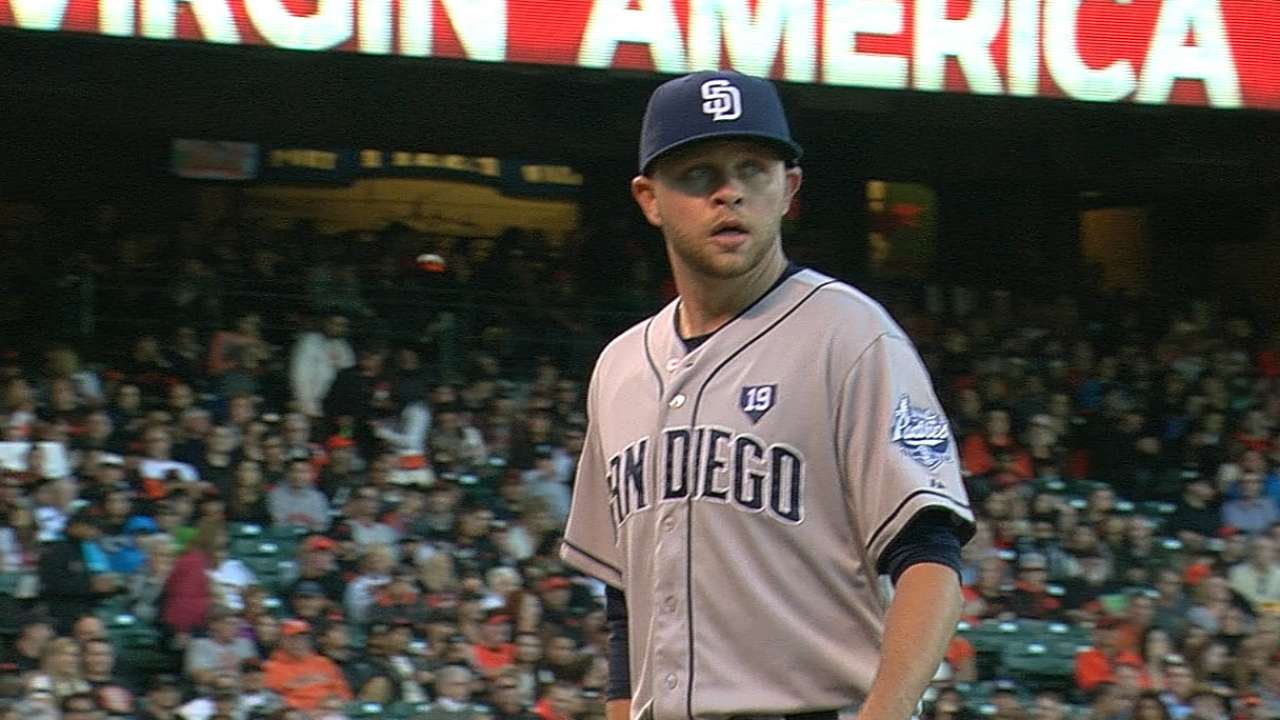 SAN FRANCISCO -- There's a certain sparkle in Bud Black's eyes and a smile on his face when the Padres' manager talks about Jesse Hahn's curveball.
"That's a good old-fashioned curveball, 12-and-6," Black said. "You don't see a lot of those these days. But Jesse's got a good feel for it."
The Giants discovered as much on Tuesday night, as Hahn, the 24-year-old rookie making his fourth big league start, used it liberally over his six-inning stint as the Padres pinned a 7-2 loss on the Giants before a sold-out crowd of 41,546 at AT&T Park.
Hahn (3-1) allowed two runs and set a career-high with eight strikeouts, lowering his ERA to 0.95 in his past three starts since he was promoted from Double-A San Antonio.
Hahn showed plenty of life on his fastball and, as promised, mixed in several changeups to keep the Giants' hitters off-balance. But it was his curveball that worked well all night, especially early, as he retired the first 12 batters he faced, six on strikeouts.
"I just felt really good," Hahn said. "I felt really relaxed out there."
A plus-pitch, like his curveball, certainly helps. It's a pitch he's thrown since he was a kid, one that his father, Fred, showed him -- though he didn't allow him to use it until he got to high school.
"He showed me the grip and I've stuck with it," Hahn said.
While other pitchers his age and in this era have tinkered more with the slider and changeup, Hahn continues to rely on a pitch that was once a staple for pitchers of Black's generation.
The Padres (34-44) backed Hahn with seven runs on 12 hits, giving them 13 runs in the past two games -- both victories.
"More guys are swinging better. We need more guys, four, five, six of them swinging better," Black said. "We've got to get that clutch hit. Our at-bats have been better."
This was the first time the Padres have scored seven or more runs in one game since scoring 11 runs in a victory over the Cubs on May 23.
Will Venable didn't have a hit in four at-bats though he managed to drive in two runs, both from third base with less than two outs.
"Those are situations where you've got to find a way to push them across," Venable said.
Doing so against Giants pitcher Tim Hudson (7-4) figured to be an uphill struggle, but the veteran righty scuffled in the middle part of the game, allowed two runs in the fifth inning and three more in the sixth. Two errors didn't help, as two of the six runs he allowed were unearned.
In that fifth inning, Alex Amarista -- who had three hits -- had an RBI double and Venable drove in a run on a ground-ball out. In the sixth, the first six hitters of the inning reached base. Cameron Maybin beat out an infield chopper to knock in a run and Amarista followed with a two-run single.
In the eighth inning, pinch-hitter Tommy Medica, who grew up down the road in San Jose and played his college ball at Santa Clara, hit a home run for a comfortable lead.
"These last two games have been more of what we've wanted," Venable said of the offensive output.
The pitching hasn't been bad, either. On Monday, rookie Odrisamer Despaigne tossed seven scoreless innings in his big league debut. Then it was Hahn's turn to tie the Giants' hitters in knots.
The Giants (45-32), on the other hand, have two runs to show in this series. On Monday, pitcher Matt Cain struggled. On Tuesday, it was Hudson's turn.
"This team [Padres] played well," Giants manager Bruce Bochy said. "Two young guys pitched very well. They played well; they swung the bats. We're not swinging the bats and we're not pitching well. That doesn't work out."
Corey Brock is a reporter for MLB.com. Keep track of @FollowThePadres on Twitter. This story was not subject to the approval of Major League Baseball or its clubs.