Hudson's rough outing prolongs pitching woes
Offense held in check for second straight night by Padres rookie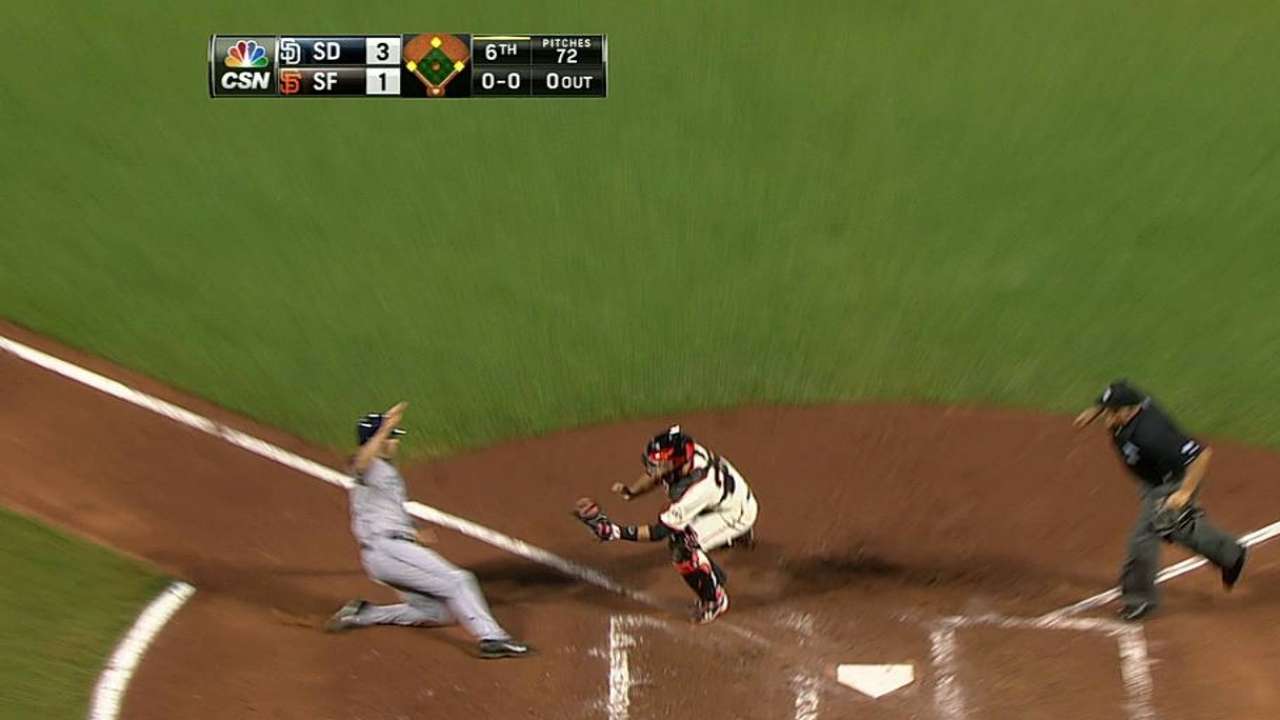 SAN FRANCISCO -- The Giants' slump, which continued with Tuesday night's 7-2 loss to the San Diego Padres, is all-encompassing. As usual, however, pitching is at the heart of their problems, just as it often seems to be the source of their success.
Giants starters have recorded a 5.63 ERA while the team has lost 11 of 14 games. Before that span, the starters owned a 3.41 ERA.
"I think it's fair to say that's our biggest issue right now during this tough stretch," said manager Bruce Bochy, whose club leads second-place Los Angeles by only three games in the National League West.
Tim Hudson's performance against the Padres reflected the starters' overall dullness. The right-hander looked ordinary for the second start in a row, allowing six runs (four earned) and nine hits in 5 2/3 innings. The bottom of San Diego's batting order particulary tormented Hudson, as 6-7-8 hitters Jake Goebbert, Cameron Maybin and Alexi Amarista combined to go 6-for-10 and score four runs. Amarista (3-for-4, three RBIs), who lifted his batting average from .206 to .221, was especially effective.
"I felt pretty good tonight," said Hudson (7-4). "You have to give them credit. When I made mistakes, they were able to capitalize on them. There's not really much else to it."
At 38, Hudson will prompt worries about irreversible erosion of skill when he struggles. In his last two starts, he has allowed 13 runs (11 earned) and 21 hits in 10 1/3 innings. But Bochy regarded Hudson's effort against the Padres as an aberration.
"He wasn't quite in the same sync," Bochy said. "He was missing his spots and elevating the ball. But he's healthy. He'll be fine."
Pitching wasn't San Francisco's only shortcoming. Everybody marveled at the Giants' slugging earlier in the season, expressing surprise at their prodigious home-run totals. Well, maybe that power was a mirage after all. The Giants have mustered seven homers in their past 16 games, a stretch in which they've lacked the big hit.
The Giants desperately miss Angel Pagan, the offensive dynamo at the leadoff spot who has missed eight games in a row with back inflammation. They miss Michael Morse, who has gone homerless in 16 consecutive games. Consequently, the pillars of their offense miss each other. Hunter Pence, Buster Posey, Pablo Sandoval and Brandon Crawford each is batting higher than .300 in June. But without Morse's thunder and Pagan's lightning, the rest of San Francisco's offense -- which was subdued for the second straight game by a rookie right-hander, this time Jesse Hahn -- lacks sound and fury.
Moreover, it's almost certain that the Giants will assign Pagan to the 15-day disabled list Wednesday morning."We'll have some news then," Bochy said. The club's baseball brain trust likely wanted another night to discuss who to summon from Triple-A Fresno to replace Pagan, who's batting .307 with 11 stolen bases in 14 tries.
The leading candidate for promotion is third baseman Adam Duvall, who has been terrorizing Pacific Coast League pitching in 67 games at Fresno (.297 batting average, 23 homers, 67 RBIs). It has been speculated that Duvall could play first base with Morse returning to left field, at least until first baseman Brandon Belt returns from his Minor League injury rehabilitation assignment, likely around July 4.
The Giants could have used another bat against Hahn (3-1), who made his fourth Major League start. He retired the first 12 batters he faced and ultimately surrendered four hits and both Giants runs in six innings.
Chris Haft is a reporter for MLB.com. Read his blog, Haft-Baked Ideas, and follow him on Twitter at @sfgiantsbeat. This story was not subject to the approval of Major League Baseball or its clubs.