Gibson's scoreless streak ends at 22 innings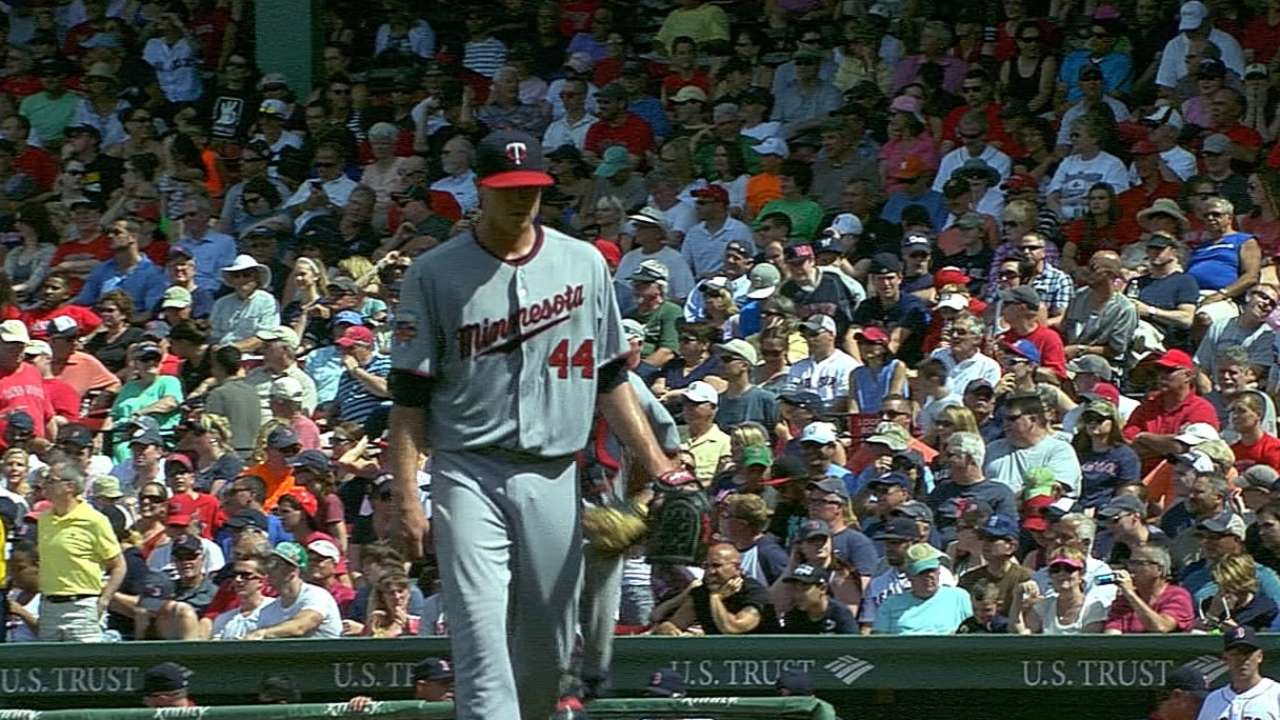 ANAHEIM -- Twins right-hander Kyle Gibson saw his 22-inning scoreless streak come to an end in a hurry against the Angels on Tuesday night at Angel Stadium.
Gibson, who had turned in three straight starts of seven scoreless innings, gave up five runs in the first inning on two hits and two walks. They were the first runs allowed by Gibson since surrendering a two-run homer to Brewers third baseman Mark Reynolds in the fifth inning of Minnesota's 6-2 loss on June 2.
Gibson's 22-inning scoreless streak was the third-longest active streak in the American League and the fourth-longest in the Majors coming into the game. The streak officially ended on a two-run single from Josh Hamilton with the bases loaded and nobody out. Howie Kendrick also added a two-run single with the bases loaded before another run scored on a double-play grounder from C.J. Cron.
"I'm just out there trying to put up zeros every time but I guess you're just going to have outings like this one," Gibson said after the Twins' 8-6 loss to the Angels. "This one was frustrating because we had a streak going and we were playing really well. And then in the first inning, I didn't give us a chance. Obviously, the offense battled back into it but it's just frustrating really."
The club record for a scoreless streak by a starting pitcher is 33 innings by left-hander Johan Santana set in 2004. Other notable scoreless streaks by Twins starters include Scott Erickson's 29-inning streak in 1991, Frank Viola's 29-inning streak in '88 and Jim Kaat's 27-inning streak in '66.
The Twins record for a scoreless streak by any pitcher is 36 innings by reliever J.C. Romero in '04.
Rhett Bollinger is a reporter for MLB.com. Read his blog, Bollinger Beat, and follow him on Twitter @RhettBollinger. This story was not subject to the approval of Major League Baseball or its clubs.