Upton brothers both homer to tie MLB record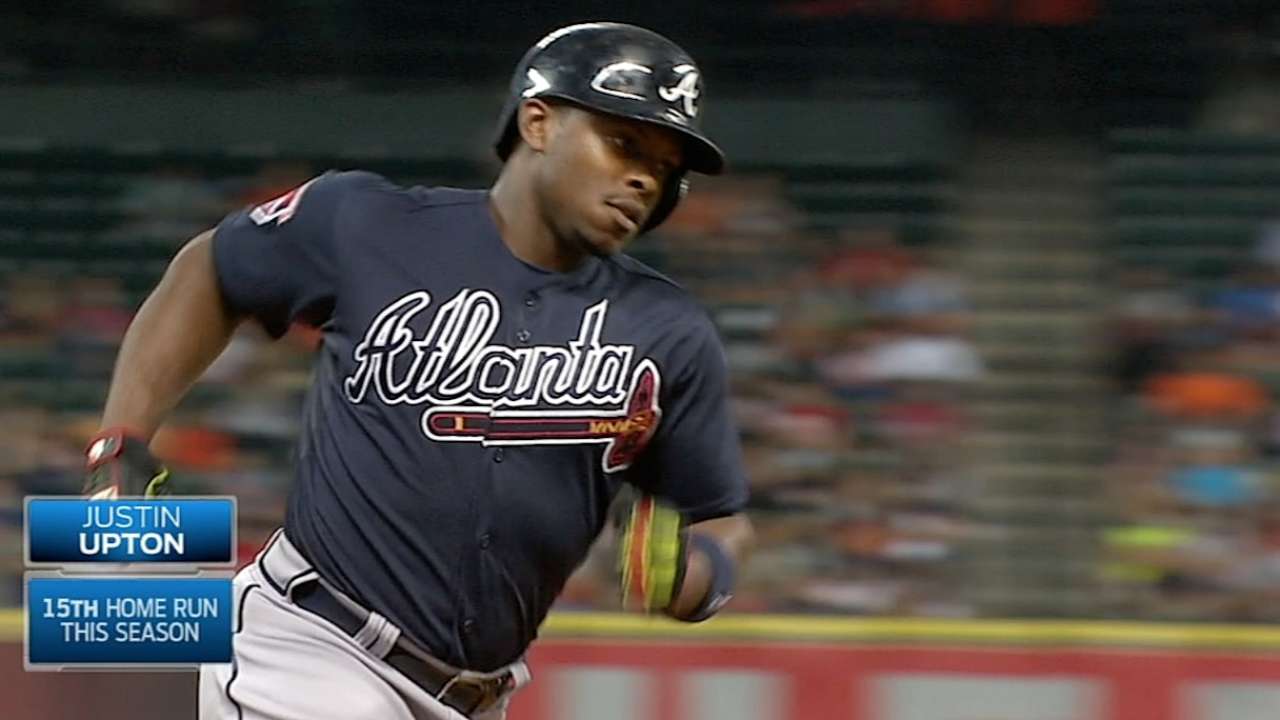 HOUSTON -- As B.J. Upton and Justin Upton spent their first three weeks together with the Braves, it seemed like they might make homering on the same night a regular occurrence. But they actually ended up halting this run for 14 months before resuming in record-tying fashion.
The Upton brothers matched a Major League record when they both homered during Tuesday night's 3-2 win over the Astros at Minute Maid Park. This marked the fourth time they had homered in the same game as teammates. The only other brother combos to match this total are Vladimir and Wilton Guerrero and Jason and Jeremy Giambi.
"It's pretty cool," B.J. Upton said. "Anytime you can tie a Major League Baseball record, it's pretty cool. I kind of knew we were close, but I didn't know how close. It's cool to say you did it. We're not going to try to break it, but hopefully we do."
According to the Elias Sports Bureau, the Uptons have now played 185 games together with the Braves. The Guerreros appeared in 345 games as teammates and the Giambis 219.
The Upton brothers both homered in three of the first 20 games they played together. But that hot start proved to be unsustainable.
Before Tuesday, the Braves had played 217 games since the brothers had last homered in the same game -- the second game of a doubleheader on April 23, 2013, at Coors Field.
"It's always special when you can do it on the same day and contribute to a win," Justin Upton said. "We're excited about it. Hopefully, there is more of that to come."
B.J. Upton got Tuesday's power surge rolling when he hit a one-out home run off Astros starter Scott Feldman in the third inning. His brother got into the act one inning later when he sent a two-out solo shot that nearly struck the train high above the left-center-field wall.
"Both of those guys are so talented and they can really change a game," Braves manager Fredi Gonzalez said. "They're game-changers. Hopefully, we can continue to see this from them."
Mark Bowman is a reporter for MLB.com. This story was not subject to the approval of Major League Baseball or its clubs.