Arrieta flirts with perfection, settles for win vs. Reds
Righty carries perfect game into seventh; Rizzo has another big night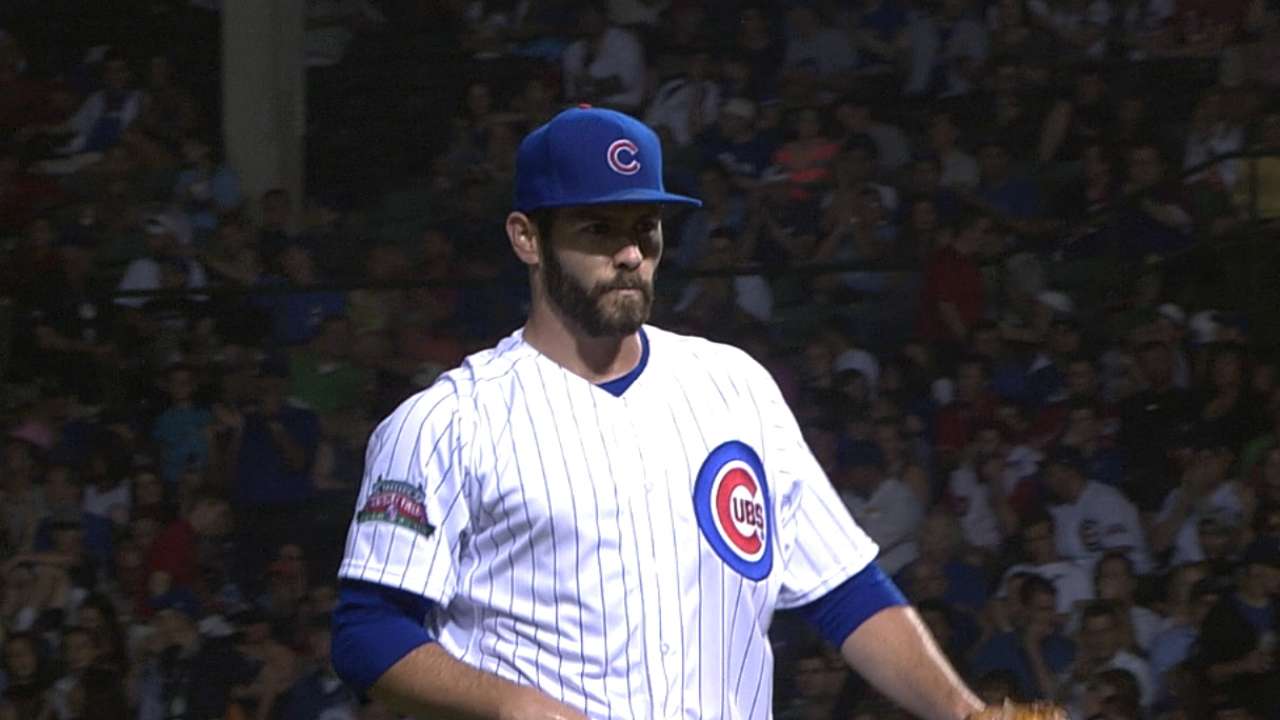 CHICAGO -- Jake Arrieta was perfect through six innings, and then he had to run the bases.
Anthony Rizzo hit his 17th home run to back Arrieta, who struck out nine over seven innings to lift the Cubs to a 7-3 victory over the Reds on Tuesday night in front of 28,226 at Wrigley Field.
Arrieta was perfect through six, but he walked to open the Chicago sixth and was on the basepaths for quite some time -- even diving back to third when Rizzo singled to load the bases. He sported a skinned right knee to show for that effort.
The first batter Arrieta faced in the seventh, Billy Hamilton, broke up the pitcher's bid for history with a solid single to center.
"I was pretty gassed there, unfortunately," Arrieta said of the seventh. "It was a pretty humid night, long inning there in the sixth running the bases -- which really isn't all that tough in itself, but couple that with being on the mound and having that long layoff, it adds a little bit to it.
"For the most part, I was down with pretty much everything, commanding the ball where I wanted to and was able to do some good things tonight."
No Cubs pitcher has ever thrown a perfect game. In case you were wondering, the last no-hitter by a Cubs pitcher was Sept. 14, 2008, when Carlos Zambrano did so against the Astros at Miller Park.
Cubs manager Rick Renteria didn't talk to Arrieta after his escapades on the bases in the sixth.
"I didn't, because I hadn't been talking to him between innings," Renteria said.
So, the manager is superstitious?
"No, I'm not superstitious," Renteria said, "but I hadn't been doing it, so I wasn't going to start."
The Reds collected three hits off Arrieta, who now has given up 13 earned runs over 57 innings for a 2.05 ERA. The right-hander, who was slowed this spring because of tightness in his shoulder, has struck out 37 and walked five in his last five outings.
Both Arrieta and Reds starter Homer Bailey were dominant early, as neither team had a hit until Rizzo launched his home run into the basket rimming the right-center-field bleachers with two outs in the Chicago fourth. It was Rizzo's second long ball in as many games, and 14th since April 30, the most in the National League in that span. The slugger added a double as part of a three-hit night.
Welington Castillo hit an RBI double in the fifth for a 2-0 cushion. Arrieta then walked to lead off the sixth, and the Cubs eventually loaded the bases with one out. Bailey hit Starlin Castro on the right hand with a pitch to force in Arrieta and open a 3-0 lead. Bailey exited, and Nate Schierholtz greeted J.J. Hoover with a sacrifice fly to make it 4-0.
Bailey may have had the best scouting report on Arrieta. The two pitchers train together in the offseason.
"He's got outstanding stuff and he's on a hot roll right now," Bailey said of the Cubs starter. "Yeah, coming in you knew, especially if a guy is hot, just like a if a hitter is hot, they're tough to get out -- no matter what their numbers are. I knew going into it I had to put up some zeros."
After Hamilton singled to start the Reds seventh, Arrieta retired the next two batters, but he left a couple of cutters up and Devin Mesoraco hit an RBI single before scoring on Jay Bruce's double to cut the Cubs' lead in half. The two runs equaled the total number of runs Arrieta had given up in his four previous starts.
Castillo had missed all of Arrieta's June starts because the catcher was on the disabled list.
"One thing I told him before the game was, 'I don't want to change anything you've been doing -- just keep doing what you've been doing, because you've been throwing the ball really good,'" Castillo said. "The way that slider or cutter is -- whatever he wants to call it -- that's the key for him. When he has that going, he's really tough to hit."
Arrieta, acquired last July from the Orioles with Pedro Strop, could find himself moving up the Cubs' rotation charts if Jeff Samardzija and Jason Hammel are dealt at the Trade Deadline.
"The way I feel, I want to be pitching along with guys like Jeff and Jason and [Travis Wood] and Edwin Jackson," Arrieta said. "It's just how baseball goes -- there comes a point in your career when you're highly sought after. You do things the right way and they put themselves in a position to be targeted in a lot of trade talks. ... I've always wanted to pitch at a high level for whatever team I'm with. I feel I can continue to do so. I would like those two guys to be a part of it. That being said, I don't think that will be the case.
"The competitors we are, we want to go out there and pitch better than the guy before us. That's kind of the mentality that all of us have, and makes us pitch the way we have."
Carrie Muskat is a reporter for MLB.com. She writes a blog, Muskat Ramblings, and you can follow her on Twitter @CarrieMuskat. This story was not subject to the approval of Major League Baseball or its clubs.