Offense comes alive too late as Reds fall to Cubs
Bailey starts strong before fading; Hamilton ends perfection bid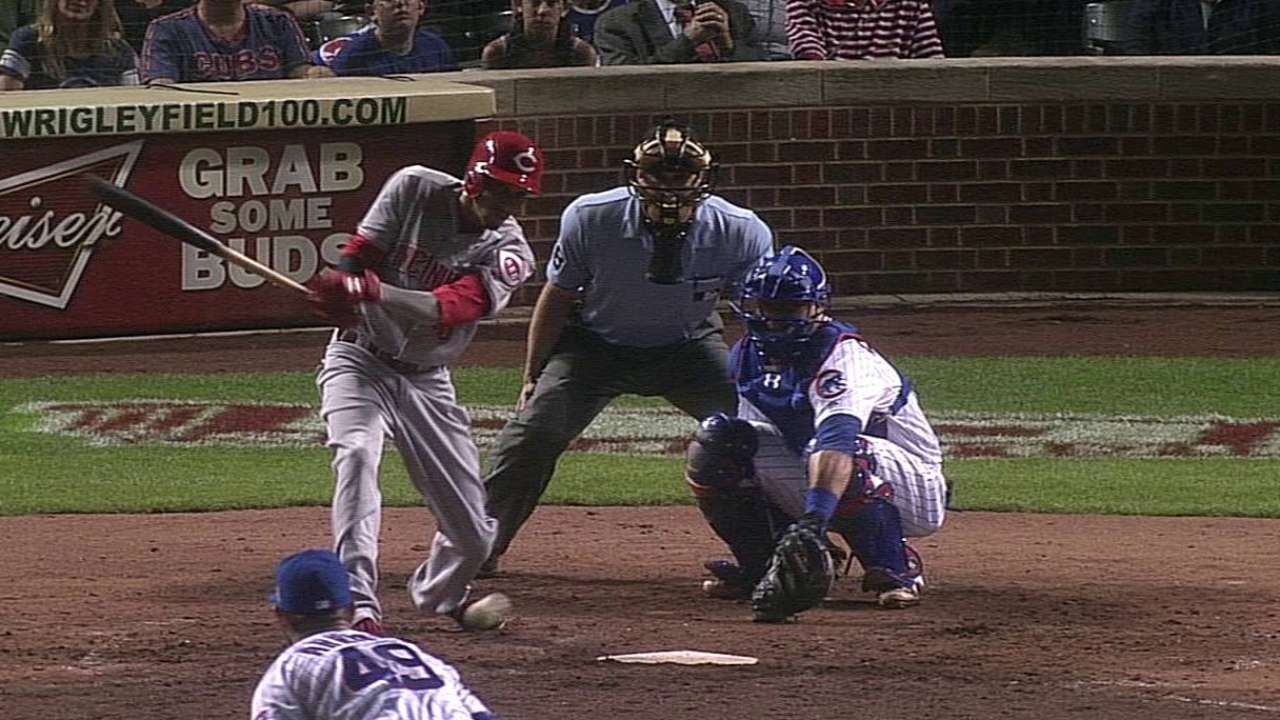 CHICAGO -- The Reds won the battle but lost the war Tuesday night. Cincinnati may have avoided falling on the wrong side of history at Wrigley Field, but fell to the Cubs, 7-3.
Cubs starter Jake Arrieta was perfect through six innings until Billy Hamilton led off the seventh with a single to center, extending his career-high hitting streak to 12 games. Devin Mesoraco got the Reds on the board two batters later with a two-out RBI single and scored on Jay Bruce's RBI double, but it wasn't enough in the end.
Homer Bailey looked as good as Arrieta early on before things went south in the middle innings. The right-hander retired the first 11 before giving up a home run to Anthony Rizzo with two outs in the fourth. He then gave up a run in the fifth before losing his command in the sixth. Bailey walked Arrieta to start the inning and Junior Lake with one out before Rizzo singled to load the bases. Bailey then forced home a run by plunking Starlin Castro, which ended his night.
"Great start. He was matching Arrieta really pitch for pitch," Reds manager Bryan Price said. "He had the really good stuff, the good velocity, the fastball command, the good hard slider, the split, had some putaway pitches, had some strikeouts early in the game. And then from the home run on, it just wasn't the same easiness to his execution.
"The pitches weren't coming with the same consistency … it just kind of escalated to the point where we had to go get him. I really liked the stuff, it just wasn't his night."
Nate Schierholtz followed with a sac fly off J.J. Hoover -- he was robbed of extra bases on a sliding catch by Hamilton -- that extended the Cubs lead to 4-0.
Bailey allowed four earned runs in 5 1/3 innings, pushing his ERA to 4.80. He had decreased his ERA to a season-low 4.60 with eight innings of one-run ball on June 8 vs. Philadelphia, but he's allowed 11 earned runs in 17 1/3 innings over his last three starts.
"I just kind of lost command there a little bit," Bailey said. "That's all that it boils down to."
Bailey's brief bid for perfection was broken up loudly, as Rizzo jumped on the first pitch he saw in the fourth and blasted it into the basket in right-center for a 1-0 Cubs lead.
Chicago made it 2-0 on Welington Castillo's RBI double that plated Schierholtz all the way from first.
Prior to Hamilton's single, only Joey Votto's lineout to center in the first and Bailey's lineout to right in the third truly threatened to fall for a base hit.
"I wanted to continue to execute pitches and try to pitch deep in the game. Nothing changes," Arrieta said of staying perfect through six. "It's just the way things worked out. You get to the meat of their order later in the game, and it's tough to continue to put those guys away like that -- especially when you get to Hamilton."
After the Cubs added three insurance runs in the eighth, the lone bright spot of the night for the Reds came from Mesoraco, who launched his 14th homer with one out in the ninth. It's the fifth straight game he's gone deep, which tied a franchise record.
Other than that, not much ended up going right for the Reds. Cincinnati (38-38) fell back to .500 a day after eclipsing the break-even mark for the first time all season, while Bailey continues to search for the pitching form of previous seasons that enticed the Reds to sign him to a big contract this past offseason.
"Things have kind of snowballed, and where in this case it was a solo home run and things started to escalate," Price said. "The command kind of got sideways on him, and he just wasn't able to make consistently good pitches.
"I thought it was going to be one of those games where the way those two guys were throwing, I thought we could go in the late innings nothing-nothing, but it just didn't work out."
Joe Popely is an associate reporter for MLB.com. This story was not subject to the approval of Major League Baseball or its clubs.