Stanton slips on All-Star ballot despite gaudy stats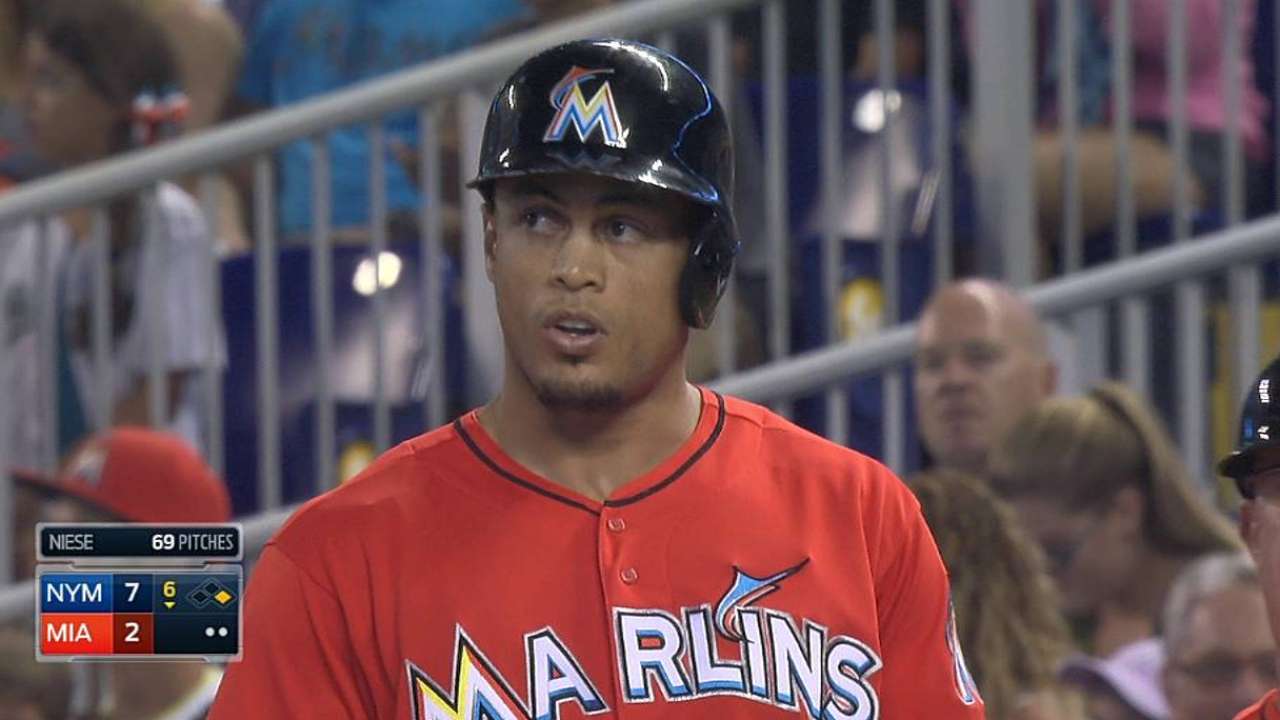 PHILADELPHIA -- Giancarlo Stanton may be the NL's leader in home runs and RBIs, but as of the latest All-Star voting update, he's not in line to be a starter in baseball's Midsummer Classic.
"We gotta work on that," Marlins manager Mike Redmond said. "There's no way this guy shouldn't be a starter in the All-Star Game."
Milwaukee's Carlos Gomez seized control of third place in the balloting for National League outfielders, and he leads Stanton by nearly 300,000 votes. The Dodgers' Yasiel Puig and Pittsburgh's Andrew McCutchen continue to lead the pack.
Fans can cast their votes for starters at MLB.com -- online or on a mobile device -- using the 2014 All-Star Game MLB.com Ballot Sponsored by Experian until Thursday, July 3, at 11:59 p.m. ET. The 2014 All-Star Game will be played at Target Field on Tuesday, July 15, on FOX.
On top of his 20 homers and 58 RBIs -- not to mention a .306 batting average -- Stanton also stole his career-high seventh base in Monday night's win over the Phillies.
"I think as the season goes along, we see more things that he's capable of doing," Redmond said. "He's starting to steal more bases and he's aggressive reading balls in the dirt. And I think you're really seeing his confidence and comfort level as a player."
Stanton, who added two more doubles in Tuesday night's contest, believes another Marlins player deserves more recognition.
Casey McGehee leads the league with 69 singles and a .390 batting average with runners in scoring position. He's inside the top 10 with a .310 batting average and 47 RBIs, and McGehee's 10 game-winning RBIs are tied for second most in the NL. He is also currently riding a 15-game hitting streak.
But Miami's third baseman isn't even in the top five in the All-Star voting for third basemen.
"The fact that [McGehee's] not in the conversation is unbelievable," Stanton said.
Some of that can certainly be attributed to the fact that McGehee has only one home run in 290 at-bats this season. But Stanton doesn't think that should be the case.
"It's not about homers, it's about RBIs and average," Stanton said.
Erik Bacharach is an associate reporter for MLB.com. This story was not subject to the approval of Major League Baseball or its clubs.