Swapping stories: Deadline drama on horizon
A look at early deals over the past five years that put the trading season in motion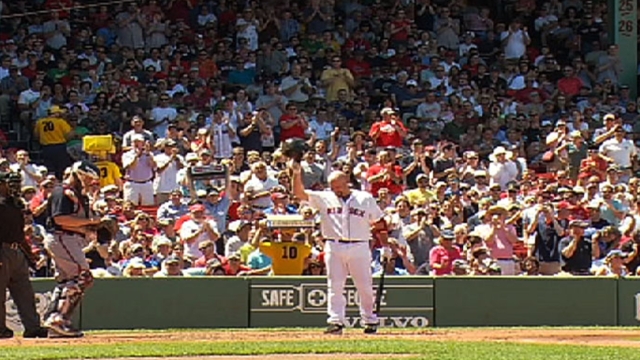 Every year, rumors and deals start flying when the mercury starts rising, and it's about that time for the 2014 season. Some boys of summer could be changing addresses very soon.
There have been a few early transactions, but we have yet to see the type of impact deal that makes the July 31 non-waiver Trade Deadline and increasingly intriguing August waiver season go around.
It will come, sooner or later. There's always that first big deal.
With this year's Trade Deadline season starting to heat up, here's a look back at the past five years, and some swaps that broke the summertime ice:
2013
First big deal: Ricky Nolasco to the Dodgers from the Marlins for Josh Wall, Steve Ames and Angel Sanchez (July 6).
With Chad Billingsley and Josh Beckett out for the season and an amazing summer run only just getting started, Nolasco was a good fit as a free agent-to-be. The Dodgers would get eight wins and a 3.52 ERA out of Nolasco's last 15 starts of the regular season -- a classic stretch-run acquisition. Then, he wound up signing with the Twins over the winter.
2012
First big deal: Kevin Youkilis to the White Sox from the Red Sox for Brent Lillibridge and Zach Stewart (June 24).
Things were getting weird in Boston, and this was the first of many big changes to come. Youkilis, whose playing time and relationship with then-manager Bobby Valentine were both deteriorating, got a standing ovation at Fenway Park when it was evident his Red Sox career was over. Soon, it was.
This was the quintessential first salvo for a Trade Deadline, one that was startling on its own and wound up being the start of the remaking of a team that resulted in a worst-to-first World Series season a year later.
2011
First big deal: Francisco Rodriguez to the Brewers from the Mets for two players to be named (July 12).
A later-developing session saw its first deal with major impact when Milwaukee doubled down on closers by adding K-Rod to a bullpen that already included John Axford. K-Rod served as the setup man, and that 1-2 punch was a big reason the Brewers reached the postseason, getting past the D-backs in the National League Division Series before losing to the Cardinals in the NL Championship Series.
2010
First big deal: Bengie Molina to the Rangers from the Giants for reliever Chris Ray and Michael Main (July 1).
The back story to this deal is it made rookie Buster Posey San Francisco's everyday catcher, and he'd go on to help the Giants win their first World Series after more than a half-century of trying since moving to the Bay Area. Molina managed an unlikely cycle for the Rangers, who would meet his former team in the Fall Classic.
2009
First big deal: Nate McLouth to the Braves from the Pirates for Charlie Morton, Jeff Locke and Gorkys Hernandez (June 3).
This one was a very early start to the trading season, and it's a swap that has proven to have lasting ramifications, for Pittsburgh in particular. Morton and Locke make up two-fifths of the team's rotation at the moment, and Hernandez was dealt to the Marlins for current first baseman Gaby Sanchez in 2012. McLouth, an All-Star for the Bucs the year before, never got going for Atlanta and bounced around a bit, landing with Washington this year.
At the time, it was a deal that turned some heads, the first of a summer's worth of changes with lasting impact.
And soon enough, there will be one like it that breaks the ice in the summer of 2014.
John Schlegel is a national reporter for MLB.com. You can follow him on Twitter at @JohnSchlegelMLB. This story was not subject to the approval of Major League Baseball or its clubs.