Peavy gives up season-high seven runs in loss
Holt goes yard, but offense does little else against Seattle bullpen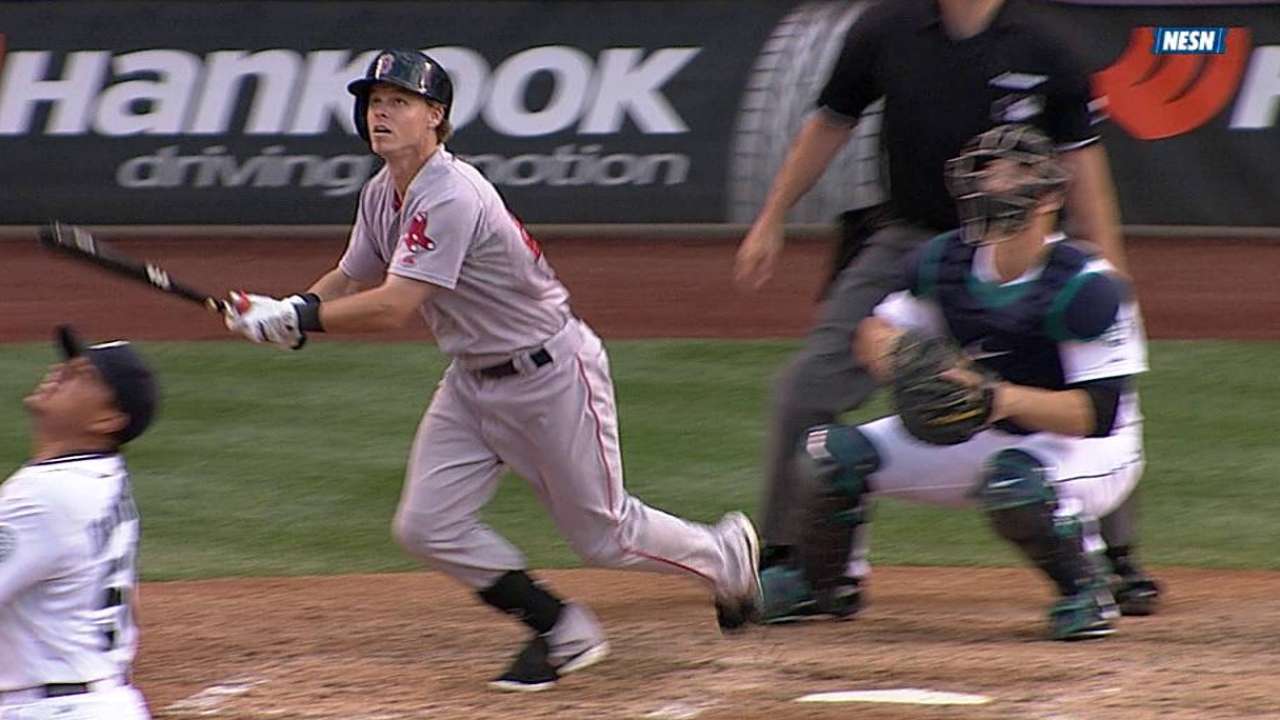 SEATTLE -- For the most part in recent weeks, the reeling Red Sox were at least able to keep the game close thanks to strong starting pitching.
But everything has fallen apart the last two nights at Safeco Field.
The latest chapter in a difficult season was Tuesday's 8-2 defeat to the Mariners.
Jake Peavy (1-6, 4.93 ERA) gave up eight hits and a season-high seven earned runs over five innings.
The righty is winless in his past 11 starts, dating back to May 1.
"Yeah, it's not fun," said Peavy. "Nothing's fun about getting beat, especially when you don't do your job and get beat. It's just frustrating. There's no other way to say it. When you get beat and you're playing from behind all night, it's not fun."
This visit to Safeco Field has been anything but fun for the 35-43 Red Sox, who have been outscored 20-5 in the first two games of this three-game series.
Boston's offense, which has underperformed for the better part of the season, continues to sputter.
A.J. Pierzynski had a particularly tough night, going 0-for-4 and leaving nine men on base.
Through the first five games of a nine-game, three-city trip, the Sox are 1-4. The Red Sox are 8 1/2 games back in the American League East.
In the top of the first, the Sox had a chance to get off to a good start thanks to control issues from Mariners righty Erasmo Ramirez, who walked three batters in the inning and had a three-ball count to Mike Napoli.
Pierzynski came up with the bases loaded but offered at Ramirez's first pitch, grounding out weakly to second to end the threat.
"He threw me the pitch I was looking for," said Pierzynski. "He threw me a changeup I was trying to hit to left-center. It was the same pitch I hit my next at-bat that I just missed to right. It was the exact same pitch. I 100 percent knew he was going to throw me a changeup, and I was 100 percent looking for it and he threw it where I wanted it, and it just didn't work out. Next time I'll take my chances again and I'll get it."
The Red Sox never really had any momentum in this one. Endy Chavez led off the first with a single and James Jones followed with a single. With one out, Kyle Seager drilled an RBI double to right and Logan Morrison's sacrifice fly made it 2-0, Seattle.
Chavez smoked an RBI triple -- his second in as many nights -- in the second to pin the Red Sox in a 3-0 deficit.
Brock Holt provided hope in the fourth by drilling a two-run homer to right, and Boston was down by one.
But it all fell part for Peavy in the fifth. Chavez reached on a bunt single. Jones followed with a grounder to first, and Napoli tried to start a 3-6-1 double play. Jones narrowly beat the throw, and manager John Farrell challenged the call. After a review of two minutes and 42 seconds, the call stood.
"You feel like you get back in it and you have some chances and come so close to turning the double play there," said Peavy. "Maybe change the momentum of the game or the inning -- get something to bounce our way."
The inning unraveled after that. Robinson Cano belted a single and Seager hammered a three-run homer to right. Mike Zunino's solo shot to left made it 7-2.
"He made a bad pitch to Seager and the ballgame gets away from you," said Farrell. "Trying to be too fine there, trying to save every last run you could save, trying to throw a cutter and you overthrow it and it stays middle-in. Ballgame's out of hand."
By the sixth, the Sox turned the game over to Felix Doubront, who will pitch in the bullpen at least for the next few days.
The lefty retired all six batters he faced.
Other than that, it was a lost night for Boston.
"We've been down this road for a while now," said Peavy. "We as pitchers got to do a better job of not letting in more than we're scoring. That's all there is to it. We're a team around here. Nobody's blaming anything on anybody. We've just got to be better as a 25-man unit -- a lot better."
Ian Browne is a reporter for MLB.com. Read his blog, Brownie Points, and follow him on Twitter @IanMBrowne. This story was not subject to the approval of Major League Baseball or its clubs.