Seager, Zunino go yard to power surging Mariners
Bullpen tosses 4 2/3 scoreless frames as winning streak hits five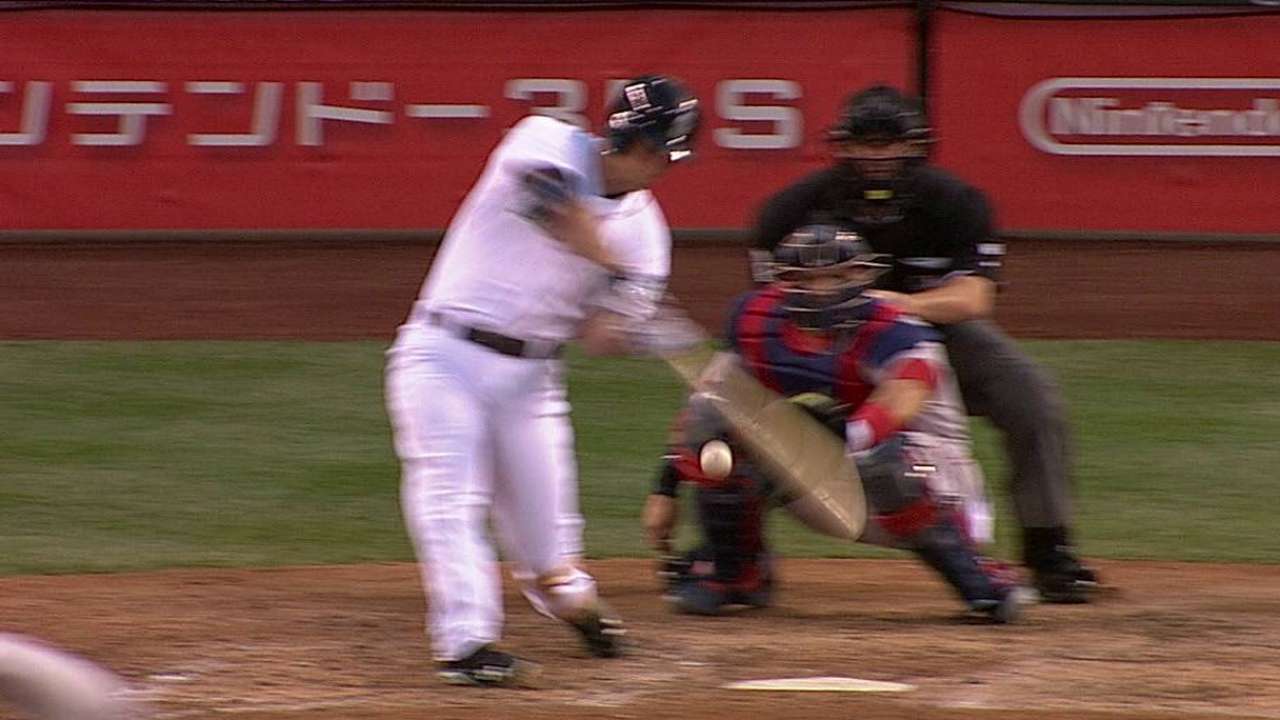 SEATTLE -- With help from home runs from Kyle Seager and Mike Zunino, the Mariners teed off on Red Sox pitching for a second straight night in an 8-2 victory Tuesday at Safeco Field as Seattle continued its impressive first-half run.
Despite another short outing from starter Erasmo Ramirez, Seattle won its fifth straight and claimed the series against the Red Sox with still one more game to go Wednesday as the Mariners improved to 42-36.
The Mariners are six games over .500 for the first time since the end of the 2009 season. They currently have the fifth-best record in the American League and are in second in the Wild Card standings, while owning the second-best run differential in the league at plus-52 as they near the midpoint of the season.
"There's a really good feeling in the clubhouse," Seager said after equaling his career high with four RBIs. "We feel good. We know what we have in here, we feel good about it and we feel like we'll be able to sustain it."
Seager launched a three-run blast off the Hit it Here Café in the fifth inning to highlight a 2-for-4 outing that also included a run-scoring double in the first.
Seager increased his team lead in RBIs to 53, just 16 shy of his total for last year. The 26-year-old third baseman also maintained his club-leading home run total with 11, one ahead of Zunino after the young catcher followed with a solo blast of his own in the fifth off Red Sox right-hander Jake Peavy.
Zunino has homered in three of his last four games and is just the fifth Mariners catcher to reach double-digit long balls before the All-Star break. After seeing his batting average drop from .274 to .217 in a rough two-month stretch, the 2012 first-round Draft pick has begun turning things back around at the plate.
"Just constant work," Zunino said of the turnabout. "Heck, I tried just about everything so it's about time something sort of clicked. It's just one of those where I'm trying to get balance and see the ball as early as possible. I'm just taking a lot of swings, trying to use the whole field and I've been able to get a couple pitches that I've been able to handle."
The Mariners have had their struggles at Safeco Field this season, but they improved to 19-20 at home and have scored 20 runs in the first two games of this series. Ten of Seager's 11 home runs and 36 of his 53 RBIs have come at home. The RBI total is already the most of his career for a full home season.
And while Seager is quick to say he won't get in a long-ball competition with some of his bigger teammates, he couldn't help but smile about cracking one off the glass at the Café above the right-field stands.
"Yeah, I didn't even realize it hit there until they told me," he said. "I should have watched it more, I guess. You see it up there and you have guys hitting off there in BP all the time it seems, but that's a good home run."
The only down side for the Mariners was Ramirez continuing his trend of short starts as the young right-hander lasted just 4 1/3 innings, though he left with a 3-2 lead despite giving up five hits and five walks in a 93-pitch outing.
After feeling he'd turned a corner with six shutout innings with just two hits and two walks in his prior outing in San Diego, the Nicaraguan native said he lost his command again.
"It was just gone," Ramirez said. "I didn't feel comfortable, like the last time I threw. Everybody was waiting fastball, waiting for that pitch and I paid for it because I was trying too many breaking balls and didn't have control of any of my pitches. I just didn't have the control today."
With top prospect Taijuan Walker throwing a four-hit shutout for Triple-A Tacoma on Tuesday night against Oklahoma City, Ramirez might be at the end of his rope with the Mariners. Manager Lloyd McClendon was pleased with his bullpen's 4 2/3 scoreless innings, but noted that sort of bailout can't continue.
"They did a good job, yeah," McClendon said. "I'm not sure if I would categorize it as a good night though. That's not how you want to win ballgames. You can't keep stretching your bullpen night-in and night-out like that. That just can't happen."
Ramirez has gone beyond five innings just once in five starts since being recalled from Triple-A Tacoma on May 3. The no-decision leaves him at 1-4 with a 4.58 ERA in 11 starts. Joe Beimel got the first four outs after Ramirez's departure to earn the victory. He's now 2-1 with a 1.46 ERA as he extended his scoreless string to 14 2/3 innings .
The Mariners' offensive highlights also included a run-scoring triple from Endy Chavez in the second. It was Chavez's second triple in as many nights, after the 36-year-old outfielder hadn't notched a three-bagger since 2011 until he unloaded a bases-loaded shot in Monday's 12-3 win.
"I'll take it," Chavez said. "If tomorrow is another one, I'll take it. I'm just trying to put the ball in play and be on base for the team and everything is going good."
Was the veteran tired after a 3-for-5 night with a triple as he hiked his average to .263?
"Nah," Chavez said. "I'll get tired when I retire."
Rookie center fielder James Jones was 0-for-3, but he still managed to score twice and steal a pair of bases. The young speedster has 14 stolen bases in 15 attempts and already has exceeded the 13 stolen bases by Michael Saunders that led the club in 2013.
Greg Johns is a reporter for MLB.com. Follow him on Twitter @GregJohnsMLB as well as his Mariners Musings blog. This story was not subject to the approval of Major League Baseball or its clubs.