Angels' offense and bullpen bail Wilson out of trouble
Starter gives up six runs, but Trout's homer seals fourth straight win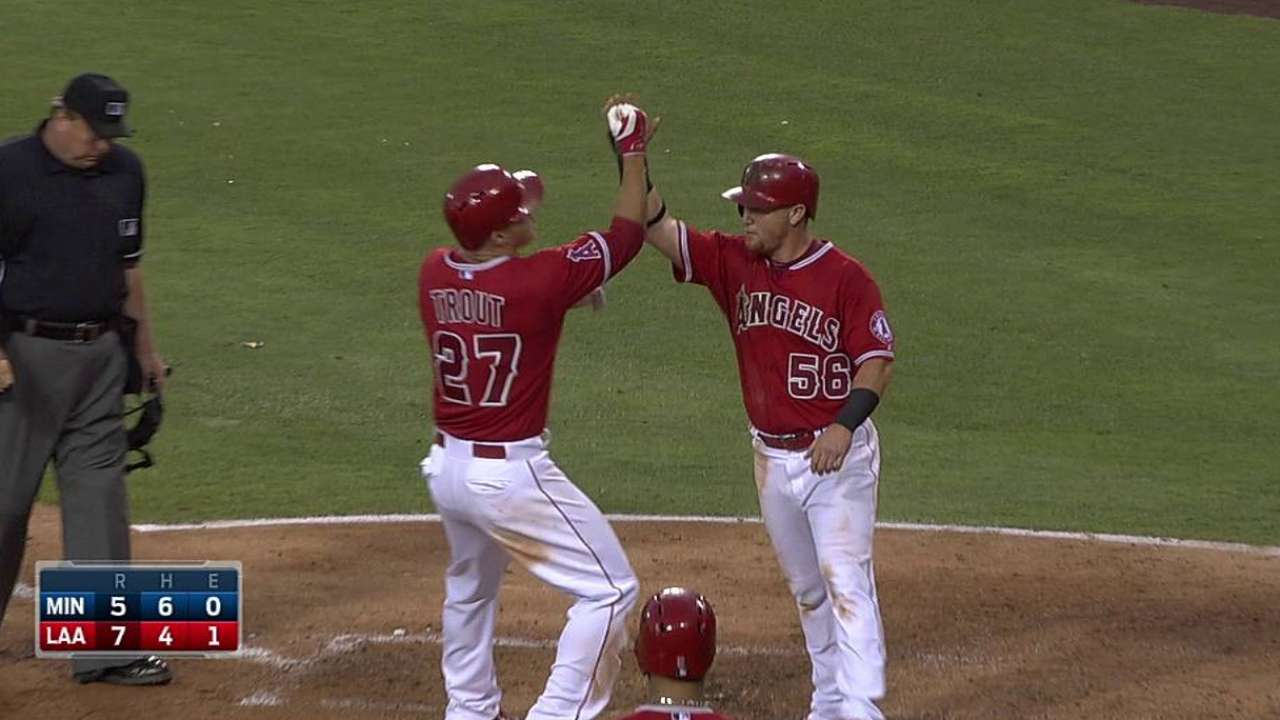 ANAHEIM -- On Tuesday at Angel Stadium, the roles were reversed.
After giving up one run in his last start, Angels starter C.J. Wilson was shelled for six on Tuesday. After throwing 22 consecutive scoreless innings, Twins starter Kyle Gibson did not make it 22 pitches without surrendering a run.
But most importantly, after struggling to hold leads recently, the Angels bullpen came through.
All that added up to an 8-6 Angels win, their fourth in a row, bringing the Angels (42-33) within four games of Oakland in the American League West. The loss snapped a four-game winning streak for the Twins (36-39).
The Angels bullpen, which coughed up leads to Texas, Cleveland and Atlanta in the past 10 days, threw four scoreless innings to pick up Wilson (8-6), who lasted just five innings and gave up nine hits.
Mike Morin, Kevin Jepsen, Ernesto Frieri and Joe Smith combined to allow just two hits over the last four frames, securing the win and their manager's confidence.
"They saved it," Angels manager Mike Scioscia said. "When you're trying to get four innings out of the 'pen, it's stretching a bit but all those guys did a great job."
Smith closed the game for his sixth save of the season, which is twice as many as he had entering this season. Smith has claimed the closer's role after Frieri lost it with poor performances in Atlanta and Cleveland.
Scioscia said Smith would remain in the closer's role until "Ernie gets his feet on the ground."
Frieri's outing on Tuesday should help him do that. Frieri entered a one-run game in the eighth inning and sat down the Twins in order, inducing a groundout, a strikeout and a flyout.
"I need to get back to my routine, to my 'Good Ernie' and the only way to get back is to pitch," Frieri said.
The scoreless inning for Frieri was the first one for him since June 9. In the three appearances since then, Frieri pitched 1 1/3 innings and gave up six runs on eight hits. Tuesday marked the first time since May 14 that Frieri appeared in just the eighth inning.
"The adrenaline in the ninth inning is a little bit different because you know the game's going to be over," Frieri said. "There's no more baseball after that. … I love pitching in the ninth. But the eighth inning, just a little bit different."
Although Frieri would not be the closer, Scioscia said he would stay in the back end of the bullpen.
"He's one of the guys we're counting on to hold leads for us," Scioscia said. "Whatever inning it's going to be, it's like you're closing out that inning.
"Mike Morin had to close out the sixth inning with a one-run lead. Kevin Jepsen had to close out the seventh; Ernie, the eighth and Joe, the ninth. It's really little pockets of trying to get those three outs to hold the lead. We need to expand that group of relievers that'll be able to hold leads for us."
The Angels bullpen looked like it would once again relinquish the lead in the seventh inning when Jepsen gave up a leadoff double to Danny Santana and then walked Brian Dozier. But Jepsen got Joe Mauer to roll a ball up the middle, just past Jepsen's glove.
That's where Howie Kendrick scooped up the ball, touched second and fired to first for a rally-killing double play.
"It was kind of one of those perfect ground balls where it just carried you right through the base," Kendrick said. "My main priority was just to catch it and make sure we got one for sure
"It was big because they had an opportunity to tie the game. [Jepsen] made a really good pitch, got it down and was able to get us a ground ball there."
Jepsen escaped the inning with a Kendrys Morales strikeout two batters later. But the double play preserved the lead and allowed the Angels to add an insurance run in the eighth.
"That was the biggest play of the game, I think," Mike Trout said.
The Angels scored in the first after they loaded the bases with no outs. Josh Hamilton stepped in a lined a two-run single to center field. Two batters later, Kendrick dumped a two-run single into right field to make it 4-0. Erick Aybar scored to give the Angels a five-run lead when C.J. Cron grounded into a double play.
After Minnesota tied the game at five in the second, Trout gave the Angels the lead again with a two-run home run to right-center that brought in Kole Calhoun to make it 7-5. The homer was Trout's 17th of the season.
"Even though it was 5-0, we're going to keep playing hard," Scioscia said. "If they're going to come back and score five, great, it's like it's a 0-0 game again, you have to start over."
Gibson (6-4) exited after the second inning, his shortest outing since May 10.
Calhoun drove in the Angels' eighth run of the night with a sacrifice fly in the eighth.
Matthew DeFranks is an associate reporter for MLB.com. Follow him on Twitter @MDeFranks. This story was not subject to the approval of Major League Baseball or its clubs.