After rally in 11th, D-backs walk off with win in 14
Hill's single scores Parra after Inciarte keeps game alive with single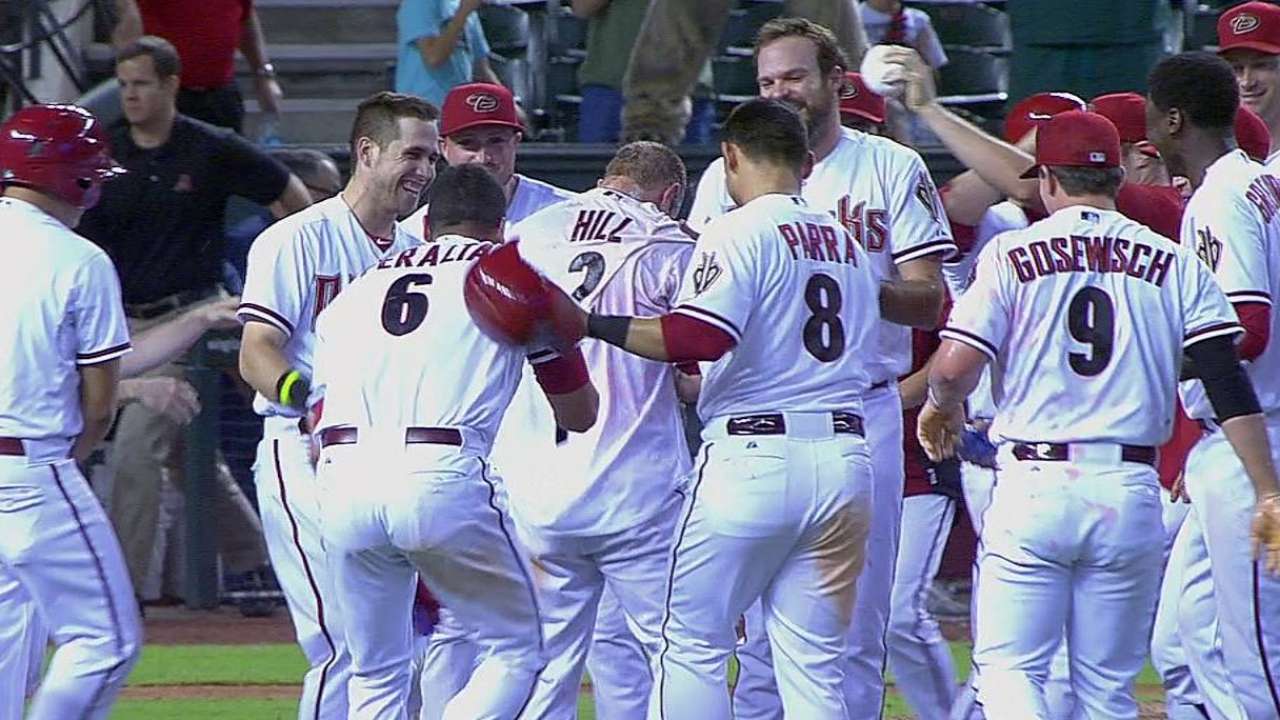 PHOENIX -- Aaron Hill was frustrated Tuesday night.
The D-backs second baseman was unhappy with a play he had made on defense earlier in the game and he had one hit in seven at-bats through the first 13 innings.
Arizona manager Kirk Gibson decided he had to say something to him.
"I told him I didn't care if he struck out three more times, he was going to win the game tonight," Gibson said. "You've just got to move on. For me, just trying to get him to move on and chill out."
Finally, in the 14th inning, Hill lifted a Mark Lowe pitch over the head of a drawn in Michael Bourn in center field to score Gerardo Parra with the winning run as the D-backs beat the Indians, 9-8, at Chase Field.
"It's pretty fitting it got down to it at the end and he got it," Gibson said.
"Slider," Lowe said of the pitch. "I wasn't going to give him anything to hit. I think I was in a count where I could have made a better pitch. Just left it up a little bit."
The 5 hour, 32 minute game, which tied for the longest in Chase Field history, had more twists and turns than a cheap novel and too many memorable moments to recount them all.
After a poor start from Wade Miley, the D-backs found themselves playing from behind early and it looked like it could be a long night.
The game, however, began to turn in the fifth when with the Indians up 5-4, the D-backs loaded the bases with nobody out. Gibson had finally seen enough from Miley and signaled for reliever Joe Thatcher.
The veteran left-hander managed to retire the next three Cleveland hitters in order to strand the bases loaded.
"We didn't play very good early on at all," Gibson said. "First three innings were terrible. I thought the turning point of the game was when Thatcher came in and they had bases loaded and he got out of that. Then we started to actually make some decent plays."
It was the first time in Thatcher's career that he entered an inning with no outs the bases loaded and retired the side without a run scoring.
"That situation is a big momentum swing when that happens," Thatcher said. "It's hard to do. It doesn't happen very often. You've just got to be aggressive and make pitches. It's kind of nice when you get ready in a hurry sometimes where you don't even have time to think about the situation you're getting into. You just get loose and the next thing you know you're out there."
The D-backs tied the game in the bottom of the fifth and took a 6-5 lead one inning later.
It seemed they were on their way to victory as the bullpen was lights out until closer Addison Reed gave walked two and allowed a game-tying single in the ninth.
Then it seemed the Indians were going to snatch this one when Carlos Santana hit a two-run homer in the 11th to put Cleveland up 8-6.
But in the bottom half, the D-backs managed to tie the game when David Peralta homered and Ender Inciarte delivered a game-tying single.
"It feels really good," Inciarte said. "I've been working hard and trying to get results. I feel like I'm finally getting confident again. It was good night for me. I helped the team and that's what mattered the most."
The Indians nearly took a lead in the 13th when Jason Kipnis tripled off the wall in center, but was cut down trying to turn it into an inside-the-park homer.
Finally, the D-backs won it in the 14th when Parra led off with a single, stole second and moved up to third on a fly out by Paul Goldschmidt. The Indians intentionally walked Miguel Montero and Hill then delivered the game-winner.
"We made it hard ourselves for sure, but yet you've got to give them credit," Gibson said.
The two teams combined to use 45 of the 50 players available to them. Cleveland used 23 players including 10 pitchers, while Arizona used 22 players, nine of them pitchers.
Steve Gilbert is a reporter for MLB.com. Follow him on Twitter @SteveGilbertMLB. This story was not subject to the approval of Major League Baseball or its clubs.