Second-inning outburst not enough to hold back Halos
Gibson's scoreless streak snapped and he exits after two frames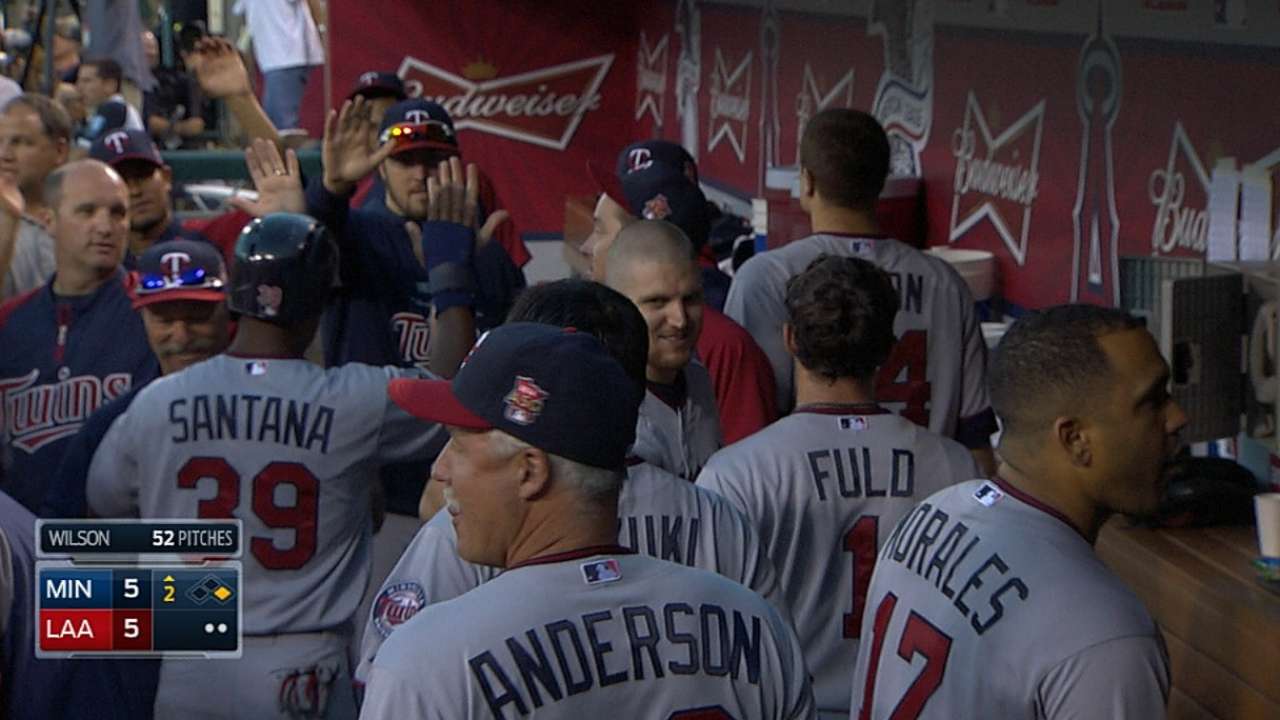 ANAHEIM -- The one thing Twins manager Ron Gardenhire has praised his players for this season is their resiliency, as they've stayed in most games this year even when they could've easily rolled over.
The Twins could have done just that Tuesday night after Kyle Gibson gave up five runs in the first inning, but they battled back to quickly tie it in the second inning. But ultimately, the Twins couldn't overcome a two-run homer from Mike Trout off Gibson in the second that handed the Twins an 8-6 loss to the Angels at Angel Stadium.
It saw the end of two streaks for the Twins, as Gibson's 22-inning scoreless streak came to a close, while it also snapped Minnesota's four-game winning streak.
"As I've said all along, we feel pretty good about this ballclub and stay after it and stay in the game like we did tonight," Gardenhire said. "We had plenty of chances. We were just one big hit away."
But that big hit never came after that five-run rally, and it left the Twins with a frustrating loss, especially for Gibson, who followed up one of the best outings of his career with one of his worst.
"I just didn't have a good feel out there from pitch one, even in the bullpen," Gibson said. "It was just one of those weird nights. With all my 50 pitches, I didn't feel like I was repeating my delivery and my release point wasn't there."
Gibson's scoreless streak ended quickly when he loaded the bases with nobody out before giving up two-run singles to Josh Hamilton and Howie Kendrick. The Angels scored their fifth run on a ground-ball double play from C.J. Cron.
The Twins, though, came right back against left-hander C.J. Wilson. Josh Willingham and Kendrys Morales started the rally with back-to-back homers with nobody out. It was the seventh homer for Willingham, and the first for Morales.
Sam Fuld added a two-out RBI single before scoring on a double from Danny Santana that landed just under the glove of Kole Calhoun in right field. Brian Dozier provided the game-tying hit with an RBI single to score Santana.
"After the first two home runs, it was just paper cuts to death after that," said Wilson, who was able to get through five innings to pick up his eighth win.
But the Angels took the lead for the good in the bottom of the inning on a two-run blast from Trout off Gibson. It was the 17th homer of the year for Trout and his first against the Twins in 14 career games.
"It was a sinker away," Gibson said. "I couldn't locate my fastball all night. I threw one out and away and it just stayed flat and ran right into probably his sweet spot."
It marked the final inning for Gibson, who matched a season-low by going just two innings. He gave up seven runs on four hits and two walks to see his ERA climb from 3.25 to 3.92 on the year. Right-hander Samuel Deduno pitched well in long relief, tossing four scoreless frames to keep the Twins in the game.
"Those were big innings for us," Gardenhire said. "We needed that."
Minnesota made it a one-run game in the fifth with Morales bringing home Dozier with a sacrifice fly that also moved Joe Mauer to third base. But Mauer was stranded there with Kurt Suzuki flying out to left field to end the inning.
The Twins had another failed rally in the seventh with two runners on and nobody out against reliever Kevin Jepsen but Mauer grounded into a double play and Morales struck out to end the inning.
The Angels added an insurance run in the eighth on a sacrifice fly from Calhoun with the bases loaded but Cron was out trying to advance to third to end the inning. It was enough offense for the Angels, who have now won four in a row.
"This one was frustrating because we had a streak going and we were playing really well," Gibson said. "And then in the first inning, I didn't give us a chance. Obviously, the offense battled back into it but it's just frustrating really."
Rhett Bollinger is a reporter for MLB.com. Read his blog, Bollinger Beat, and follow him on Twitter @RhettBollinger. This story was not subject to the approval of Major League Baseball or its clubs.