Miller's injury compounds setback vs. Rockies
Cardinals' bullpen unable to regroup after righty exits in third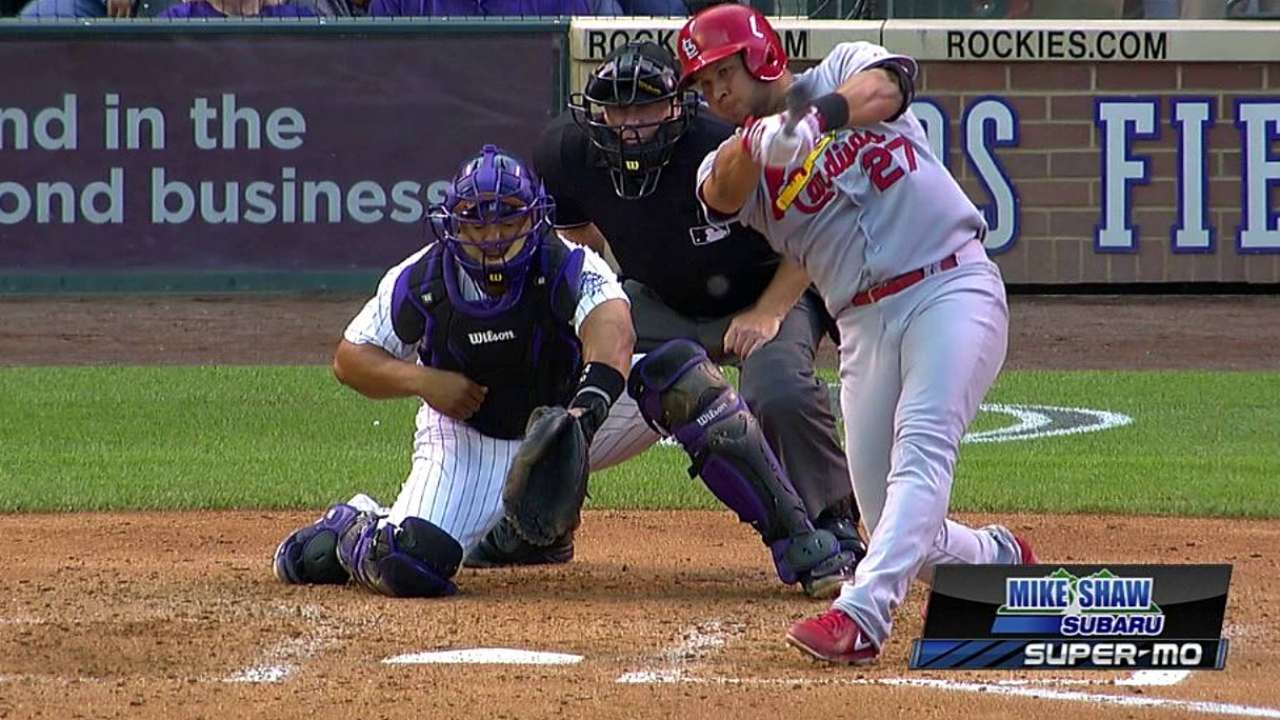 DENVER -- While the Cardinals' bullpen was stocked enough to absorb the blow of losing right-handed starter Shelby Miller in the third inning, they still couldn't withstand the power of Justin Morneau's bat.
The Cardinals used five relievers from their nine-man bullpen, but they couldn't mop things up after Miller departed with mid-back spasms in the third inning. Morneau did a majority of the damage for the Rockies, with six RBIs in a 10-5 Cardinals loss on Tuesday night at Coors Field.
"Guys came out of the bullpen and did a nice job of keeping us in that game until late," manager Mike Matheny said. "It's not exactly how we had it lined up but also we didn't have to overuse too many guys where we feel we're too depleted down there."
Miller was examined on the mound after missing with his fastball a few times by a considerable margin as he fell behind Rockies pitcher Jorge De La Rosa 3-1. He tested his back with a few practice pitches after feeling "a nagging little sting," but Matheny and the Cardinals had seen enough and Miller was removed.
"He later told us it was something he felt a little bit during his warmups, but we really didn't notice until he later started grimacing that inning," said Matheny.
Including the free pass Nick Greenwood issued to De La Rosa after taking over, Miller was credited with five walks and six hits in 2 2/3 innings. He was scored upon three times in the first frame, as the first six Rockies batters reached.
"Just that one at-bat is when I felt it the most, so I can't really blame my start on that," said Miller, who expects to take his next turn in the rotation.
Starting in place of Yadier Molina (rest), Tony Cruz got the Cardinals on the board in the third inning after De La Rosa collided with catcher Wilin Rosario on a hit that barely trickled out of the box. De La Rosa's ensuing throw went wide of first, allowing Cruz to take second. Cruz came around to make it 3-1 following a Miller sacrifice bunt and a Matt Carpenter sacrifice fly.
Cruz followed up Jhonny Peralta's fourth-inning, two-run homer to left field by scoring Peter Bourjos on a groundout to second baseman DJ LeMahieu, giving the Cardinals a 4-3 lead.
Facing Greenwood (1-1), Morneau hit a three-run home run to center in the same frame to put the Rockies back on top.
"He's been great for us, a great pickup, in a lot of ways, not just because of his production but because of who he is, the type of leader he is," Rockies manager Walt Weiss said.
Troy Tulowitzki was positive Allen Craig's fifth-inning single grazed the right forearm of Matt Holliday as he passed by the shortstop on his way to third. But with obstruction not being a challengeable call, Weiss' plea to third-base umpire Will Little fell on deaf ears. Holliday scored on the play as the Cardinals' deficit was cut to 6-5.
But Morneau made certain that's as close as the Cardinals would get, driving in two insurance runs in the seventh on a bases-loaded single off left-hander Sam Freeman.
Matheny felt there was a double-play to be made prior to Morneau's at-bat by Freeman, who only got one out at home after inducing a weak pop from Tulowitzki.
"We're sitting on two outs with left-hander coming into the box with a left-hander on the mound," said Matheny. "A very good left-hander, given, but we're still in a pretty good spot, as we just had the bases loaded with Tulowitzki at the plate and one out. We were happy about the way it resulted at the time, but it ended up costing us a couple."
"One of the best hitters in the league [Tulowitzki] hit a ground ball, so you have a chance to pick one another up, and whether the guy is right-handed or left-handed you have to find a way to get those guys in," said Morneau, a lefty swinger who picked up five of his RBIs against southpaws.
Molina loaded the bases with a two-out, pinch-hit single in place of Cruz in the eighth inning. Yet, it took just four pitches up in the zone for left-hander Rex Brothers to sit down a pinch-hitting Jon Jay with an emphatic strikeout.
In the same inning, Drew Stubbs hit the first pinch-hit home run of his career to lead off things off against right-hander Jason Motte.
Cody Ulm is an associate reporter for MLB.com. This story was not subject to the approval of Major League Baseball or its clubs.