Morneau's six RBIs get Rockies off the mat
Slugger goes off vs. Cards for club's first win in eight games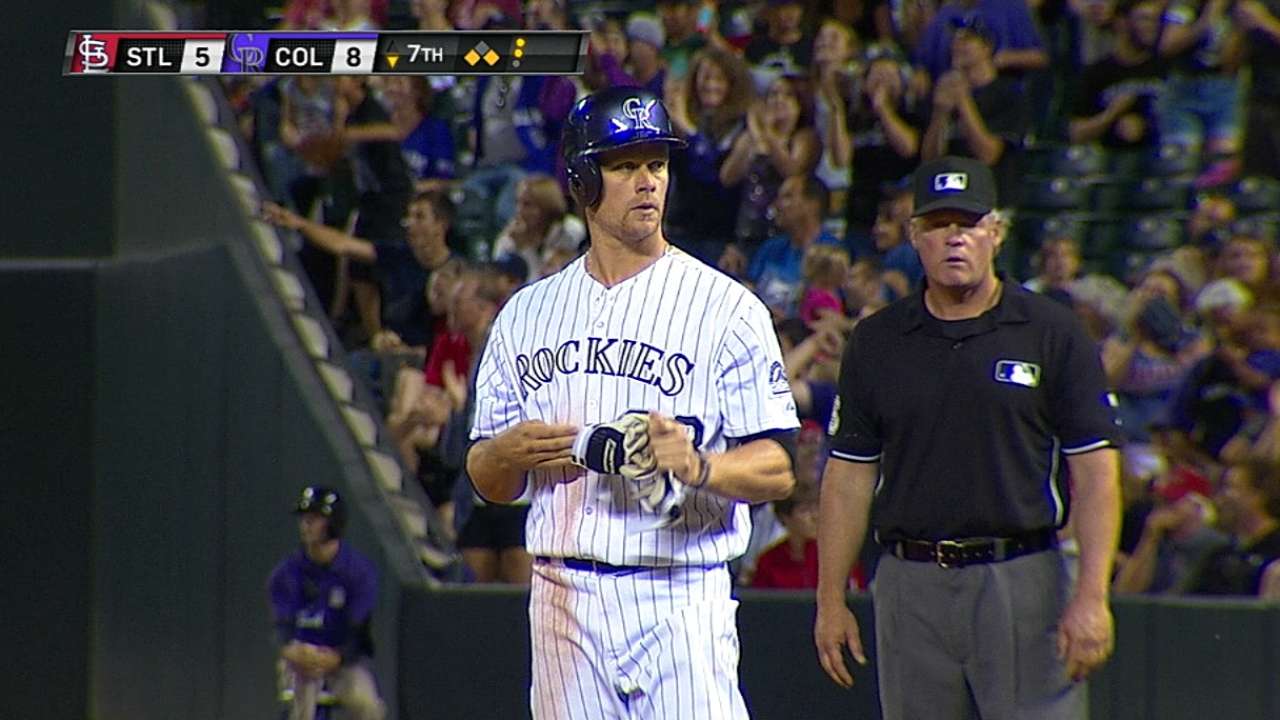 DENVER -- Rockies first baseman Justin Morneau wasn't going to let his RBIs -- rapidly increasing in number -- go to waste again.
Morneau drove in six runs, three on his 13th home run of the season and two during a key seventh-inning rally, as the Rockies ended their losing streak at seven games by beating the Cardinals, 10-5, on Tuesday night in front of 34,554 at Coors Field.
Through five games of the current homestand, which concludes on Wednesday afternoon, Morneau has driven in 11 runs, and his 3-for-5 performance on Tuesday brought his homestand batting average to .353 (6-for-17). Finally, the Rockies rewarded the effort with a victory.
"This is one we needed," said Morneau, second in the National League with 57 RBIs. "It'll give us a chance to win the series tomorrow, which is what we really needed. We haven't been playing well at all, but you can't go back in time, can't change that stuff. Just keep looking forward."
Not always have Morneau's big RBI games resulted in victory. He had five twice previously this year, and the Rockies lost both -- 13-10 to the Brewers on Friday and 10-9 to the Phillies on April 20. His career-high seven-RBI game came for the Twins in a 14-13 loss to the Athletics on July 20, 2009. He had six RBIs in a game twice with the Twins, and they won both.
Morneau, who joined the Rockies as a free agent this past winter after the Twins traded him to the Pirates to finish last season, is the only player in the Majors with five or more RBIs in three games this year.
"He's been great for us, a great pickup, in a lot of ways, not just because of his production but because of who he is, the type of leader he is," Rockies manager Walt Weiss said.
In addition to Morneau's bat, the Rockies needed seven gritty innings from left-hander Jorge De La Rosa (7-6), who had lasted just 6 1/3 in his previous two starts -- one shortened by lower back tightness, the other by ineffectiveness. De La Rosa gave up five runs (four earned) and struck out three with no walks.
De La Rosa's back pain returned in the third when he and catcher Wilin Rosario tangled while going after a Tony Cruz bunt. De La Rosa threw wildly, and needed to take some warmup pitches before continuing.
"I couldn't even move when that happened, but after that I felt much better," De La Rosa said.
Morneau's big hits came when the Rockies needed them.
Jhonny Peralta homered for two runs in the fourth inning as the Cards scored three runs on four hits for a 4-3 lead. But after Corey Dickerson singled and Troy Tulowitzki walked against Cards reliever Nick Greenwood, who came on when starter Shelby Miller was removed with two outs in the third inning with back tightness, having yielded three runs on six hits and five walks.
Morneau, who singled in a run during a three-run first that also included Ryan Wheeler's two-run single, swatted Greenwood's 1-1 slider over the right-field wall for a 6-4 lead.
The Cards cut the difference to one run on Allen Craig's RBI single in the fifth. The Rockies claimed the ball grazed Holliday's right forearm, causing the unusual spin that sent the ball past Tulowitzki at shortstop for an RBI single. Weiss asked the umpires to consult, but none of them could rule the ball hit Holliday and that call is not subject to instant replay.
"That was one of those bad breaks, but no doubt it hit him," Tulowitzki said.
The Rockies loaded the bases with one out in the seventh against Sam Freeman. Tulowitzki's bouncer to the mound nearly led to a double play, but Tulowitzki hustled to first. He aggravated a right middle toe injury he suffered earlier this month, but stayed in the game.
Morneau, never afraid to offer at the first pitch, lined Freeman's 94-mph fastball into right field for two runs. Morneau entered hitting .244 against left-handed pitching, but his homer and his seventh-inning RBIs came off lefties.
"One of the best hitters in the league [Tulowitzki] hit a ground ball, so you have a chance to pick one another up, and whether the guy is right-handed or left-handed you have to find a way to get those guys in," Morneau said.
Adam Ottavino, who entered with a 12.00 June ERA, replaced Rex Brothers and gave up a Yadier Molina pinch-hit single to load the bases with two out before striking out pinch-hitter Jon Jay.
Drew Stubbs led off the Rockies' eighth with his fifth homer of the season and his first career pinch-hit homer, a moonshot off Cards right-hander Jason Motte on a cutter with the count full. Dickerson singled in another run off Motte.
Right fielder Brandon Barnes made arguably the Rockies' best outfield catch of the year, laying out to rob Carpenter of extra bases on his drive into the right-center gap to open the ninth.
Thomas Harding is a reporter for MLB.com. Follow him on Twitter @harding_at_mlb. This story was not subject to the approval of Major League Baseball or its clubs.