Bauer returns to Chase Field with Indians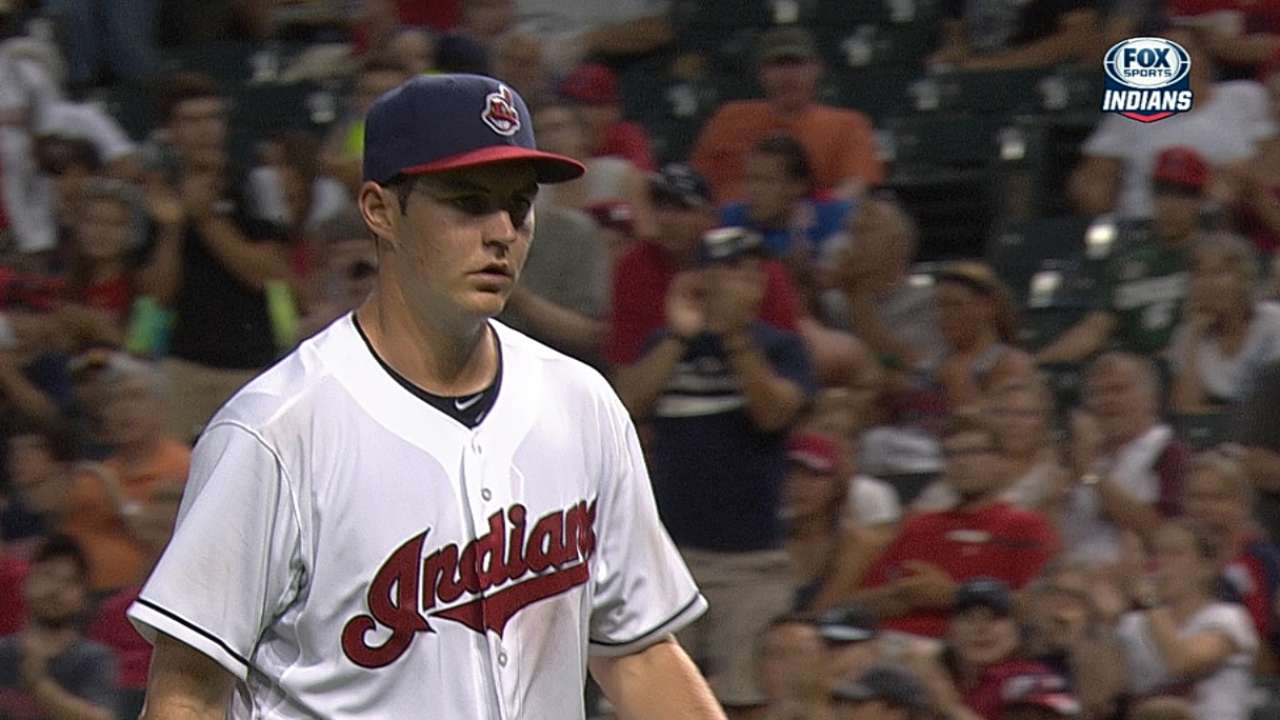 PHOENIX -- Three years after the D-backs took him third overall in the 2011 First-Year Player Draft, and a year and a half after they traded him to the Indians, Trevor Bauer was back at Chase Field.
The Indians' 23-year-old right-hander only started four games for the D-backs before they dealt him, but he said he doesn't focus on being traded early in his career.
"I learned a lot from my time here and I learned a lot in the two years since I've been gone," Bauer said. "They decided to go a different direction, and I hope it worked out the way they wanted it to work out, and ultimately I got to get better as a pitcher."
The Indians have benefited from that trade this season. In addition to receiving Bauer, they also picked up relief pitcher Bryan Shaw, who has a 2.95 ERA since arriving in Cleveland. Two other players, outfielder Drew Stubbs and reliever Matt Albers, are no longer with the team.
But Bauer was the centerpiece of the trade for the Indians, who gave up five players as part of the three-team trade with the D-backs and Reds.
"Any time you get a chance to get a 21- or 22-year-old pitcher, yeah, that's a big, big piece," manager Terry Francona said.
Bauer split 2013 -- his first year with the Indians -- between Cleveland and Triple-A Columbus while working on his delivery. The result has been obvious. After putting up a 5.29 ERA in four big league starts last season, Bauer has improved to 4.40 in eight starts for the Indians in 2014.
"Last year was a tough year for him," Francona said. "[He was] kind of trying to redo his delivery, and at times trying to do it at the Major League level. And when he went back to Triple-A, still had some issues. But he has been open and trying hard to be the best pitcher he can be. That's kind of what we all want."
Bauer won't face his former team on their two-game swing through Arizona, and he doesn't mind that. He'll miss them by two days, going up against the Mariners on Friday in Seattle.
"The next team I'm going to face is Seattle, so I've been focused more so on them," Bauer said. "I really don't have any disappointment and relief that I'm not pitching here. I'm just facing Seattle next and that's what I try to focus on."
Steve Gilbert is a reporter for MLB.com. Follow him on Twitter @SteveGilbertMLB. Adam Lichtenstein is an associate reporter for MLB.com. This story was not subject to the approval of Major League Baseball or its clubs.