Baez, Bryant to showcase talent in Futures Game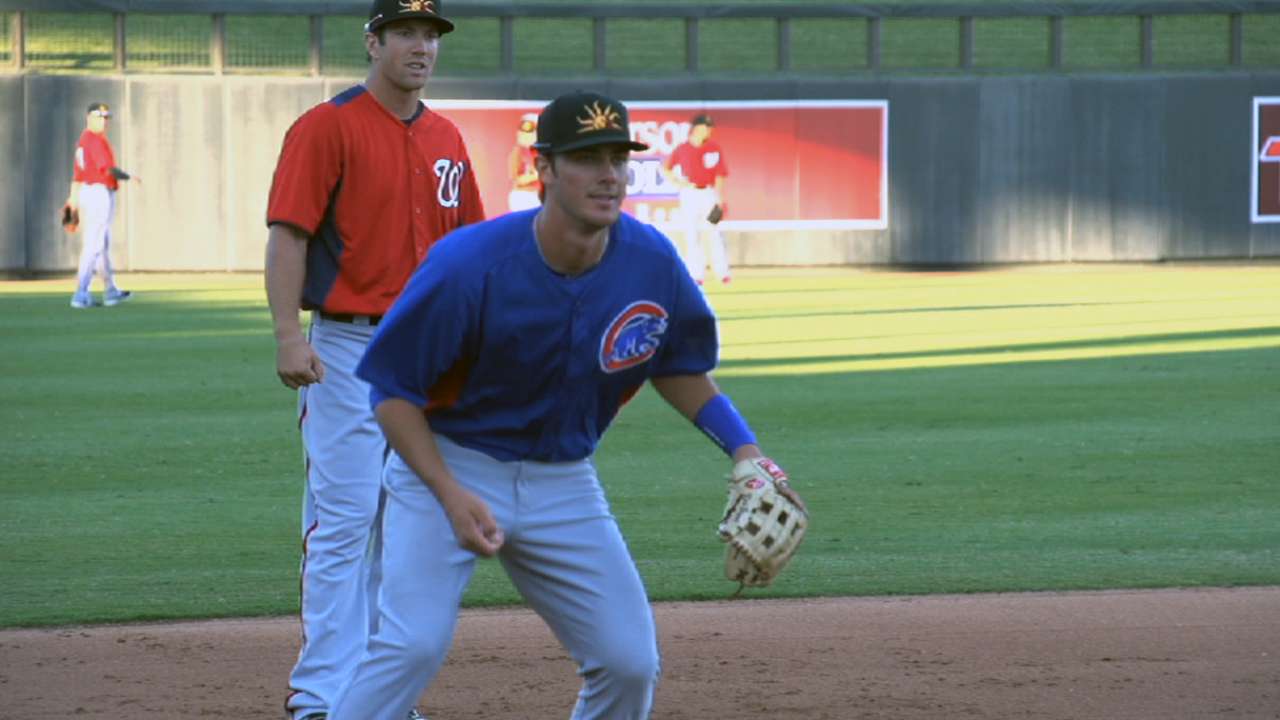 CHICAGO -- Shortstop Javier Baez and third baseman Kris Bryant, half of the Cubs' so-called "Core Four," will showcase their talents at the SiriusXM All-Star Futures Game, to be played July 13 at Target Field in Minneapolis.
Baez and Bryant, now teammates on Triple-A Iowa, were named to the event on Tuesday. Baez was the Cubs' No. 1 pick in 2011; Bryant in '13.
Baez, 21, was batting .226 with 11 home runs, 11 doubles, two triples and 42 RBIs entering Iowa's game on Tuesday. Bryant, 22, hit his fifth home run on Tuesday in the first inning. At Double-A Tennessee, Bryant led the Southern League in batting average (.355), home runs (22), and RBIs (58). He was promoted on Thursday.
Bryant has been on the fast track since he was selected second overall in the 2013 First-Year Player Draft. In less than a year, he has moved up in the Cubs organization, beginning at Class A short-season Boise. He played in the Arizona Fall League last October, and won Most Valuable Player honors. Bryant also won the Golden Spikes Award as the top collegiate player in the country after hitting 31 home runs at San Diego.
"It's hard not to hear about it," Cubs first baseman Anthony Rizzo said of Bryant's numbers. "What he's doing is very special. When he gets up here, it's our job to make him feel comfortable. Until then, it's our job to win the games up here."
Rizzo also was a young phenom with the Padres. Did he have any advice for Bryant, like practicing patience?
"No, don't be patient," Rizzo said. "I've said it before, you don't want to be patient in the Minor Leagues. His time will come, and when it comes, embrace it."
The SiriusXM All-Star Futures Game, now in its 16th year, features the top Minor League prospects competing in a nine-inning contest as part of Taco Bell All-Star Sunday.
Major League Baseball, in conjunction with the Major League Baseball Scouting Bureau, MLB.com, Baseball America and the 30 Major League clubs, selected the players. Each Major League organization is represented, and players from all full-season Minor Leagues are eligible to participate.
Baez and Bryant are two of 15 first-round Draft picks scheduled to participate. The World Team features players from eight different countries and territories outside the United States.
Carrie Muskat is a reporter for MLB.com. She writes a blog, Muskat Ramblings, and you can follow her on Twitter @CarrieMuskat. This story was not subject to the approval of Major League Baseball or its clubs.