Resilient Braves ride pitching, power to win
Atlanta bounces back vs. Astros after dropping two games to Nats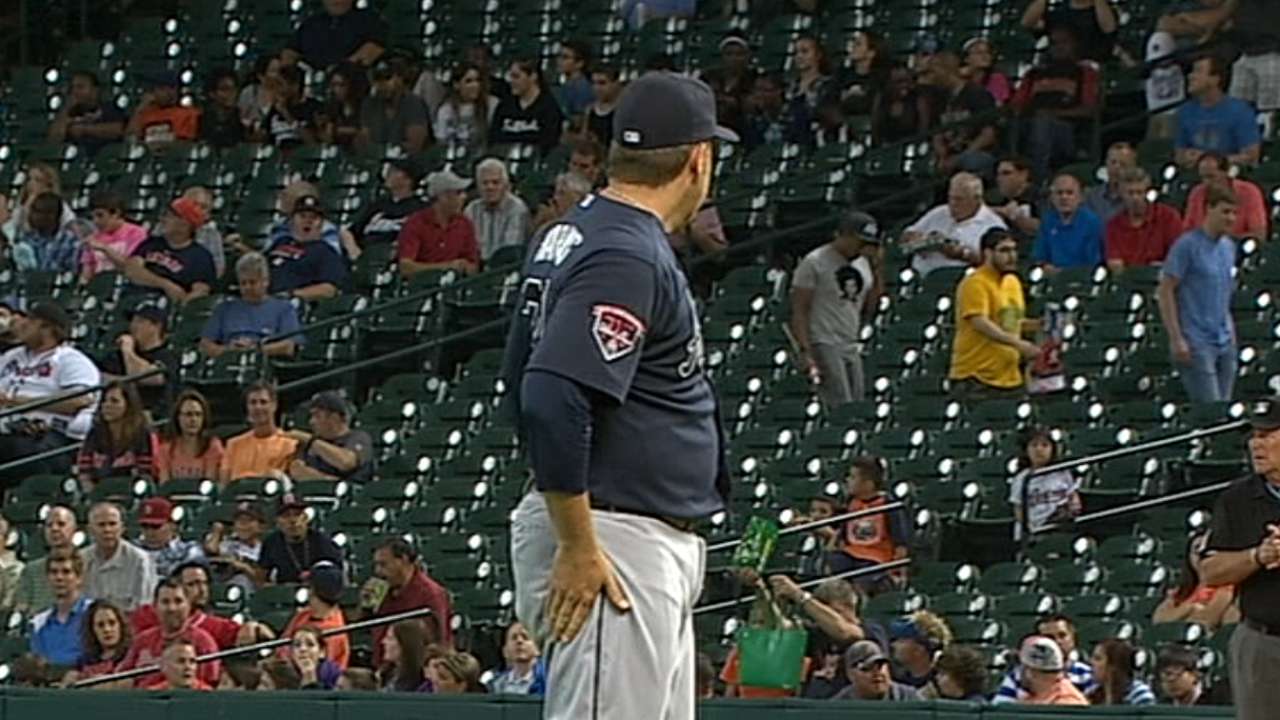 HOUSTON -- Braves manager Fredi Gonzalez was interested to see how his club would react after concluding a four-game split with consecutive losses to the division-rival Nationals. But it did not take long for him to see Aaron Harang and his relievers once again show the resiliency that has kept this club contending this year.
After the Upton brothers helped build a lead with a pair of solo home runs, Harang and three relievers navigated their way through trouble and guided the Braves to Tuesday night's much-needed 3-2 win over the Astros.
With a loss, the Braves would have had a .500 record for the first time since splitting this year's first two games. Instead, they bounced back from those losses to the Nationals much like they had when they swept the Marlins right after losing four straight to the Red Sox.
"I think we're pretty good at turning the page," Braves third baseman Chris Johnson said. "Every day we come with the same intensity and the same approach and try to win games. I don't think we get caught up in streaks, how many we've won and how many we've lost."
B.J. Upton sent a solo shot into the Crawford Boxes with one out in the third inning and his younger brother Justin added to Scott Feldman's woes when he drilled a two-out solo shot in the fourth that nearly struck the train located high above the left-center-field wall.
"You work every day to square a ball up," said Justin, who had not homered since hitting his 14th of the season on June 8. "To square that one up, it felt good. The last few weeks haven't gone great for me. So, putting the barrel on the ball and have it carry for me was good."
The Uptons have now homered in the same game four times as teammates. This ties them with Vladimir and Wilton Guerrero and Jason and Jeremy Giambi for the most by a brother combo in Major League history.
Before the Upton brothers showed their strength, Jason Heyward got the Braves' offense rolling with a one-out triple in the second. This put him in position to score on Johnson's double to the right-center-field gap. Johnson's double was his first hit at Minute Maid Park since the Astros traded him to the D-backs on July 29, 2012.
"Once I got that hit, I think everything was fine," said Johnson, who entered the game with some extra adrenaline. "A lot has changed over there since I was here. There are only a couple guys that I really played with in their starting lineup. A lot of their coaching staff and front office has changed. But it's nice. I have a lot of respect for this organization and what they did for me."
The early offensive support provided comfort to Harang, who allowed two earned runs in six innings. This was the kind of bounce-back performance the Braves were hoping to receive from the veteran right-hander, who had allowed 13 hits and nine runs during his most recent start against the Phillies.
Astros rookie outfielder George Springer introduced himself to Harang with a monstrous first-inning home run that traveled an estimated 441 feet over the center-field wall. Jonathan Villar's two-out RBI single in the fourth accounted for the only other run surrendered by the Braves starter.
Harang's command was shaky through the first three innings. But he took advantage of a young lineup's aggressiveness and persevered until he made the necessary mechanical adjustment. He induced consecutive ground balls from Springer and Jon Singleton after the Astros put runners at the corners with no outs in the third.
"His command got better," Gonzalez said. "He pitched out of trouble a little bit early in the game. You could see the veteran in him. He didn't have his good stuff early on and he didn't give in."
Anthony Varvaro and Jordan Walden preserved Harang's effort by escaping late-inning jams. After Springer grounded out against Varvaro to end the seventh with runners at second and third, Walden stranded two more runners by ending the eighth with a strikeout of Robbie Grossman. Craig Kimbrel then worked around Ramiro Pena's error to complete a scoreless ninth by sending a 98-mph heater by Springer for his 22nd save.
"They all got out of it while facing some big hitters down the stretch," Gonzalez said. "It was good."
Mark Bowman is a reporter for MLB.com. This story was not subject to the approval of Major League Baseball or its clubs.