Kazmir roughed up by former team in loss to Mets
A's lefty allows a season-high seven runs on eight hits in three innings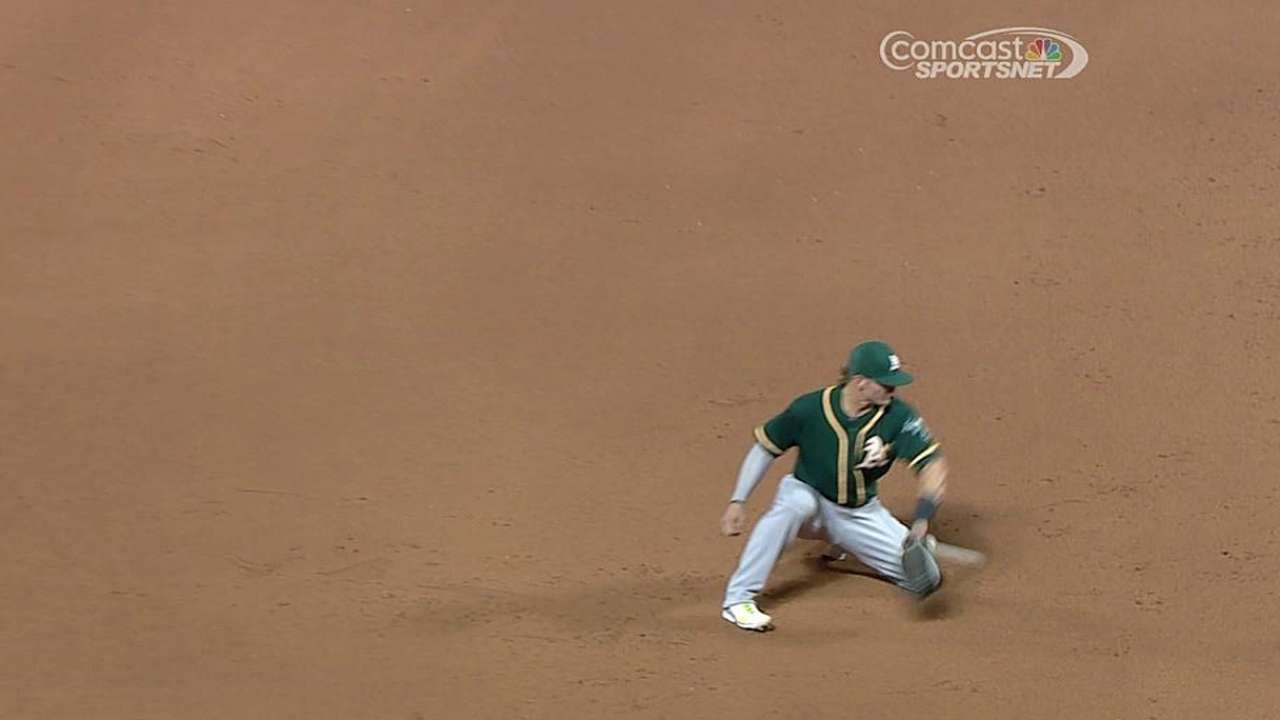 NEW YORK -- The A's were silenced by a pair of ex-employees, and Scott Kazmir, facing his own former team, endured one of the worst starts of his career on a forgettable Tuesday evening at Citi Field.
Kazmir was shelled for the first time all season in the 10-1 Interleague loss to the Mets, while the man whose rotation spot he essentially took, Bartolo Colon, delivered a vintage performance.
Colon, who escaped the Bay last winter for a two-year deal from the Mets, limited Oakland to one run on four hits over eight dominant innings. Outfielder Chris Young, also a member of the 2013 A's, hammered two home runs against them.
Kazmir was responsible for one of them, along with two other homers to Curtis Granderson and Travis d'Arnaud. He lasted just three innings against the team that drafted him in the first round 12 years ago, allowing a season-high seven runs on eight hits along the way.
"I just wasn't throwing my pitches where I wanted to at all," said Kazmir. "Any changeup was belt high or even higher, and they put good swings on them. They didn't miss any of those pitches that were up in the zone. For the most part, everything was right down the middle."
Young's homer came on a changeup. So did d'Arnaud's. Before Tuesday, opponents were hitting .163 off Kazmir's changeup, including .108 in his other four June starts.
He had also allowed just four runs total in those four starts -- and 22 in all through 95 innings in his previous 15 outings, pitching like an All-Star.
"It's almost a shock when you see him give up home runs," said manager Bob Melvin. "He got some balls up, missed location with a few of them, and they didn't miss them. The wind was blowing out to left, and they got some in the air out there, took advantage of it.
"A performance we haven't seen. For me, it just looked like some balls were up in the zone, and he wasn't locating like he normally does. Usually he's so unpredictable in his pitches that if he does get a ball up, sometimes he gets away with it. He didn't tonight."
"We made the right pitches, just didn't quite execute, and that was the most frustrating part," said catcher Stephen Vogt. "I'm not worried. I don't think we're worried at all. He's such a good pitcher. He's been strong all year for us. Just one bad night."
The lefty, whose ERA moved from an American League-leading 2.08 to 2.66 in the loss, had not allowed at least seven runs since July 10, 2010, against the A's in Oakland while pitching for the Angels.
He gave up back-to-back homers to Granderson and Young in the second and another long ball to d'Arnaud in the third, a three-run shot.
Young then tagged Jim Johnson for a homer in the fifth, and lefty Jeff Francis gave up two runs in three innings.
The A's, meanwhile, managed little off Colon, getting a two-out base hit from Brandon Moss and an ensuing RBI double from Yoenis Cespedes in the first, but just two hits thereafter.
"What he did tonight is what he did for us all of last year," said Vogt. "He's so frustrating to play, especially someone who has caught him and knows him well. He threw me three sliders in one at-bat. I don't think I've seen him throw three offspeed pitches to anyone. That's just what he does. Just when you think you've got him figured out, he's going to throw you something you have no idea about. That's just a testament to how good he is."
"It feels really good, particularly because it's against a team like the Oakland A's," Colon said through a translator. "For me right now, that's the No. 1 team. It really means a lot to get this win over them."
It was Colon's eighth of the year. Kazmir moved to 9-3.
"It was one of those outings where everything that could go wrong did go wrong," the A's pitcher said. "It's something I'll think about tonight but then move past it the next day. But this one hurt. I felt like I had a good grasp on everything, a good approach up there and just didn't execute."
"Just a little blip on the radar screen," said Vogt, "and he'll be right back to where he's been all year."
Jane Lee is a reporter for MLB.com. Read her blog, Major Lee-ague, and follow her on Twitter @JaneMLB. This story was not subject to the approval of Major League Baseball or its clubs.