Brewers fall short in 16-inning marathon
Missed opportunities mar Milwaukee's longest game of year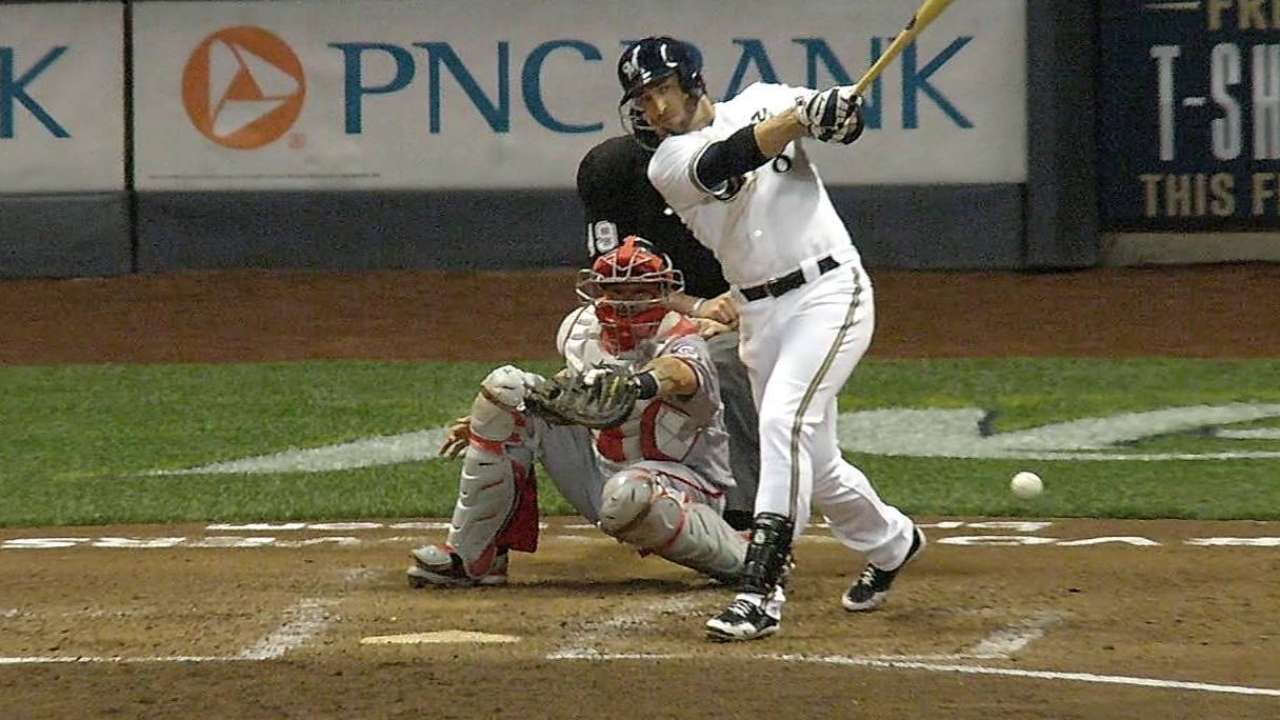 MILWAUKEE -- Brewers manager Ron Roenicke wasn't just tired when he sat in front of reporters in the wee hours of Wednesday, the clock ticking toward 1 a.m. CT and the next game barely 12 hours away.
After a 16-inning, 4-2 loss to the Nationals, Roenicke appeared irked.
"We had chances today," Roenicke said. "We had bad at-bats today. We've been swinging the bats so well … but we had some chances today and we had some bat at-bats."
The game began at 7:10 p.m. CT on Tuesday and ended at 12:32 a.m. CT on Wednesday, after Nationals left fielder Ryan Zimmerman hit a two-run home run off Brewers reliever Mike Fiers in Fiers' fourth inning of work. Along the way, Yovani Gallardo logged his fourth straight quality start, Ryan Braun delivered a go-ahead hit and Aramis Ramirez turned 36 years old.
The Brewers were five outs away from victory when hard-worked setup man Will Smith grooved a fastball to Anthony Rendon for a tying solo home run in the eighth inning. It turned out the game was only halfway over.
At five hours, 22 minutes, it tied the longest time of game in Miller Park's 14-year history, a mark set April 22, 2004, when the Brewers fell to the D-backs, 11-9, in 15 innings.
That 2004 season was a banner year for marathons, because Tuesday marked the Brewers' longest game, in terms of innings, since they went 17 innings for 1-0 win over the Angels in Anaheim on June 8, 2004. Vladimir Guerrero golfed a pitch in the dirt for the only Angels hit against Ben Sheets over nine innings that night, and Craig Counsell scored the game's only run.
As in those games, the visitors triumphed Tuesday. The Brewers were left to lament a painful loss while club officials discussed the possibility of rushing bullpen help to Milwaukee.
"It's like you worked for nothing today," center fielder Carlos Gomez said. "We played 16 innings and we didn't take the 'W.' You go home, try to rest a little bit and come tomorrow and win."
Gomez had two chances in extra innings to end the game.
In the 13th, Washington reliever Ross Detwiler intentionally walked Jonathan Lucroy and still had a base open when he opted to pitch to Gomez with two outs. Gomez swung at an inside fastball on the first pitch and hit a weak line drive to shortstop. Two innings later, after shortstop Ian Desmond's throwing error gave the Brewers extra life, Tyler Clippard intentionally walked Lucroy to again give Gomez another chance. Again, he swung at a first-pitch fastball inside, and this time popped up to first base.
"I tried to be aggressive," Gomez said. "That's me. Look for something I can handle, and I got jammed. … It's one of those days. This happens, you know?"
Roenicke indicated he was disappointed in the team's overall offensive showing and did not specifically criticize Gomez.
"I don't want him looking at a pitch, but I do want him to look for a good pitch to hit," Roenicke said. "He's not any different than anybody else -- just get a good pitch to hit. I don't have any problem with any of those guys swinging at pitches, but we're swinging at pitches way off the plate and it hurt."
Detwiler and Fiers ate up important innings for each team. Detwiler threw 46 pitches -- every one of them a two- or four-seam fastball -- going, "above and beyond," according to Nationals manager Matt Williams. Fiers threw 59 pitches over four innings after throwing 22 pitches the night before, making him the seventh pitcher in the Majors this season to throw 50-plus pitches on zero days' rest.
"I tried to give as many innings as I could and put as many zeroes on the board," Fiers said. "They got me in the fourth inning I pitched, and that was it."
The loss denied the Brewers a chance to gain ground in the National League Central on the Cardinals, who also lost Tuesday and remain 4 1/2 games back.
The starting pitchers were excellent, and all but forgotten by the end of a long night. Gallardo allowed a tough-luck run in the first inning but nothing else through the sixth. Wisconsin native Jordan Zimmermann struck out six of the first eight men he faced and was perfect into the fourth inning and scoreless into the fifth. The Brewers finally broke through on Braun's two-out, two-strike, two-run single.
A 2-1 lead lasted into the eighth inning, when Smith tied for the National League lead by making his 41st appearance. He threw a 1-1 fastball down the middle and Rendon smacked it over the right-center-field wall, where Gomez tried in vain to leap and bring it back.
It was the second home run off Smith in his last six outings after the left-hander surrendered zero in his first 34 outings.
"It was supposed to be away and it was down the middle," Smith said. "That's not what you want to do. Then they go 16 [innings], which crushes the bullpen. Tough one."
Adam McCalvy is a reporter for MLB.com. Read his blog, Brew Beat, and follow him on Twitter at @AdamMcCalvy. This story was not subject to the approval of Major League Baseball or its clubs.