MLB.com Columnist
Bill Ladson
Zimmerman's 16th-inning blast nets marathon win
Longest game in Nationals' history ends on high note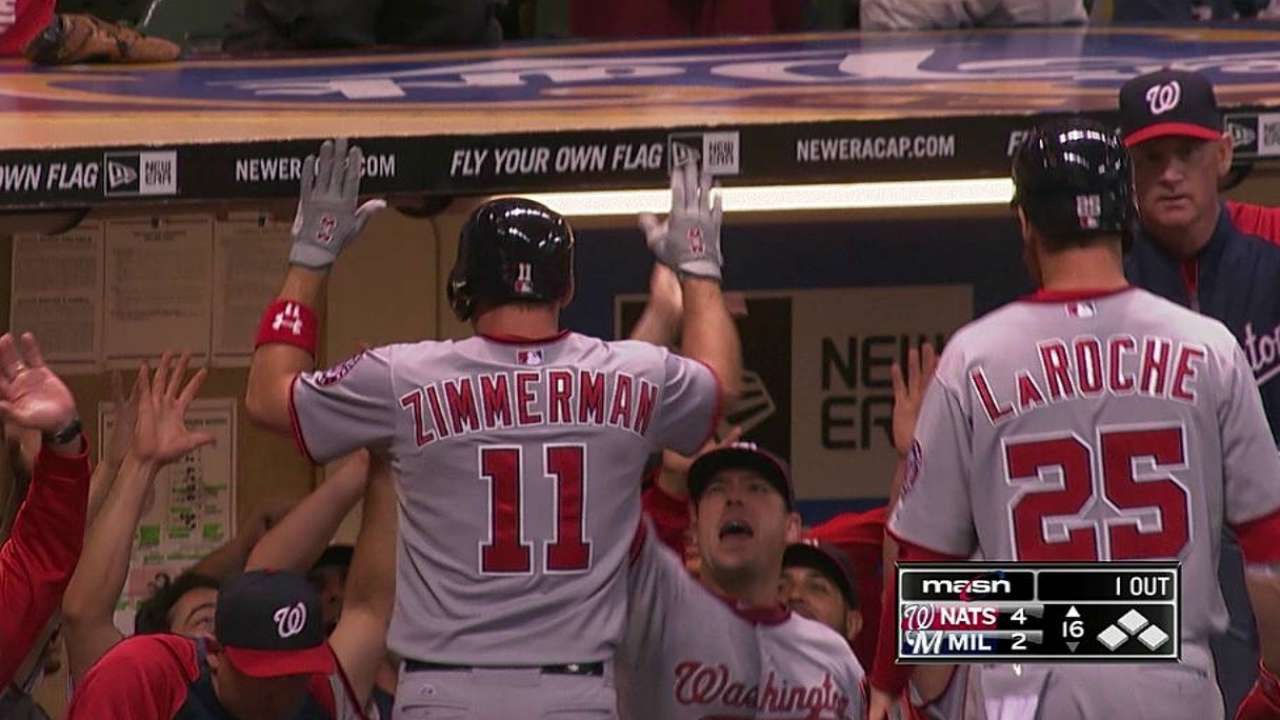 MILWAUKEE -- The Nationals played the longest game in their history on Tuesday night at Miller Park. It took Ryan Zimmerman to put an end to the marathon, as the Nationals defeated the Brewers, 4-2, in 16 innings.
The score was tied at 2 when the Nationals scored two runs in the 16th off right-hander Mike Fiers. With one out, Adam LaRoche singled to right field. Zimmerman followed, swung at a 2-0 pitch and hit a home run over the left-field wall. It was the first extra-inning home run of his career and his first home run since April 11.
"I just hit the ball hard," Zimmerman said. "The swing started to feel better the last couple of days. I had a rough two weeks. But I have to keep grinding it out. I got myself into a good count and I put a good swing on the pitch."
Tyler Clippard picked up the victory, while Rafael Soriano picked up his 18th save of the season. In all, the bullpen pitched 10 scoreless innings, but the player of the game was arguably left-hander Ross Detwiler. With the 'pen overworked, the Nationals needed innings from Detwiler. He gave them four scoreless innings.
"Det was above and beyond tonight," manager Matt Williams said. "Going in, we had some guys that were feeling [tired], so we didn't want to go to them. Turned out, we had to. Det was fantastic. He really stretched it for us."
For Detwiler, the outing was a confidence boost. As a long man, Detwiler hasn't seen much action. The four innings marked a season high for the left-hander.
"The bullpen is running a little short when you play 16 innings, so it's good to try to get out there as long as I can," Detwiler said.
Even Brewers manager Ron Roenicke was impressed by what he saw from Detwiler. Roenicke noticed Detwiler threw nothing but fastballs.
"I don't remember an offspeed pitch. His fastballs, some were cutting, some were sinking. You didn't know which way it was going," Roenicke said.
Had the game remained tied going into the bottom of the 16th, Williams announced that LaRoche would have made his Major League debut as a pitcher. The last time LaRoche pitched in a professional game was in 2003, when he was with Double-A Greenville, a Braves affiliate.
"After his at-bat, I told him to go in the cage and throw a little bit. It turned out, we scored." Williams said.
Zimmerman said he would not have liked to see LaRoche in the game.
"I'm sure Roche is probably mad at me for hitting the home run. I guess I have to see it another time," Zimmerman joked.
With the win, the Nationals remain two games ahead of the Braves in the National League East. Atlanta defeated the Astros, 3-2, at Minute Maid Park on Tuesday night.
Right-hander Jordan Zimmermann showed on Tuesday night that it's never easy pitching in your home state. A native of Auburndale, Wis., Zimmermann was solid for six innings, but he ended up with a no-decision.
It started off as if Zimmermann was going to have a game to remember. He retired the first 10 hitters he faced and struck out six batters before allowing a hit to Ryan Braun in the fourth inning.
Then Zimmermann found himself in trouble later in the inning, for the Brewers had the bases loaded with one out, but Zimmermann managed to get out of the jam. Aramis Ramirez popped up to first baseman LaRoche, while Khris Davis struck out to end the threat.
In the next inning, Zimmermann wasn't so lucky. With runners on second and third and two outs, Braun singled to left field, sending Mark Reynolds and Jean Segura home to make it a one-run game.
"The fourth and fifth were a little rough," Zimmermann said. "First time through the lineup, I used the fastball and it was good. Second time through, they made some adjustments. I was leaving some balls up. They strung a few hits together."
Zimmermann would last six innings, allow the two runs on six hits and strike out nine batters. The Nationals had problems scoring off Brewers starter Yovani Gallardo. He, too, went six innings and allowed a run on four hits. The run scored in the first inning. Denard Span led off with a single, stole second and went to third on an infield single by Anthony Rendon. Span then came home on a groundout by Jayson Werth to make it a 1-0 game.
But the Nationals would tie the game in the eighth inning off left-hander Will Smith. With one out, Rendon belted his 12th home run of the season, a solo shot over the center-field fence.
With the bullpen overworked, the Nationals need right-hander Stephen Strasburg to go deep in the game on Wednesday afternoon against the Brewers. Williams didn't rule out making a roster move before the game.
"They are all gassed," Williams said about his bullpen. "[Craig] Stammen is OK. [Jerry] Blevins is OK. Certainly, Soriano will be OK."
Bill Ladson is a reporter for MLB.com and writes an MLBlog, All Nats All the Time. He also can be found on Twitter @WashingNats. This story was not subject to the approval of Major League Baseball or its clubs.