Mets rip A's behind four homers, strong Colon
C. Young goes deep twice, while d'Arnaud, Granderson also hit blasts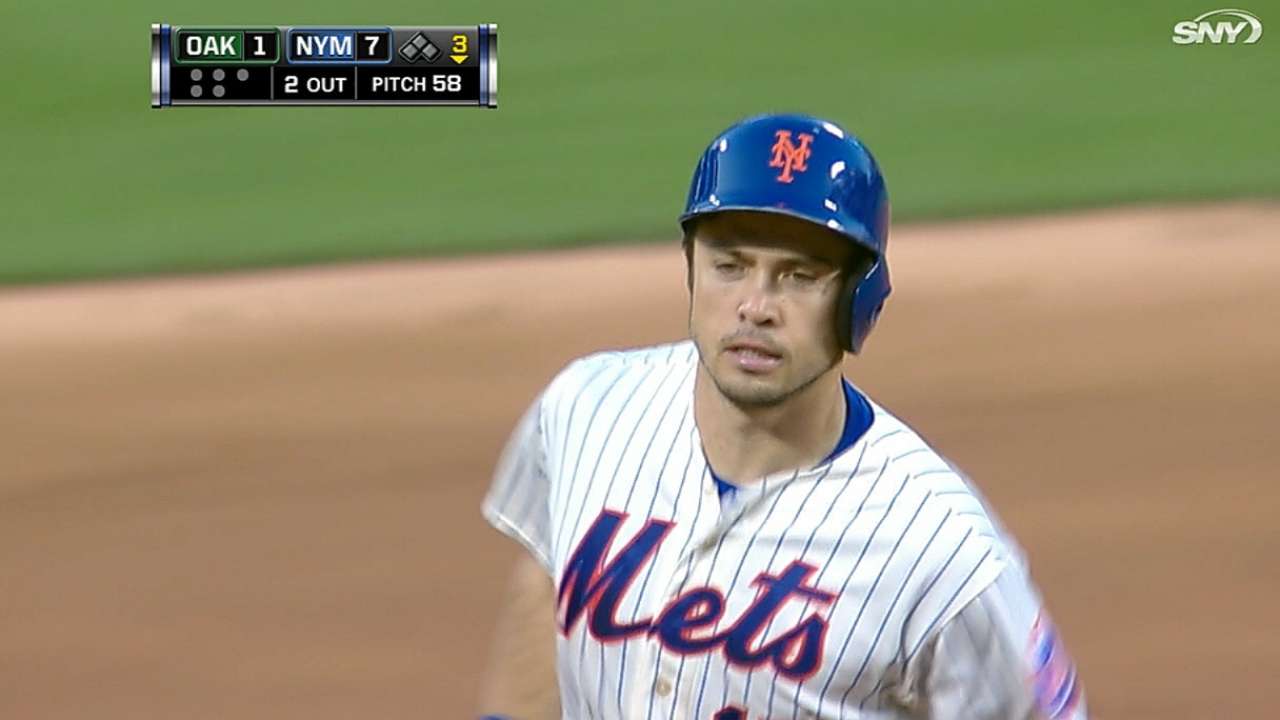 NEW YORK -- The Mets sent catcher Travis d'Arnaud to the Minors earlier this month because he was not performing. If they didn't officially put outfielder Chris Young on notice, as well, everyone around Flushing figured it was only a matter of time.
Tuesday, both players sharply reversed the narratives surrounding their disappointing seasons. Young homered twice and d'Arnaud added a three-run blast, leading Bartolo Colon and the homer-happy Mets to a 10-1 win over the A's at Citi Field -- their second straight double-digit offensive output and their third consecutive victory.
"They're good games for us, they really are," manager Terry Collins said. "The thing we haven't done is put together big innings. We knew we had some power. We didn't know how much. We hadn't hit for any power in the first 75 games. To see the power come out now, it's nice to see. All we can do is sit back and knock on wood that it keeps up."
Culprits existed up and down the lineup, though perhaps none more conspicuous than Young or d'Arnaud. The former is a $7.25 million free-agent investment who began Tuesday with a sub-.600 OPS. The latter is a former top prospect who had yet to show why.
Hours before the game, it was a solemn Young who discussed his future with the Mets -- a real concern with fellow outfielder Juan Lagares due back from the disabled list later this week. Then Young went out and did something about it, hitting solo homers off Scott Kazmir in the second inning and Jim Johnson in the fifth. Young nearly lifted a third ball out of the park against his old team in the seventh, but that blast fell just shy of the left-center-field wall.
"I felt amazing today," Young said. "I felt in control. I made them come across the plate, and when I do that, I'm able to have a lot of success."
If that weren't enough, d'Arnaud added his own dose of redemption with a three-run homer off Kazmir in the third. In his first game back from a two-week sabbatical to the Minors, d'Arnaud displayed the type of no-doubt power that rarely surfaced over his first 70 career big league games.
"I forgot how fun this game really was," d'Arnaud said. "I was putting a lot of pressure on myself, and just relaxed."
The results shined through, and all that redemptive karma was more than enough for Colon, who delivered eight innings of one-run ball. Colon struck out eight and walked just one, retiring the final 10 batters he faced in a row.
Facing one of his many former teams, Colon said the win "really meant a lot" considering Oakland's status as the best team in baseball.
"What he did tonight is what he did for us all of last year," A's catcher Stephen Vogt said of Colon, who improved to 6-0 with a 1.58 ERA over his last seven starts. "He's so frustrating to play, especially someone who has caught him and knows him well. He threw me three sliders in one at-bat. I don't think I've seen him throw three offspeed pitches to anyone. That's just what he does. Just when you think you've got him figured out, he's going to throw you something you have no idea about. That's just a testament to how good he is."
But it wasn't just Colon. This was arguably the most complete game the Mets have played all season. Curtis Granderson also hit a two-run homer for the Mets, who knocked Kazmir out of the game after three innings. And David Wright tied a career high by driving in a run for the seventh straight game.
The Mets always expect big things out of those two, even if they have been maddeningly inconsistent all season. It has not been as easy for the team to predict success for Young or d'Arnaud, two players who have been the wrong type of consistent.
Time was running out for both, but things can change in a hurry.
Said Collins: "Those guys like that, that are athletes and professionals, they come out fighting."
Anthony DiComo is a reporter for MLB.com. Follow him on Twitter @AnthonyDicomo. This story was not subject to the approval of Major League Baseball or its clubs.