Duffy duels, but Royals' offense stifled by Kershaw
Coming off no-no, Dodgers ace scatters six singles in eight innings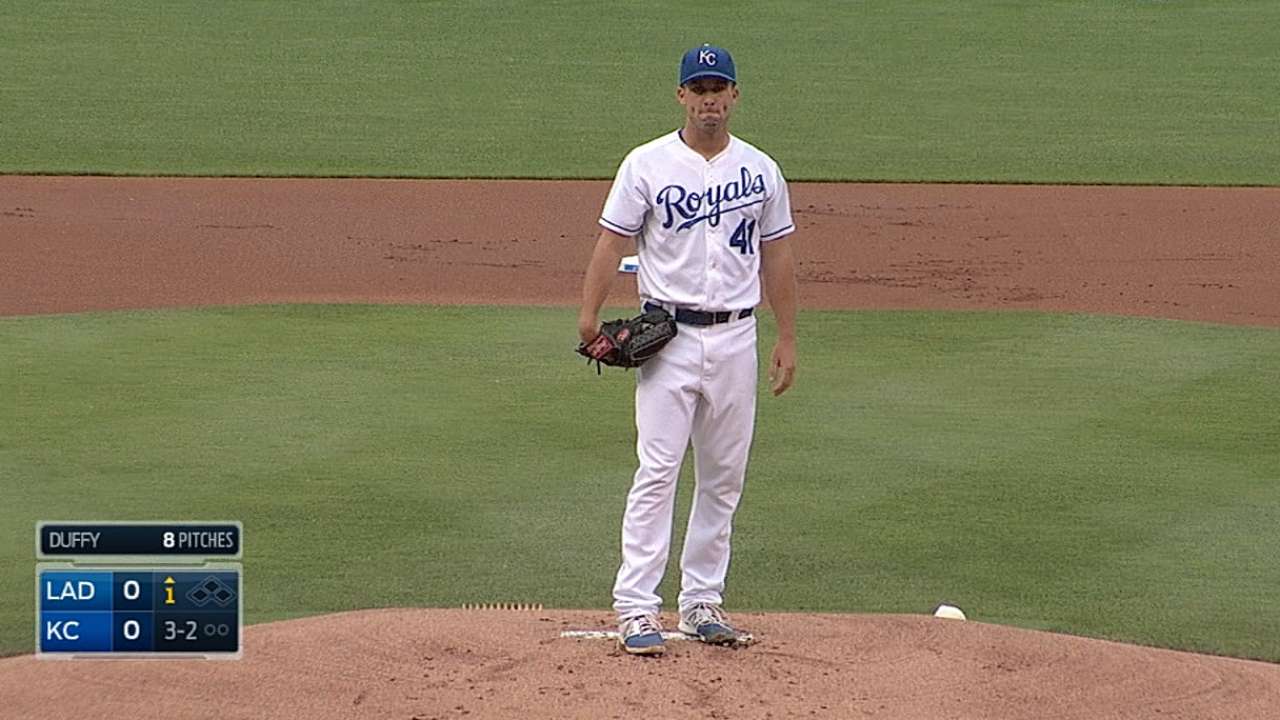 KANSAS CITY -- Left-hander Clayton Kershaw wasn't in no-hit form but was certainly good enough to notch his fifth straight victory for the Los Angeles Dodgers.
Kershaw, the National League's reigning Cy Young Award winner, went eight innings of the Dodgers' 2-0 victory over the Royals on Tuesday night in an Interleague game that drew 28,302 fans to Kauffman Stadium.
That made 21 consecutive scoreless innings for Kershaw on an evening in which his fastball command was deemed not at its best. But, according to Royals manager Ned Yost, his slider certainly was.
"It's the best slider we've seen all year long. I mean, that thing had teeth, it was biting," Yost said.
Kershaw's outing included six Kansas City hits, all singles, one walk and eight strikeouts. His record went to 8-2, his ERA to 2.24. Dodgers closer Kenley Jansen worked a perfect ninth with two strikeouts for his 23rd save.
Kershaw's chances of emulating Johnny Vander Meer's 1938 feat of two successive no-hitters for Cincinnati vanished with the second batter he faced. Eric Hosmer lined a single into left field. Vander Meer continues to stand alone.
By then, Kershaw already had a 1-0 lead, thanks to a deflection by Royals left-hander Danny Duffy.
His game was initiated by Justin Turner's triple, a drive to right-center that tipped off a diving Lorenzo Cain's glove. It was a hard-earned hit, coming on the 11th pitch thrown by Duffy. Turner fouled off six fastballs.
"Turner's a tough out, man. I think he saw like 23 of my pitches today, so kudos to him for staying in there and battling," Duffy said.
After an infield out that kept Turner at third base, Yasiel Puig came up and Yost made an unusual first-inning trek to the mound. His message to Duffy: Don't give Puig anything good to hit with the infield in.
"Because I knew runs were going to be at a premium," Yost said, "so I went out and told him, 'Do not give in to this guy. If you end up walking him, that's fine because if we make a pitch, we can get a double play on [Adrian] Gonzalez and get out of the inning.' "
A identical situation developed because Puig got an infield hit, Turner had to hold at third, and the double play was in order. And Gonzalez cooperated with a sharply hit ball headed right toward shortstop Alcides Escobar.
Except that Duffy instinctively grabbed for the smash and deflected it. The ball slowed down, Escobar had to go to his right to retrieve it and then had time only for a forceout at second. Meantime, Turner scored.
"I've been kicking myself since it happened," Duffy said. "But it's just initial reaction. You're trying to make a play and sometimes you just can't stop yourself from going after it. Because we all think we're athletes -- the pitching staff -- but all jokes aside, it is what it is. You tried to get that out and I didn't. Esky would have made that play."
That run stood up nicely, thanks to Kershaw.
Coming off a 15-strikeout no-hitter last Wednesday night against the Rockies, Kershaw yielded his first two hits to, of all people, a left-handed batter. Hosmer got singles in the first and the fourth. That was odd because lefties had been just 6-for-50 against Kershaw this year.
Hosmer's second hit and Kershaw's lone walk, to Alex Gordon, gave the Royals the first of two chances with two runners on base. In the seventh, Omar Infante and Danny Valencia had back-to-back singles. Each opportunity was stifled by Kershaw.
"Guys like that, when they have runners in scoring position or on base, they turn it on to a different level. It was tough facing him for the first time for a lot of guys here," Hosmer said. "He's as good as advertised, that's for sure."
Duffy was pretty good himself for a guy that wasn't at his best.
"He didn't have his best stuff, he wasn't sharp and he found a way to get us through six innings with just one run scored against him," Yost said. "I thought it was a great job."
That's a sign of a maturing Duffy, who has a 1.71 ERA in his five June starts.
"Personally I'm proud of the way I got through six but it could always be better," Duffy said.
The Dodgers added a run in the ninth. Reliever Kelvin Herrera walked Gonzalez and, after a strikeout, A.J. Ellis singled to left. Pinch-hitter Andre Ethier rolled a single behind second that scored Gonzalez.
Not that they needed it.
"It was a good win for us," Kershaw said. "I think you get that early lead like that, you want to try and preserve it."
That he did quite well.
Dick Kaegel is a reporter for MLB.com. This story was not subject to the approval of Major League Baseball or its clubs.