Blue Jays withstand Yanks' rally, walk off with win
Up six at one point, Toronto scores game-winning run on error in ninth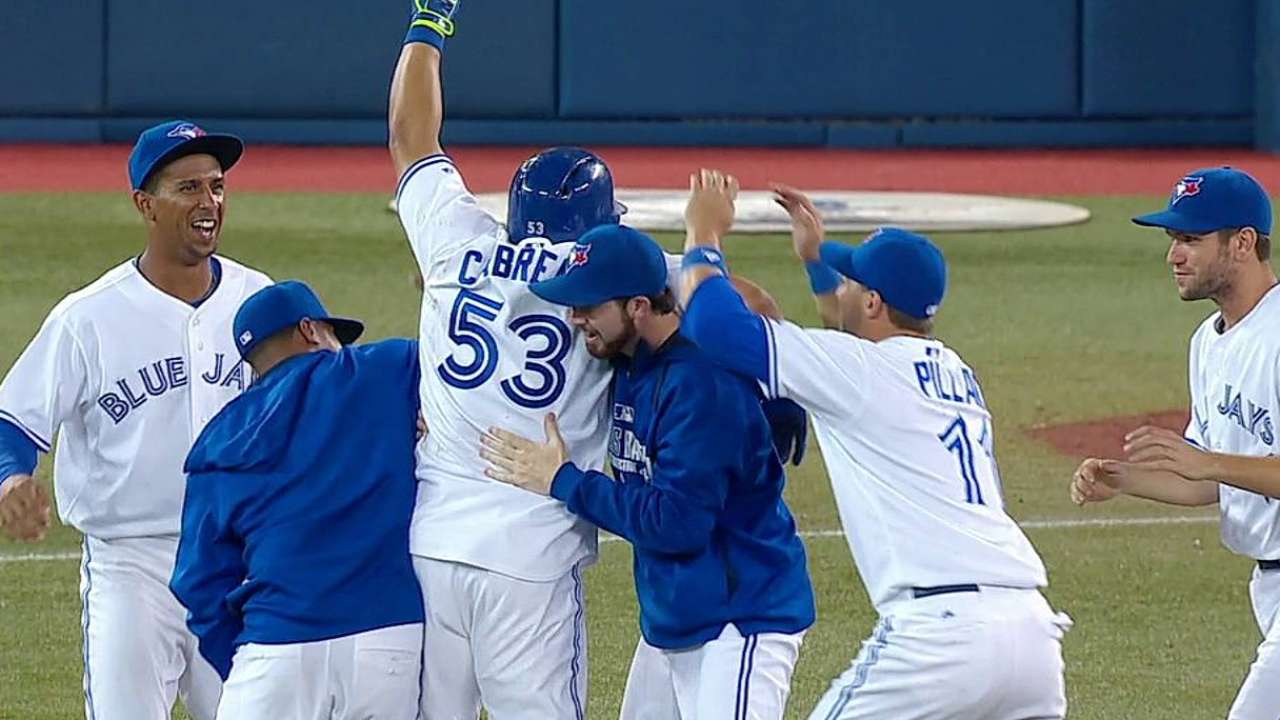 TORONTO -- The Blue Jays showed the type of perseverance on Tuesday night that they didn't really have in 2013.
Toronto saw a six-run lead evaporate against the Yankees, but instead of folding under the pressure, the club found a way to bounce back. It wasn't necessarily pretty, but the Blue Jays found a way to hang on just long enough to make it count.
Jose Reyes led off the bottom of the ninth inning with a double and eventually came around to score the game-winning run on an error as the Blue Jays escaped with a 7-6 victory over the Yankees in a game that was sloppy on both sides of the diamond.
"I think if you blow that lead last year, it sucks the wind out of you and you don't come back," Blue Jays manager John Gibbons said. "It wasn't a real well-played game, but the name of the game is winning. We booted a couple of balls, they threw one away and we won. You hope it evens out."
The Blue Jays appeared as though they were on the verge of cruising to another victory after taking a 6-0 lead by the end of the fifth. Dioner Navarro had a three-run homer as part of a three-hit game, and the Yankees made a series of defensive miscues which seemed to indicate it wasn't their night.
All of that changed in the seventh inning, when Toronto essentially handed its opposition several runs. The issues began with one out, when left-hander Mark Buehrle surrendered a two-run homer to Brian Roberts for the Yankees second baseman's fourth homer of the year. Two batters later, Buehrle was chased from the game on a bloop double to left.
But that was just the start of the problems.
Right-hander Dustin McGowan came in and walked the first batter he faced before allowing an RBI single to Jacoby Ellsbury. Left fielder Melky Cabrera attempted to make a play at the plate, but his throw bounced off the glove of Navarro and over the head of McGowan, who was too close to the plate to be considered a proper backup.
McGowan then induced what appeared to be an inning-ending grounder by Mark Teixeira, but Reyes' throw to first was several feet short of the bag. Edwin Encarnacion attempted to come up with the high bounce, but his backward movement resulted in a violent collision at first base with Teixeira. Encarnacion hit the ground hard and two runs came around to tie the game at 6.
This is where some of the Blue Jays admit they would have hung their heads in defeat last season, thinking the game had essentially slipped away. Instead, this version of the ballclub at least managed to stop the damage until an opportunity presented itself later in the game.
"I think even when we had that winning streak [in 2013] and we started losing some games, every time we gave up a run or two in the first inning, I think we got that feeling, '[Shoot], we just lost the game,'" said Buehrle, who was charged with four runs over 6 2/3 innings.
"[This season] ... as soon as we give up a run in the first inning and we're winning [games], it's like, 'Hey, we're going to come back and win this game.' That's what losing does to you."
Reyes, who snapped an 0-for-19 skid in the fifth inning with a single to left, provided the spark in the bottom of the ninth. His leadoff double to right off right-hander Adam Warren put the winning run in scoring position, and the pressure was back on New York.
Cabrera followed with a perfectly placed bunt down the third-base line. The intention was to advance the runner to third, but it ended up doing a lot more than that. New York's Yangervis Solarte fielded the ball cleanly but his throw sailed well wide of first base and went into right field. That allowed Reyes to easily score as the Blue Jays recorded their second walk-off bunt this season.
It was a rather fitting end to a game that saw plenty of fielding lapses on both sides. Reyes finished with two throwing errors, Cabrera and Solarte each had one, and Derek Jeter made a pair of rare mental mistakes which contributed to a Toronto three-run inning in the fifth.
In a game that neither side really deserved to win, the Blue Jays proved they had enough to at least survive.
"It is a different feeling, we're in first place," Reyes said. "We're playing very good baseball. This time last year, we were in last. ... What happened last year is in the past. This is a new year for us, and every game we play from now on is going to be huge. We're going to take it one game at a time and continue to go from there."
Gregor Chisholm is a reporter for MLB.com. Read his blog, North of the Border, and follow him on Twitter @gregorMLB. This story was not subject to the approval of Major League Baseball or its clubs.