Chen activated, Collins down, Joseph designated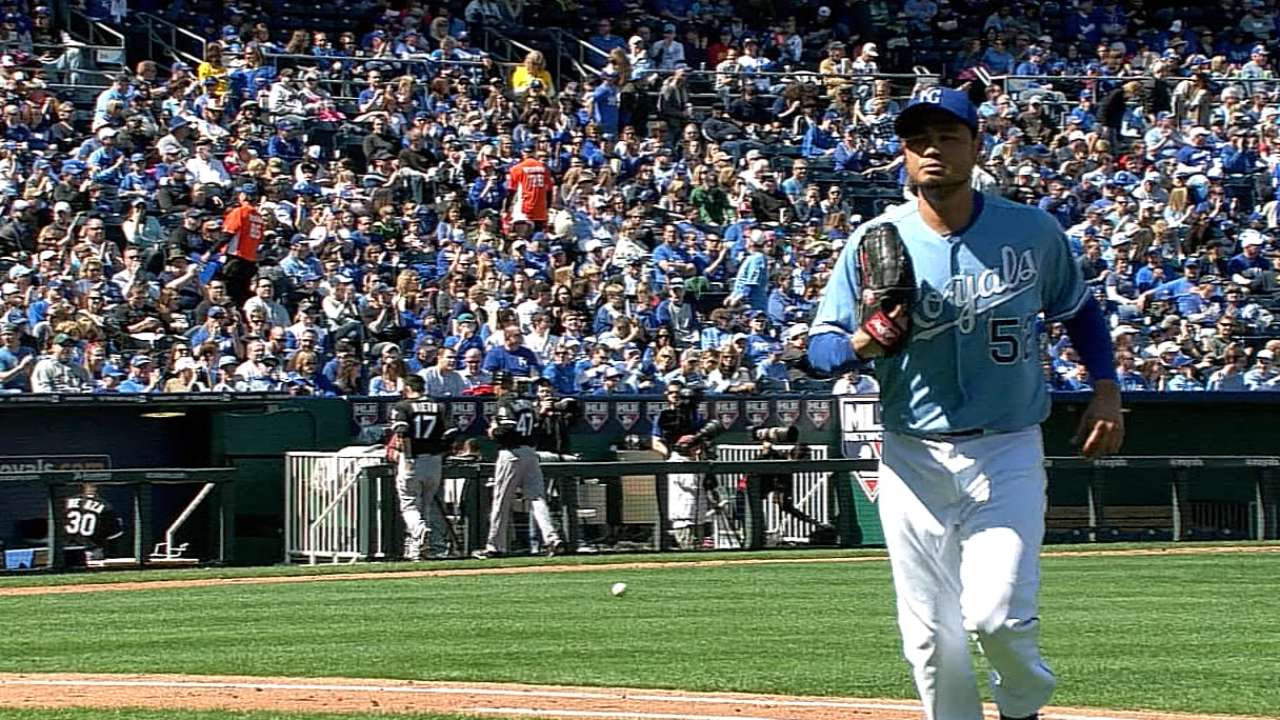 KANSAS CITY -- Left-handed pitcher Bruce Chen was in and two other left-handers, Tim Collins and Donnie Joseph, were out as the Royals made roster moves on Tuesday.
Collins was optioned to Triple-A Omaha. A big part of the bullpen in the previous three years, he had struggled often this season. He was 0-3 with a 4.15 ERA and had given up 17 hits and 10 walks in 17 1/3 innings.
Joseph, ranked No. 13 among the Royals' top prospects, was designated for assignment because the Royals had to make room on the 40-man roster for Chen. He's been in and out of Kansas City briefly the last two years and was last optioned to Omaha a week ago.
Taking a bullpen role is nothing new for Chen, 37, who has done it all in his in 16 big league years. Just last year, he started the season in relief and later shifted to the rotation. In fact, of his 389 games, 222 have been starts and 167 have come in relief.
Not being able to pitch for the last two months has been frustrating for Chen.
"You can't do anything and then you see your teammates go out there and have a 10-game winning streak and you're very happy because you know how hard they've worked," Chen said. "Right now, I feel like we're in a good position and I want to go out and help this team win in any way I can."
Chen has kept busy with treatments, Minor League rehab assignments, cheerleading from the bench, even acting as Yordano Ventura's translator. But he wants to be part of the game action.
"I've been here in Kansas City for the last six years and last year was very exciting and this year we're making it very exciting and the fans are coming," he said.
For Collins, the demotion to Triple-A is his first in four years with the Royals. Acquired in a 2010 trade from Atlanta, the little lefty became a relief regular in 2011 and made 68, 72 and 66 appearances in the next three years. In 2013, he had a rough time from May 1 through the All-Star break but rebounded with a 1.35 ERA in the second half.
Collins missed nearly a month early this season with a left flexor strain and never did really hit his stride. A highlight was three shutout innings in a bullpen-depleting blowout loss at Toronto on May 31.
Like right-hander Louis Coleman, also dispatched to Omaha to make adjustments, Collins was given an area on which to work.
"Secondary pitches," manager Ned Yost said. "When he's right, command of his fastball has been OK and he would get guys out with his secondary pitches -- curveball, throwing it for strikes; changeup, throwing it for strikes. Changeups to righties, curves to lefties."
Collins had been throwing too many fastballs, not enough of those changeups and curves.
"He needs to go back and get comfortable and confident in throwing his secondary pitches for strikes," Yost said.
"This bullpen was built with, of course, [Greg] Holland and [Wade] Davis at the back end. But it's really important that we have [Aaron] Crow, [Kelvin] Herrera, Collins and Coleman as an integral part of it."
Collins' departure leaves Chen and Francisley Bueno as the lefties in the bullpen. Bueno has a 1.59 ERA in seven games.
"He's been throwing good. He's a guy that's been on the attack and throwing strikes with his pitches, and that's what we've been looking for," Yost said.
The Royals have 10 days to decide Joseph's fate, but if he makes it through waivers, a return to the Royals' system is possible.
"I think Donnie still has a chance to be a real effective situational lefty, but he, like everybody else, has got to throw strikes especially at the big league level," Yost said. "I've got to know what I'm getting on most nights when I'm calling somebody in from the 'pen. I can't hope."
Dick Kaegel is a reporter for MLB.com. Jackson Alexander is an associate reporter for MLB.com. This story was not subject to the approval of Major League Baseball or its clubs.