d'Arnaud recalled by Mets, belts three-run homer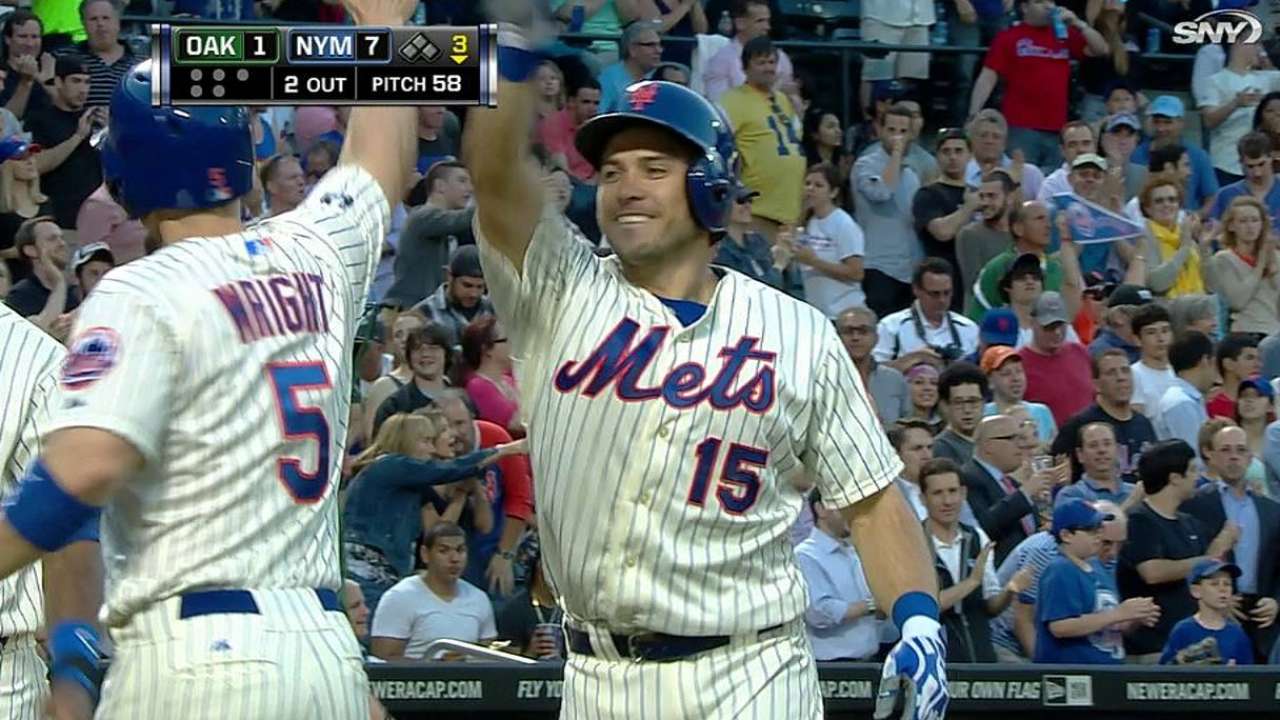 NEW YORK -- Estimating that his previous struggles were "95-percent mental," catcher Travis d'Arnaud returned to the big leagues Tuesday with something significant to prove. He promptly began that process hours later, smashing a three-run homer in a 10-1 Mets win over the A's.
"Like I said when I left, I knew I had work to do," said d'Arnaud, whom the Mets demoted to Triple-A Las Vegas earlier this month after a prolonged early-season slump. "It was unacceptable, so I had a long look in the mirror with myself, had a good conversation with myself and found myself."
The Mets officially recalled d'Arnaud from Las Vegas prior to Tuesday's game against the A's, placing fellow catcher Taylor Teagarden on the disabled list with a left hamstring strain. That move ensured that Anthony Recker would remain on the roster as d'Arnaud's backup.
But if the Mets have their way, all talk of backups and fill-ins will soon cease. White-hot for his entire two-week stay at Vegas, d'Arnaud hit .436 with six home runs in 15 games for the 51s. The main adjustment, he said, was that he stopped thinking about his mechanics and simply tried to clear his mind during every at-bat.
Whether he can continue to do so at the big league level remains to be seen. The Pacific Coast League is widely recognized as one of the best hitting environments in all of professional baseball, and d'Arnaud has thrived there multiple times in the past. He has yet to succeed at all in the big leagues, however, batting .189 with a .546 OPS over 70 career games entering Tuesday -- but his three-run homer represented a significant step in the right direction.
"I always thought he was a confident kid," manager Terry Collins said. "When you talk to him about everything else, he comes off like he truly believes he's going to be a great player, and everybody still believes that.
"I have no idea what goes on between the ears of players. They're told all the right things, in my opinion. They've got to go apply it."
Anthony DiComo is a reporter for MLB.com. Follow him on Twitter @AnthonyDicomo. Tim Healey is an associate reporter for MLB.com. This story was not subject to the approval of Major League Baseball or its clubs.