Set for broadcast slate, Ripken talks Tanaka, AL East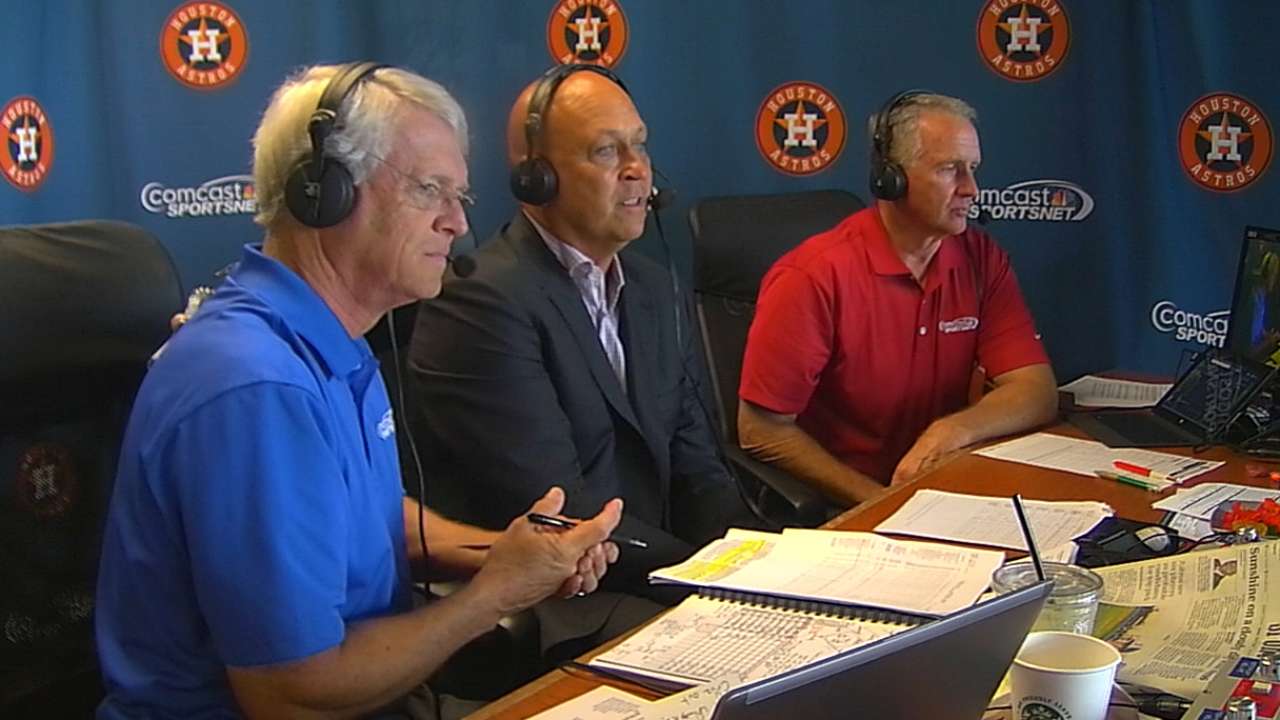 Cal Ripken Jr. has been doing his homework.
Ripken, one of baseball's all-time great players and an analyst for TBS, joined a national conference call on Tuesday to share his thoughts on the sport. Ripken will call his first game July 6, one of 13 Sunday broadcasts for the cable channel this season.
Ripken, Hall of Fame shortstop and Baltimore icon, said that there are several intriguing division races this season and star-level performances from standouts in both leagues. But being an East Coast native and resident, he said, he always gravitates toward the action in the American League East.
And this year, the East boasts a close race and a few intriguing storylines. Three teams -- Toronto, New York and Baltimore -- are withing 2 1/2 games of first place. The Rays are struggling, and the Red Sox, the defending World Series champions, are trying to fight their way back to the break-even mark.
"The Toronto Blue Jays, for the last couple of years, have sometimes been thought of as the favorites, because of the caliber of their team," said Ripken. "It's interesting to me that the last couple of years, they've kind of stayed in the middle of the pack and headed toward the bottom. This year, you couldn't have a more hot team, and they look like they're playing to say they want to dominate the East.
"The Yankees have been interesting, too. Their pitching staff keeps them in ballgames, and they're right in there looking like the Yankees of old. That's just my perspective on the American League East. And I root for Baltimore, and Baltimore's positioned pretty well. Those are the interesting storylines there."
Ripken, a two-time AL Most Valuable Player Award winner and a 19-time All-Star during his tenure with the Orioles, also said that the race in the AL West has drawn his attention.
"Oakland continues to amaze me," Ripken said. "You look at them, and then all they do is go out there and pitch really well. They score runs. They walk. They're an exciting team, period. They don't give up. The expectations were [also] high on the Angels, and I'm glad to see them play well."
Ripken, of course, is best known for breaking Lou Gehrig's record for consecutive games played, a journey that saw him stay in the lineup for 2,632 straight games from 1982-98. Ripken offered his thoughts on another great Yankee, Derek Jeter, during Tuesday's conference call.
Ripken said he was surprised when Jeter elected to announce his retirement before the season. But Ripken, no stranger to farewell tours, said the game will be better for Jeter's decision.
"You almost feel like he's got a lot left in the tank, but somewhere along the line he realized or made the decision that this was going to be his last year," Ripken said. "I like that decision ... because it gives him a chance to say goodbye. And maybe more importantly for baseball, it gives fans a chance to say goodbye to him. He's a true professional in every sense of the word, a clutch performer, a gamer. He handles himself really well and represents the Yankees in the right way. I'm happy he's going through this farewell tour, but it's going to be emotionally exhausting for him. And maybe it already has. You need your wits about you to go out there and you need your concentration to play every day. That energy is sometimes pulled away from you with all the attention, but I think he'll handle it well."
The early season has been dominated by standout performances from two AL rookies, and Ripken offered his thoughts on both of them. Jose Abreu of the Chicago White Sox has 22 home runs in his first 63 games, and the Yankees' Masahiro Tanaka has won 11 of his first 15 starts.
But because both of those players have come from international leagues, Ripken isn't sure what to expect going forward. Abreu is in his first Major League season after playing his formative years in Cuba, and Tanaka was one of the prized free agents this winter after starring in his native Japan.
Now, said Ripken, the rest of the league will begin to work overtime to neutralize their early success.
"He has great stuff, and we've witnessed the different variety of pitches he can throw out there and the command that he has of them," said Ripken of Tanaka's debut stateside. "At first, it's a matter of stuff, but also, there's a newness to the league that's trying to catch up. From a hitter's standpoint, that takes a little time to get a feel, so I think it will be a little tougher [for him] in the second half."
"And from a hitter's perspective, coming in, pitchers don't know you fully yet, and you're coming in with a lot of talent," Ripken said of Abreu. "You're able to go through the league while they're trying to figure you out. I'm not putting the whammy on them, because they're fantastic players, but I think the challenges are going to be a little greater in the second half of the season. We'll start to see the league starting to understand how to solve the pitching and what the hitter's weaknesses are."
Spencer Fordin is a reporter for MLB.com. This story was not subject to the approval of Major League Baseball or its clubs.