Your fantasy baseball questions answered
Advice on which prospects to pick, which trades could help owners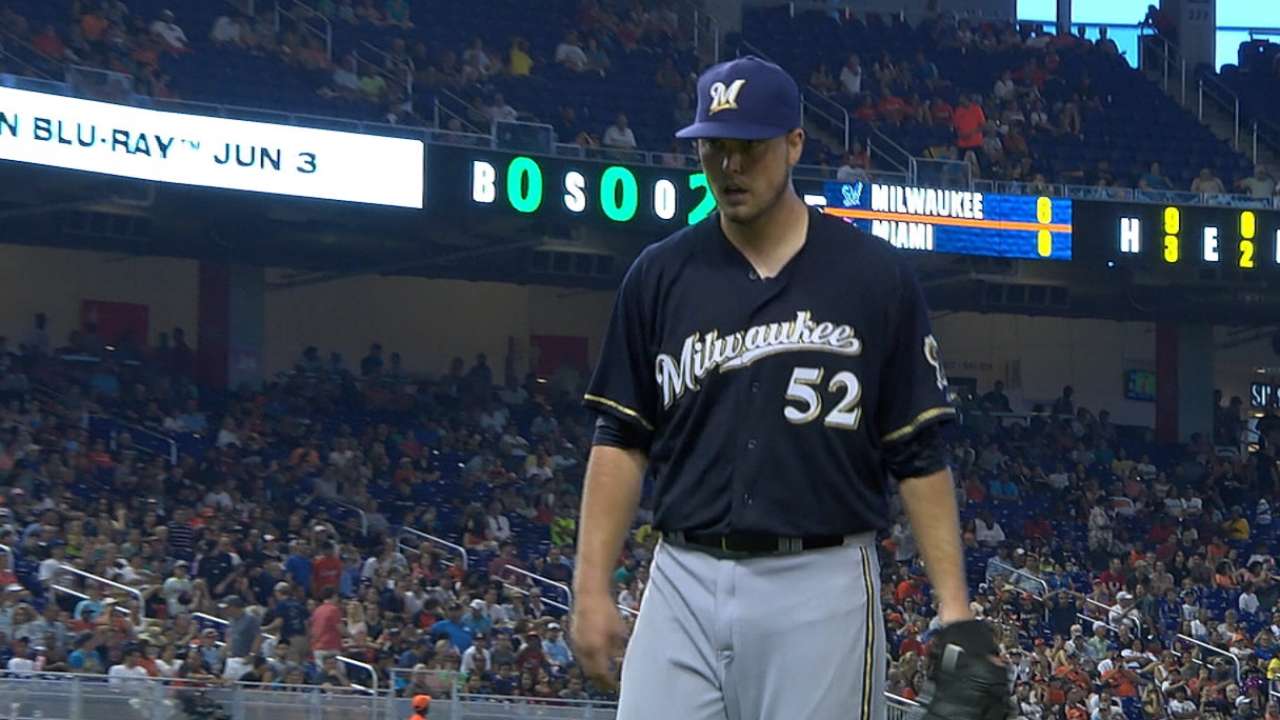 Tweet your questions every Monday to @Fantasy411 and you could find your answer in our weekly mailbag. Here are some of the topics that are puzzling fantasy owners right now:
Who is the next top prospect to be called up that is worth 30 percent of my FAAB?
@r_galos
It is possible that all the players who are worth that amount of FAAB (free-agent acquisition budget) money have already arrived in the Majors. George Springer and Gregory Polanco would have been worth 30 percent of a budget, and Andrew Heaney was also worth a lot, if not that high of an amount. While no player currently in the Minors is likely worth such a bid, there are several players who will be worth big bids when they get the call. And since FAAB money cannot be carried into next season in most leagues, there is nothing wrong with overbidding on a player to make sure that you get him.
Brewers starter Jimmy Nelson may be the best target for fantasy owners. Nelson is dominating in the Pacific Coast League (Triple-A), which is no small feat. The 25-year-old is averaging more than a strikeout per inning, and he is holding hitters to a .183 batting average. Because of the struggles of Marco Estrada, there is a good chance that Nelson will get the call to the Majors in the coming weeks. Estrada could be pulled from the rotation at any time, and Nelson is the logical replacement.
On the hitting side, Mookie Betts is the one to watch. The 21-year-old has already swiped 28 bases this season between two levels in the Minors. The Red Sox could use a spark on offense, and they could clear space in the outfield for Betts at some point this summer. Because of his speed, Betts would help fantasy rosters as soon as he puts on a Red Sox uniform. But Betts is in a different position than Nelson in the sense that his path to the Majors is less certain. If the Red Sox's current outfielders pick up their game, Betts could be stuck in the Minors until September.
I was offered Strasburg/E.Cabrera or Hammel/Werth for Nelson Cruz in a 14-team keeper. What's Cruz's value and should I trade him?
@pierretong
Stop reading this column right now, go and accept the Stephen Strasburg offer, and then come back and read the explanation on why you accepted it. Oh, you're back? OK, here we go:
Cruz is having a great season, but he is 33 years old and does not steal many bases. Also, his career batting average is .270. He is a good hitter, but not an elite one. Cruz has played virtually his entire career in Texas, so the difference in park effect at Camden Yards should be almost nonexistent. In short, he is going to regress at some point. In fact, the regression is already taking place. After swatting 13 homers in May, Cruz has hit just three so far in June.
Strasburg has not been among the top five fantasy starters so far this season, but the 25-year-old could settle into that level at any point in the near future. His strikeout rate is elite, he does not issue many walks and his homer rate is solid. If Strasburg maintains his health -- which is a risk factor for any pitcher -- there could definitely be a National League Cy Young Award in his future. A trade of Cruz for Strasburg in a keeper league would be a great one, but getting Cabrera makes the deal even better. The 27-year-old is off to a rough start this season, but so is the rest of the Padres' lineup. Across the previous two campaigns, Cabrera stole 81 bases in 210 games. That pace would have resulted in 56 steals if he had played 145 games in either season. Because he is one of the few players who could swipe 25 bases in the second half, Cabrera is among the best buy-low candidates in fantasy baseball right now.
Is Verlander worth keeping? He hurts my ERA every week! I hope he will turn his form around, but I'm unsure.
@GaryConvey
Justin Verlander has been a great source of frustration for fantasy owners this season, and there are few signs that a dramatic turnaround is on the way. His strikeout-to-walk ratio is poor, and he has served up at least one homer in each of his past six starts. But fantasy owners who are searching for good news can find a glimmer of hope in Verlander's strong outing on Saturday against the Indians. If the Tigers keep their starters pitching every fifth game until the All-Star break, Verlander will make four more starts -- on the road against the Astros, at home against the A's and Dodgers, and then on the road against the Royals. Verlander owners should hope that he can notch at least three quality starts in those games, and then they could have a window to trade him away in July. The chances of a complete rebound with Verlander are slim, but he still has the name value to bring in a quality return in a trade if he can put together a few quality starts.
Is Ike Davis still a top dynasty league asset? How can he be when he can't start every day until he improves vs. lefties (1-for-20)?
@pvhawkeye
It is time for fantasy owners everywhere to let go of their Ike Davis aspirations. At this point, it is highly likely that the breakout season is not coming. The 27-year-old has hit for power, and he has hit for average, but rarely at the same time. He has now been reduced to a platoon role, for good reason, as the lefty slugger owns a .583 career OPS vs. southpaws. Davis should be regarded as a depth player in deep leagues, but he does not project as a full-time starter.
Fred Zinkie is a fantasy writer for MLB.com. This story was not subject to the approval of Major League Baseball or its clubs.