Texas' skid at six after Lewis falters late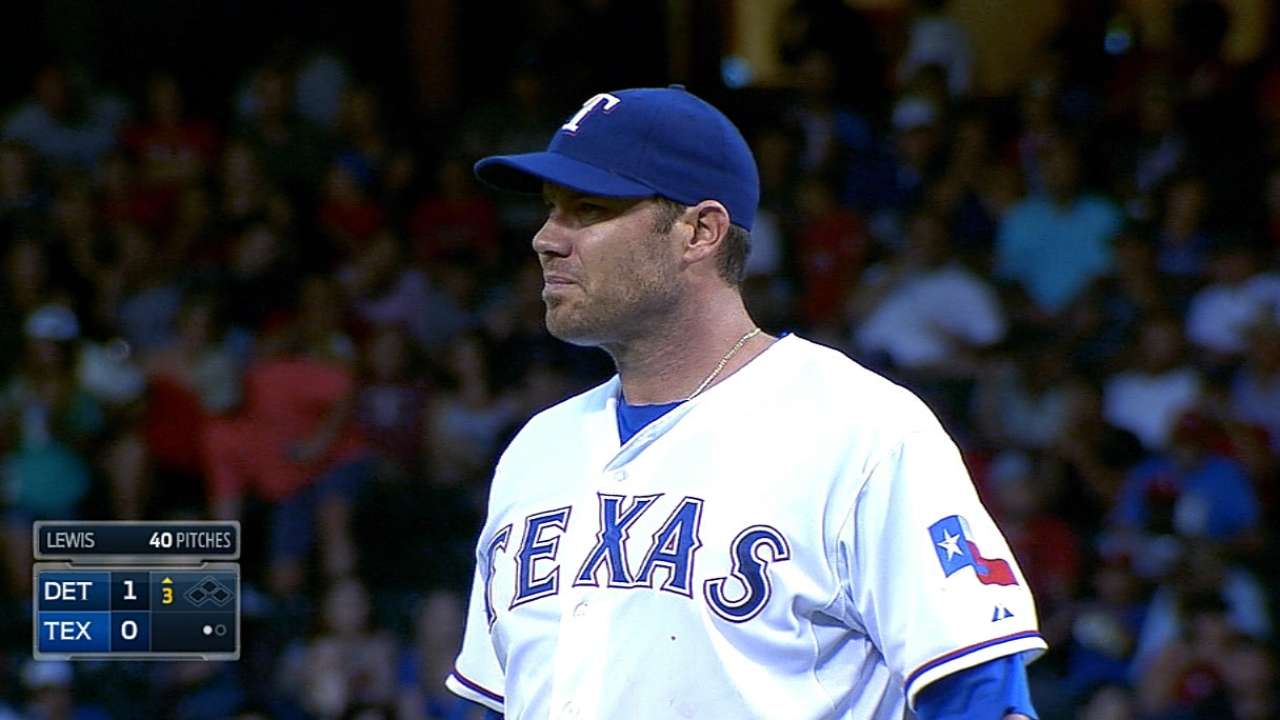 ARLINGTON -- With the way the Rangers' offense has been going, they needed a superior pitching performance from their starting pitcher on Tuesday night.
Colby Lewis gave them one for six innings before being ambushed in the seventh, and the Rangers' losing streak is now at six games.
The Tigers scored five runs off Lewis and reliever Ben Rowen in the seventh inning and went on to defeat the Rangers, 8-2, in the opener of a six-game homestand. Their losing streak -- which started on the last road trip -- aside, the Rangers have lost five of six and 12 of their last 18 at home.
Offensively, the Rangers were limited to eight singles and a double against Tigers starter Drew Smyly and three relievers while going 2-for-11 with runners in scoring position. The only extra-base hit came with two outs in the ninth.
Texas is hitting .221 with a .333 slugging percentage and 17 runs scored during the six-game skid.
"It's obvious we have more than half the season to go, but we're not worried," third baseman Adrian Beltre said. "But obviously, it's hard to be losing four, five in a row. It's not fun, it's not fun. We have to find a way to create more runs -- running, hit and run, whatever it is, we have to find a way to get our offense going collectively. We're not doing enough to win ballgames collectively, that's the bottom line."
Beltre provided most of the Rangers' offense with four hits. The first, a single to lead off the second inning, gave him 2,500 for his career. That was the only offensive moment worth celebrating for the Rangers.
"We're just not getting the job done right now," manager Ron Washington said. "We just can't put anything together."
Lewis went into the seventh having allowed just one run in the first six innings. That run came in the first inning on a one-out home run to former teammate Ian Kinsler. Beltre tied it with a run-scoring single in the third, and it stayed that way through six. This is only the second time in 13 starts that Lewis has been able to pitch six innings.
Lewis went back out for the seventh for the first time this season, and after three pitches, the Rangers were down by two. Victor Martinez led off with a double on a 1-0 pitch, and J.D. Martinez followed by hitting the first pitch he saw over the center-field fence for a two-run homer.
"I just saw him try to get ahead of two hitters. One got him for a double, one got him for a home run," Washington said. "He threw the ball well and made good pitches. After that we couldn't stop them."
Lewis retired Nick Castellanos on a fly to center, but Austin Jackson singled to center. And that was it, as Washington brought in Rowen to try to shut down the inning.
"I don't know. … I was one of those nights," Lewis said. "I'm not going to take too much from it. I threw the pitches I needed to throw. You've got to keep it close, but they came out on top."
Rowen was unable to keep it close. Jackson stole second and scored on a single by Alex Avila. Eugenio Suarez doubled to put runners on second and third, and Rajai Davis followed with a run-scoring single to make it 5-1.
With runners at the corners, Rowen struck out Kinsler, but then walked Miguel Cabrera to load the bases. Shawn Tolleson took over, and he walked Victor Martinez to force in a run.
Lewis has now gone 13 straight outings without an official quality start. That's tied for the longest streak without one to start a season in Major League history. Steve Trout also went 13 straight without a quality start to begin the season with the Cubs in 1988. Lewis is now 1-4 with a 7.12 ERA in eight starts at home this season. He went 15-11 with a 4.24 ERA in 37 home starts from 2010 to 2012 before missing 18 months because of injury.
"I think Colby threw a pretty good game today," Beltre said. "He only gave up one run early, until the seventh inning. … We will take that every day. We'll take that. It was a good outing, but we didn't help him enough to give him the win."
T.R. Sullivan is a reporter for MLB.com Read his blog, Postcards from Elysian Fields and follow him on Twitter @Sullivan_Ranger. This story was not subject to the approval of Major League Baseball or its clubs.