J.D., Kinsler spark Tigers' win over Rangers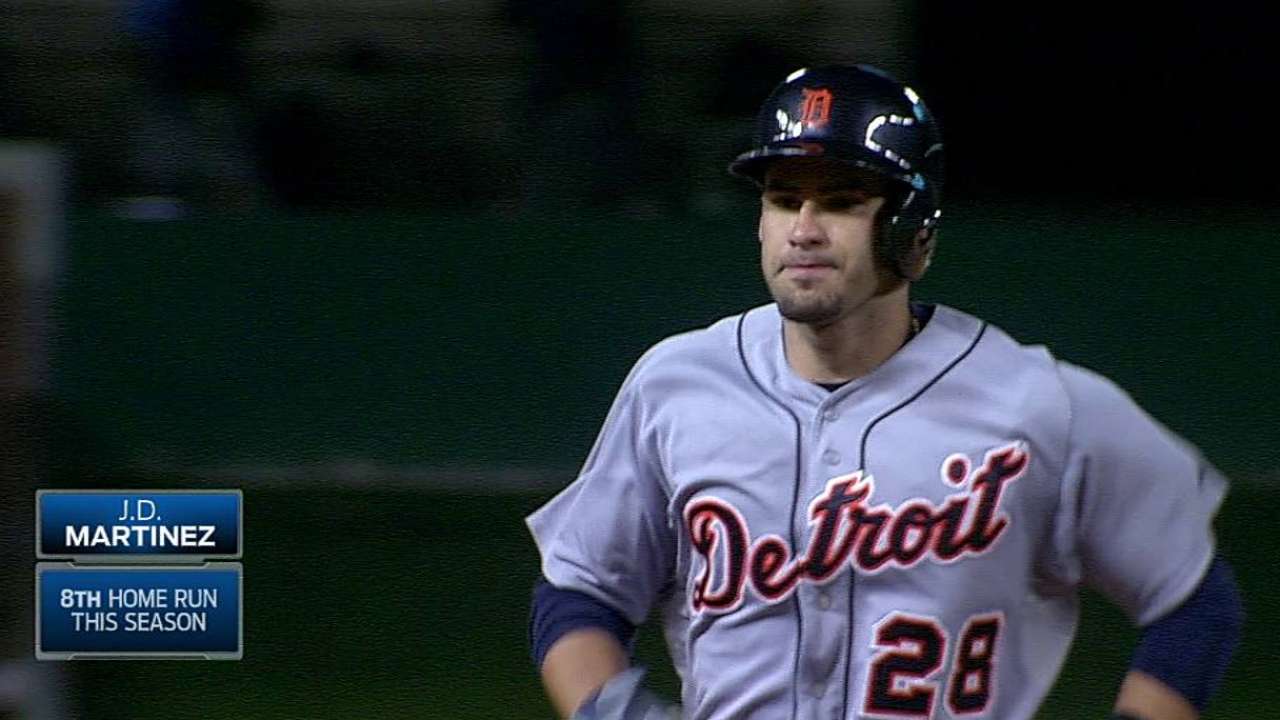 ARLINGTON -- J.D. Martinez just delivered again.
At some point this hitting tear will end. He could tail off, or he could just hit respectably well instead of seemingly punishing every fastball in a key situation. For now, however, not even an off-day in rainy Texas could cool off the reigning American League Player of the Week, whose two-run homer in the seventh inning helped turn a pitching duel into a fourth consecutive Tigers win, this one an 8-2 victory over the Rangers at Globe Life Park.
He's rolling. And with his help, Detroit is rolling.
"You don't get too many chances, I feel like, to be on a team like this, to have a chance to go a long way," said Martinez, signed near the end of Spring Training and called up near the end of April as an extra outfielder. "That's just the biggest thing for me. Whatever I've got to do to help us win."
It was the fifth home run in eight games for Martinez, who capitalized on Colby Lewis' first-pitch fastball in the seventh the same way he's been capitalizing on everyday playing time in the outfield. It was the same pitch Martinez used to punish Corey Kluber for his last home run, on Friday in Cleveland.
"As hot as J.D. Martinez is, which he is, he's such a first-ball fastball hitter," Indians manager Terry Francona said after that shot.
What applied on Friday still applies. Tuesday's homer was a 405-foot launch to straightaway center that sent the Rangers' Daniel Robertson on a dash to the fence before he ran out of room. Martinez's eighth home run in 126 plate appearances this season scored Victor Martinez, who had doubled to lead off the inning.
"I just saw him try to get ahead of two hitters. One got him for a double, and one got him for a home run," Rangers manager Ron Washington said of Lewis. "He threw the ball well and made good pitches. After that we couldn't stop them."
The same scoring combination nearly worked in the opening inning, with J.D. sending a drive to the center-field fence for a double. That ball, however, stayed in the park, and V-Mart did not have nearly the foot speed on a humid evening to beat a play at the plate.
Thus, Ian Kinsler's homer in his first plate appearance against the team that traded him last November stood as the Tigers' lone run in the inning. It stood as the lone run through the sixth against Lewis, who settled in to retire 13 of Detroit's next 16 batters. Two of the three Tigers to reach base in that stretch were retired on the basepaths, caught stealing after leadoff singles.
Once back-to-back missed opportunities at inning-ending double plays extended the third inning, allowing Adrian Beltre to line an RBI single off Drew Smyly, Lewis (5-5) had a new game, which he maintained until seemingly running out of gas in the seventh. Austin Jackson's single chased Lewis with one out, then three consecutive line-drive hits plated add-on runs off sidearming righty Ben Rowen.
"You feel like we're kind of stuck," manager Brad Ausmus said. "We had some guys in scoring position, and we felt like we were kind of stuck. We couldn't push that second run over. And then J.D. hits a home run and it kind of got us started, so to speak."
The rally came just in time for Smyly (4-6), who had lost 2-0 and 2-1 decisions in his previous two starts. He has allowed just four earned runs over 25 innings in his last four starts but split the decisions.
J.D. Martinez's 2-for-4 performance stretched his hitting streak to 13 games, during which he's batting 21-for-51 with seven doubles, five homers, 15 RBIs and eight runs scored.
"He certainly has the ability to do what he has done," Washington said. "It took a while to get it out of him. He just landed in a spot where he could get it done. He certainly has the bat speed."
Kinsler further sweetened his homecoming in the eighth, plating a pair of runs with a single.
"I was having a good time," admitted Kinsler, who waved at the Rangers' dugout on his way to first base following his home run. "I was enjoying the moment."
Jason Beck is a reporter for MLB.com. Read Beck's Blog and follow him on Twitter @beckjason. This story was not subject to the approval of Major League Baseball or its clubs.