Pipeline preview: Walker, Tacoma eye sweep
Mariners' top prospect to take mound against Triple-A Oklahoma City on Tuesday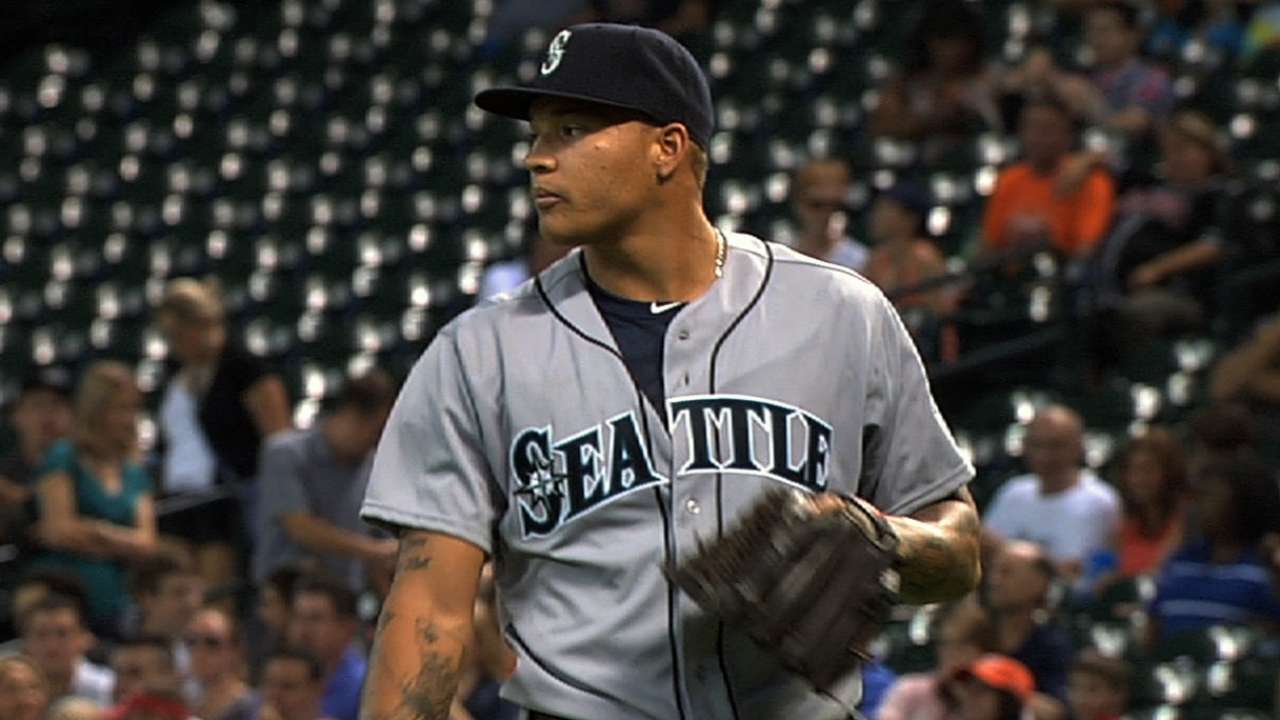 Each of the first three games of Triple-A Oklahoma City's series at Tacoma has gone to extra innings. And each time, Tacoma has found a way to win.
The Rainers will hope to complete the sweep Tuesday without the benefit of extra innings as Mariners' No. 1 prospect Taijuan Walker takes the mound. The game, which can be seen on MiLB.TV, begins at 9:05 p.m. ET.
Walker, ranked No. 5 on MLBPipeline.com's Top 100 Prospects list, is looking to bounce back after giving up seven runs (six earned) in five innings Thursday against Colorado Springs. Though his official rehab assignment is over, the right-hander is still working his way back from an impingement in his shoulder that sidelined him for much of the first two months of the season and has kept him from joining the Mariners' rotation.
Walker has made five starts for Tacoma since late May. He is 1-1 with a 5.82 ERA and has struck out 21 batters in 21 2/3 innings.
Walker will face a formidable Oklahoma City offense on Tuesday. The RedHawks are led by outfielder Domingo Santana, the Astros' No. 7 prospect and No. 94 on the Top 100. After going 2-for-4 with a home run Monday, Santana is hitting .296/.377/.493 with 12 home runs in 78 games this season. Catcher Max Stassi and outfielder Preston Tucker, the Astros' Nos. 11 and 20 prospects, also give the RedHawks' lineup punch.
The day's Minor League schedule will also be highlighted by the Double-A Texas League All-Star Game. Though promotions and injuries have taken their toll on the rosters, there are still plenty of prospects scheduled to play in the game, which begins at 8:15 p.m. ET and can be seen on MiLB.TV. Tulsa right-hander Jon Gray, the Rockies' No. 1 prospect and No. 13 on the Top 100, highlights the North Division roster, while San Antonio catcher Austin Hedges, the Padres' No. 1 prospect and No. 20 overall, leads the South Division.
Several other pitchers ranked in the Top 100 are scheduled to be in regular game action Tuesday, including Tyler Glasnow (No. 23), Zach Lee (No. 53), Eduardo Rodriguez (No. 56) and Nick Kingham (No. 87). Fans can watch Lee and Kingham on MiLB.TV at 1:05 p.m. ET and 7:05 p.m. ET, respectively.
Outfielder Joc Pederson and Lee, the Dodgers' Nos. 2 and 4 prospects, will lead Triple-A Albuquerque into the final game of its four-game series at Iowa. They will be trying to split the series against shortstop Javier Baez and third baseman Kris Bryant, the Cubs' Nos. 1 and 2 prospects.
Top prospect probables
Miguel Almonte (Royals' No. 5), Wilmington at Frederick
Paul Blackburn (Cubs' No. 13), Kane County vs. Wisconsin
Sean Brady (Indians' No. 17), Mahoning Valley vs. Batavia
Austin Brice (Marlins' No. 18), Jupiter vs. St. Lucie
Jamie Callahan (Red Sox's No. 18), Greenville at Asheville
Daniel Corcino (Reds' No. 10), Pensacola at Chattanooga
Edwin Diaz (Mariners' No. 4), Clinton vs. Quad Cities
Amir Garrett (Reds' No. 19), Dayton at Fort Wayne
Tyler Glasnow (Pirates' No. 3), Bradenton vs. Palm Beach
Severino Gonzalez (Phillies' No. 6), Reading at Binghamton
Alec Grosser (Braves' No. 18), Danville at Johnson City
Jason Hursh (Braves' No. 3), Mississippi at Birmingham
Rob Kaminsky (Cardinals' No. 3), Peoria vs. Cedar Rapids
Dace Kime (Indians' No. 13), Lake County at Bowling Green
Nick Kingham (Pirates' No. 8), Indianapolis at Durham
Zach Lee (Dodgers' No. 4), Albuquerque at Iowa
Eduardo Rodriguez (Orioles' No. 2), Bowie vs. Trenton
Enny Romero (Rays' No. 4), Durham vs. Indianapolis
Austin Voth (Nationals' No. 16), Potomac vs. Salem
Taijuan Walker (Mariners' No. 1), Tacoma vs. Oklahoma City
Teddy Cahill is a reporter for MLB.com. Follow him on Twitter at @tedcahill. This story was not subject to the approval of Major League Baseball or its clubs.