Despaigne shines vs. Giants to win MLB debut
Rookie hurls seven shutout innings; Padres tag Cain for six runs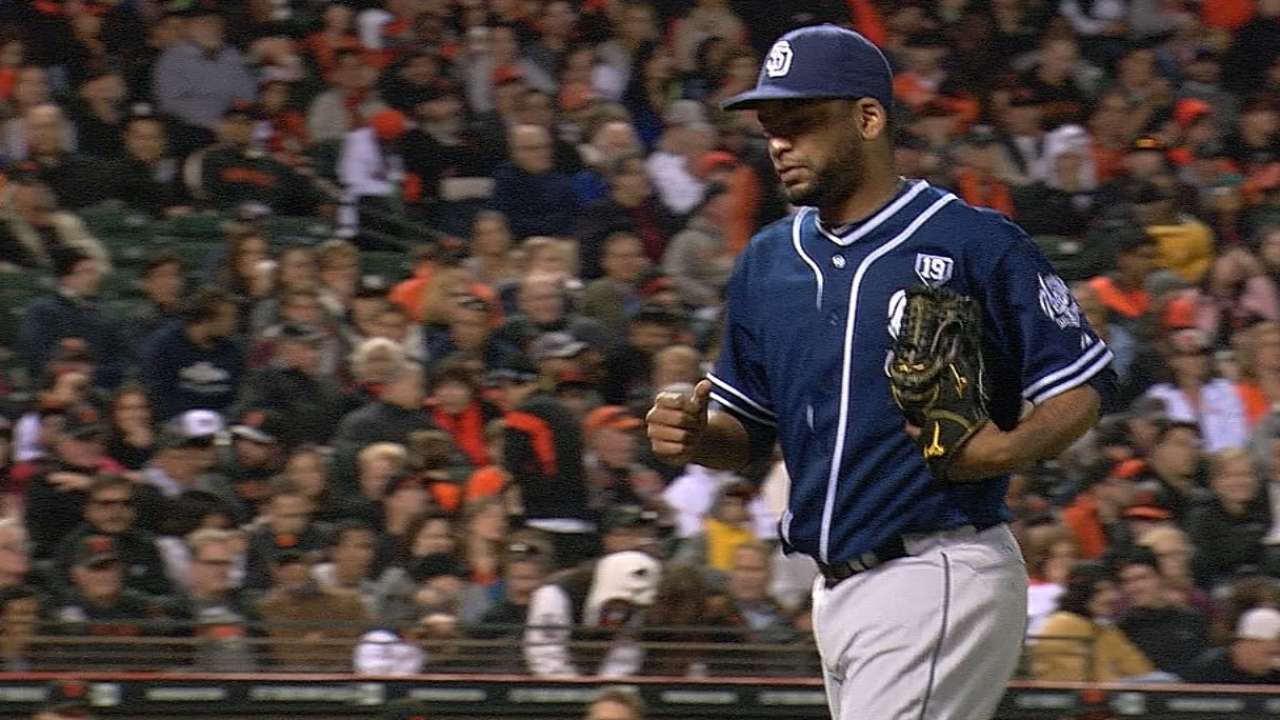 SAN FRANCISCO -- As he knelt down in the bullpen before Monday's game at AT&T Park, Padres catcher Yasmani Grandal had one thought as he prepared to warm up a pitcher he essentially knew nothing of.
"It's usually pretty uncomfortable catching a guy for the first time," Grandal said.
Luckily for Grandal and the Padres, starting pitcher Odrisamer Despaigne made things easy on just about everyone -- except for the Giants' hitters -- as he threw seven scoreless innings in the Padres' 6-0 victory in front of a sold-out crowd.
Despaigne, a 27-year-old Cuban defector, is no garden-variety rookie by any means, and that showed as he tamed the Giants (45-31), emptying his arsenal of pitches, using different arm angles and showcasing a wide range of velocities -- hello, 67 mph curveball.
The Giants, who had little to go on regarding Despaigne, never caught on to what he was trying to do with his wide assortment of pitches.
"He just mixed it up the whole game. He happened to be on and we've never seen him, so you've got to give him credit, he pitched pretty good," said Giants right fielder Hunter Pence.
"I can have all the information in the world, but when you're throwing six pitches and locating well, moving in different directions at different speeds, you're going to have a good outing."
Despaigne, who signed a Minor League deal with the team May 2, allowed four hits with zero walks and one strikeout. He induced a lot of weak contact, which accounted for many of the 11 ground-ball outs he recorded in a thrifty, 86-pitch outing.
"I think he did a great job," Grandal said. "He was right in the zone all game. He never threw anything that was way off. I knew [from pregame] that his curveball was going to be a big pitch for him."
Really, they all were.
San Diego's Randy Smith, vice president of player development, has said before -- in jest, although with more than just a twinge of reality -- that Despaigne throws everything "but the kitchen sink."
That was mostly by design.
"I got a plan with the pitching coach [Darren Balsley]," Despaigne said through an interpreter, first-base coach Jose Valentin. "I was trying to keep the ball down, especially with that kind of offense. I was trying to get the hitters to see different speeds and different breaking balls."
During Tyler Colvin's second inning at-bat, Despaigne threw a 91 mph fastball for a called strike. He followed that with an 85 mph slider that was fouled off. He finally got Colvin on a fly ball to right field -- using a 67 mph curveball that danced in the breeze.
"He pitched great, didn't he?" said Padres manager Bud Black, who watched the final five innings from his office in the visiting clubhouse after being ejected. "In Spring Training, he threw a side session and you could tell he had an idea he knows what he needs to do to get outs."
According to STATS Inc., Despaigne became just the seventh pitcher since 1914 to throw seven shutout innings without a walk in his Major League debut. He also became the fourth pitcher in franchise history to throw seven or more shutout innings in his big league debut.
"It feels good," Despaigne said. "It helped that I have pitched in front of big crowds before -- not like this. I was anxious but not nervous."
The Padres (33-44) backed Despaigne with three runs in the fourth inning and then added three more in the eighth inning after he had left the game and handed the lead over to the bullpen.
Grandal had an RBI double in the third inning and Tommy Medica added a two-run double off the glove of Pablo Sandoval. Grandal was originally awarded a three-run home run on his hit, though the call was overturned by replay after a fan reached out and caught the ball with his hat.
Black came out to protest that Seth Smith, at first base and running on contact with two outs, would have easily scored on the play.
"I just thought Smitty should have scored on that play. I thought there was no doubt Seth would have scored on that that. The ball was 450 feet from home plate. I was in disbelief," Black said.
That was about the lone moment of consternation for the Padres, who got the big hit in that inning in any event on Medica's double off Giants pitcher Matt Cain (1-6), who allowed six runs in 7 1/3 innings.
But this night was about Despaigne, who five days ago was trying to work his way through the heart of the Iowa Cubs lineup in a Pacific Coast League game in Des Moines -- in a half-empty ballpark, no less.
"The command of the fastball, to both sides of the plate, the cutter inside to lefties and also the wide variance of velocity ... that was a heck of an outing. Are you kidding me?" Black said.
Corey Brock is a reporter for MLB.com. Keep track of @FollowThePadres on Twitter. This story was not subject to the approval of Major League Baseball or its clubs.