Giants can't solve rookie pitcher as Cain struggles
Offense musters four hits in shutout; SF righty allows six runs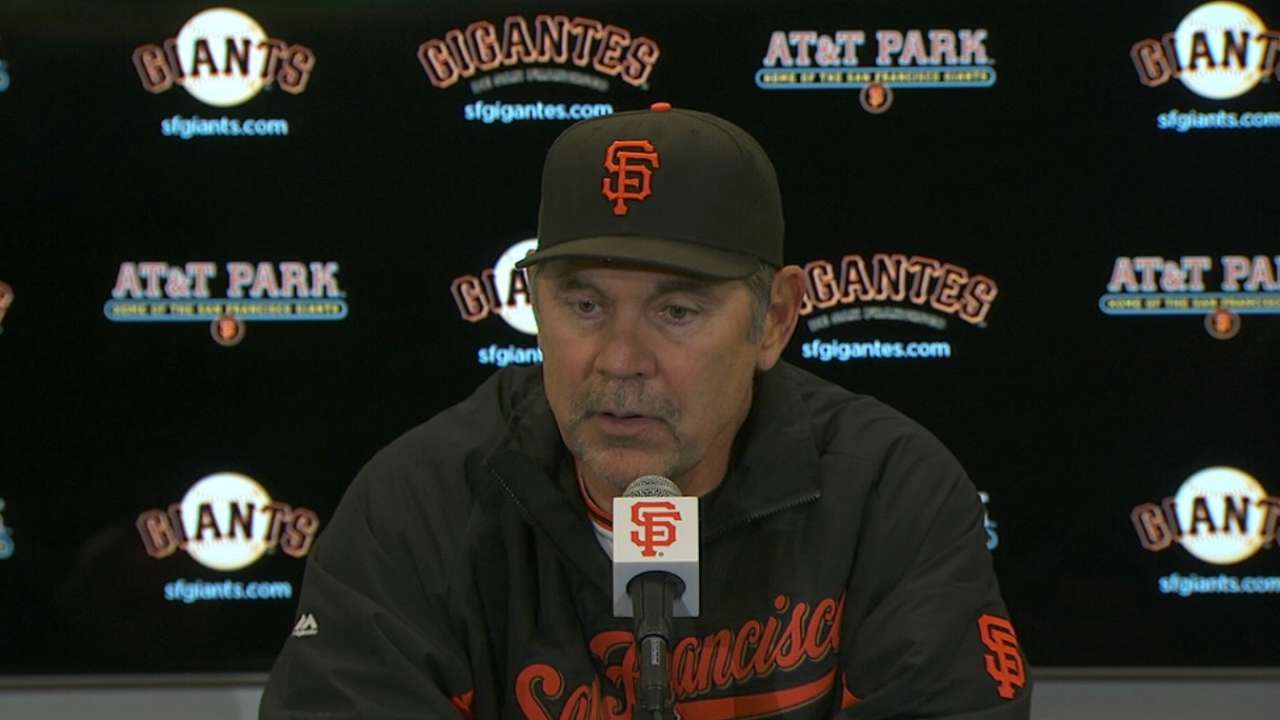 SAN FRANCISCO -- The Giants' concerns were divided between two starting pitchers Monday night. Either one would have preoccupied them more than enough in their 6-0 loss to the San Diego Padres.
Their own starter, Matt Cain, provided encouragement by working into the eighth inning after lasting five innings in each of his previous two outings. But Cain's scattered lapses precipitated his third consecutive defeat, as he was charged with all of San Diego's runs.
Meanwhile, the Giants mustered four hits in seven innings off San Diego's Odrisamer Despaigne, whose name belongs in a spelling bee. It certainly didn't belong in a Major League boxscore, given the 1-3 record and 6.03 ERA that the Cuban defector recorded in seven Double-A and Triple-A appearances since he joined the Padres organization in early May.
But Despaigne gained legitimacy in his Major League debut, changing his speeds adeptly to befuddle the Giants. If reputations meant anything, this could have been categorized as the Giants' worst defeat of the season. They were utterly silenced not by Clayton Kershaw or Jeff Samardzija or Adam Wainwright, but by a right-hander who wasn't even in professional baseball two months ago.
Until very recently, Cain's name belonged with the aforementioned hurlers as one of the game's elite. But with a 1-6 record and a 4.82 ERA, he's dwelling more on achieving consistency than regaining status.
"My biggest thing is I haven't done the job I need to do to give my team a chance to win," he said.
Cain, who had allowed 11 home runs in his previous 11 starts, avoided the long ball this time, helped by an overturned call following a video review of Yasmani Grandal's fourth-inning drive. Fan interference on the play turned a three-run homer into an RBI double. But Cain, who called the changeup that Grandal smoked a "really bad" pitch, then dangled a curveball to Tommy Medica, who lined it for a two-run double. The Padres emerged with three runs anyway, then added three in the eighth inning.
"I've been throwing the ball good," Cain said, "but I haven't made the pitch that I've needed to to shut down an inning."
The Giants, who have lost seven of their last eight games at AT&T Park, haven't done Cain any favors offensively. They've scored two runs or fewer in nine of his 12 starts. San Francisco's inability to score for Cain took on historic proportions, as the National League West leaders absorbed their first shutout loss against San Diego since Sept. 11, 2010, at Petco Park. It also was the first blanking San Diego administered to the Giants at AT&T Park since May 13, 2010.
Despaigne's anonymity may have helped. The Giants had a scouting report and a smattering of video on him, but they would have been more familiar with Andrew Cashner, whose sore right shoulder prompted the Padres to place him on the disabled list and summon Despaigne.
"We didn't know what kind of pitcher he was," said Giants center fielder Gregor Blanco, who went 1-for-3 off Despaigne. "We didn't know how his screwball or his changeup were. We didn't even know he had a cutter until the first time I faced the guy. We got to give him credit. He kept us a step off balance and located his pitches."
"At this point in the year, we've seen practically everything. But he was just on," right fielder Hunter Pence said. "He was locating [well], he had the ball moving in a lot of different directions, he had a lot of different pitches. He threw me pretty much everything. I saw an extremely slow curveball, I saw a slider, I saw a cutter, I saw a sinker, I saw a sidearm sinker. He didn't really leave too much over the plate."
A nine-pitch sequence against Blanco in the sixth inning demonstrated how Despaigne bamboozled the Giants. Though Blanco blooped a double, the confrontation reflected Despaigne's enthusiasm for offspeed pitches and his success at keeping Giants hitters off balance.
Despaigne started off Blanco with a 65 mph curveball for a called strike. Blanco then flailed at a 72 mph changeup. Despaigne went back to decelerated curveballs, 76 and 65 mph, as Blanco worked the count to 1-2. Four of Despaigne's final five pitches to Blanco were relatively hard, ranging between 85 and 91 mph, with the exception of a 67 mph curveball for ball two. But the differences were subtle enough to deny Blanco comfort.
Of course, Despaigne knew nothing of the Giants. But a pregame chat with Padres pitching coach Darren Balsley prepared him sufficiently.
"I was trying to keep the ball down, especially with that kind of offense," Despaigne said through an interpreter. "I was trying to get the hitters to see different speeds and different breaking balls."
Chris Haft is a reporter for MLB.com. Read his blog, Haft-Baked Ideas, and follow him on Twitter at @sfgiantsbeat. This story was not subject to the approval of Major League Baseball or its clubs.