Change of pace: Brewers bats silenced by Nats
Garza stung by one mistake during sixth straight quality start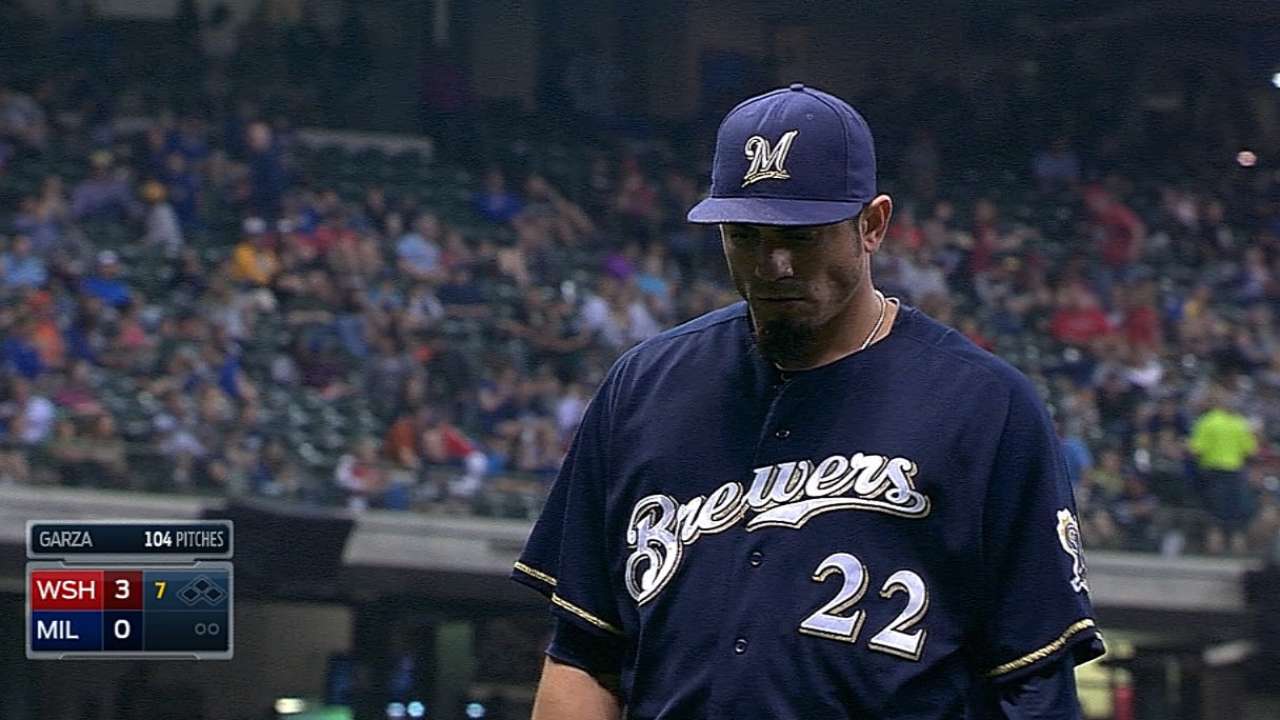 MILWAUKEE -- It's difficult to do, in these days of iPads and thumb drives and scouting reports so detailed a hitter can learn everything about a pitcher short of what he ate for breakfast, but Nationals starter Gio Gonzalez managed to throw the Brewers a changeup Monday night.
Actually, he threw more than one.
Straying from the scouting report, Gonzalez flipped 27 changeups the Brewers' way over six innings to silence what had been a screaming-hot offense. He teamed with three relievers on a three-hit shutout and was boosted by Adam LaRoche's three-run home run for a 3-0 Nationals win over Matt Garza and the Brewers at Miller Park.
The Brewers had not been blanked since Cubs right-hander Jason Hammel shut them out on May 31 and were coming off a 6-1 road trip during which Milwaukee averaged 7.3 runs per game.
Brewers batters knew they faced a tough test in the left-handed Gonzalez, who was making his second start since a monthlong stint on the disabled list for a shoulder injury. But they did not expect 23.7 percent of his 114 pitches to be changeups, a clip that exceeded both Gonzalez's career rate (8.9 percent entering the night) and his career-high rate this season (13.9 percent).
"It shocked everybody," said Brewers center fielder Carlos Gomez, who went 0-for-4 to snap a career-best 18-game hitting streak and an MLB-high 35-game streak of reaching safely. "I never in my career seen as many changeups as I saw today. They got me out today on changeups. Every at-bat, they threw me changeups. I didn't expect to see [more] than maybe one. Not like continually, like they've been doing.
"It's part of the game. They made the adjustment and came today strong, making big pitches. They got us today. Good for Washington."
It was the 115th meeting between the Brewers and Nationals but the first time, according to Elias Sports Bureau, that both teams were in first place.
The series opener was essentially decided by one pitch, a full-count slider from Garza that LaRoche hit to straightaway center field in the third inning. Brewers catcher Jonathan Lucroy had set up low and away, the pitch was near the bottom of the strike zone but split home plate.
"I wish I could take it back, but it was the right pitch at the time, I just didn't execute it," Garza said. "Hang with 'em."
An inning earlier, Garza had escaped a bases-loaded, no-out jam without allowing a run. And he would tighten again after the homer, retiring 14 of the final 15 men he faced. The only exception was Jayson Werth's infield single with two outs in the fifth inning.
In all, Garza was charged with three runs on five hits in seven innings for his sixth straight quality start of at least six innings with three or fewer earned runs. The Brewers have lost each of the last three.
Asked whether his strong finish to Monday's outing offered solace, Garza said, "You could say that, but we still lost. Positive or nothing, it's just another loss. You just keep going and get ready for five [days later]. We had a long road trip and being back home for the fourth time in 20 games is a long stretch. It was one of those days. You tip your cap. A guy beat you, and that's it."
Gonzalez walked four batters over six innings but allowed only three hits. His toughest test came when the Brewers put runners at first and third with one out in the third inning. Gonzalez escaped by striking out Ryan Braun on three pitches outside the strike zone and, following a Lucroy walk, retiring Gomez on a flyout to deep left field.
Gomez struck out in a 12-pitch battle with Tyler Clippard in the ninth inning to end his long streak of reaching base. Braun was 1-for-4 with two strikeouts.
"That was our only spot, really, in the game to do some damage," Brewers manager Ron Roenicke said. "We chased some balls out of the zone today. Not just [Braun]."
"Tonight, he threw his changeup for strikes, which was good." said Nationals manager Matt Williams, who was ejected in the second inning. "His velocity was as high as it generally is, but he is still working back being out. [The changeup] was down and out of the zone. He needed it to be."
Adam McCalvy is a reporter for MLB.com. Read his blog, Brew Beat, and follow him on Twitter at @AdamMcCalvy. This story was not subject to the approval of Major League Baseball or its clubs.