Davis belts pinch-hit walk-off homer to top White Sox
In midst of slump, slugger plays hero to give Orioles third straight win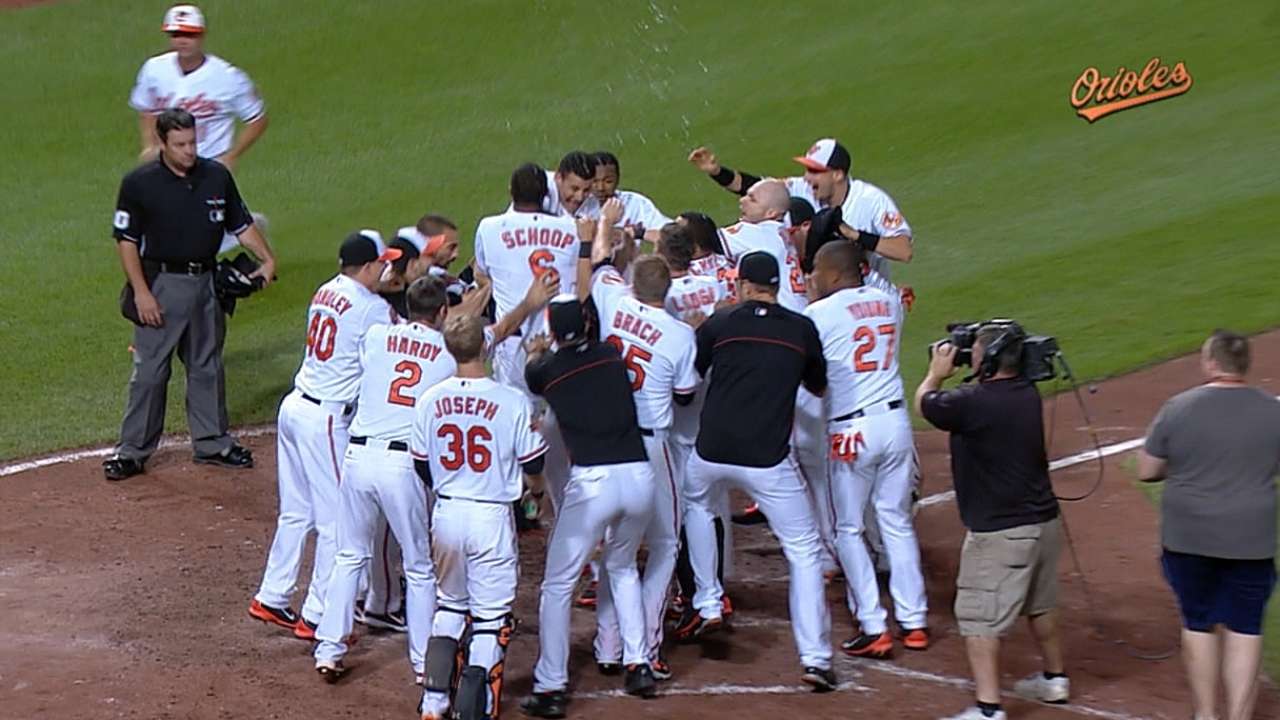 BALTIMORE -- Chris Davis started Monday night's game on the bench. Orioles manager Buck Showalter stated pregame that "90 percent" of his decision involved getting seldom-used Delmon Young at-bats. However, nobody -- not even Davis -- could ignore the reality that the All-Star first baseman had been slumping with the bat in his mighty hands.
Young did his part, delivering three hits. Yet Showalter's best decision came when he lifted the outfielder for a pinch-hitter. That pinch-hitter, a certain slugger in need of something positive at the plate, then lifted a deep fly ball into the night's sky and his squad to a comeback win.
After the Orioles repeatedly struggled to capitalize with runners on base, Davis blasted a pinch-hit, walk-off three-run homer in the ninth inning to give Baltimore a stirring 6-4 win over the White Sox at Oriole Park at Camden Yards.
"Any time you're able to deliver and come through for your team, it's big," said Davis, who had been mired in a 4-for-36 slump. "I'm working as hard as I can to get back on track, doing everything I can and just knowing that as long as I continue to work, the results would be there."
Trailing, 4-2, after squandering numerous scoring chances against White Sox ace Chris Sale, the Orioles (40-35) took advantage of Chicago's bullpen once Sale exited following six innings.
Caleb Joseph homered in the eighth to make it a 4-3 game and the Orioles rallied in the ninth, with Steve Pearce singling off Ronald Belisario to begin the inning and Adam Jones getting hit by a pitch.
That set the stage for Davis, who was on the bench because of the tough southpaw Sale on the hill. The slugger, who was batting .186 in June, mashed a drive deep to right off Belisario (3-4) to cap the comeback.
Showalter had options at the end. Davis was 1-for-1 against Belisario in his career. Young, making his first start since June 15, was 2-for-2. Regardless, the manager chose wisely, as Davis hit Baltimore's first pinch-hit, walk-off home run since Larry Sheets versus Seattle on Aug. 24, 1988.
"It's not a bad decision," Showalter said.
Jones also hit a home run for Baltimore, winners of three straight.
The comeback helped Wei-Yin Chen avoid his first loss since May 3. Baltimore's inability to drive home runners, combined with Chicago's two-run sixth inning, put the lefty in that position.
Brad Brach (1-0) pitched two scoreless innings with one walk.
The Orioles returned home for the start of an 11-game homestand after efficiently scoring 14 runs in consecutive wins over the Yankees.
Following Jones' first-inning, two-run homer, the clutch-hitting part of the offense largely disappeared. Sale, who entered with a 2.20 ERA, allowed a season-high 11 hits, but only two runs.
Baltimore had left 10 runners on base and was 1-for-10 with runners in scoring position before Davis' 13th home run of the season.
Pearce, who replaced Davis at first, went 1-for-4 with two runs and a walk, ending a streak off five straight two-hit games. That one hit, however, started the ninth-inning heroics.
"Once we got him on base, the life started coming in," said Joseph, who homered for a second straight game. "And then the crowd got into it and then we're rolling after that. It was a great come-from-behind win for us."
The Orioles loaded the bases with one out in the fourth and no outs in the fifth, yet came away without a run thanks to some crafty pitching on Sale's part.
After Baltimore opened the fifth with three consecutive singles, Sale induced Manny Machado into a ground-ball out and Jonathan Schoop's inning-ending double play.
Jose Abreu had three RBIs, and his 22nd home run leading off the sixth tied the game. Conor Gillaspie's RBI double, the White Sox third extra-base hit of the inning, made the score 3-2.
Chen allowed three runs and six hits over 5 2/3 innings
Even though Davis didn't get the start, he stayed focused throughout while meandering in and around the dugout.
"From like the fifth inning on, he was up the runway preparing for an at-bat," Showalter said.
Davis also prepared for the Baltimore's traditional postgame pie in the face.
"It was chocolate," Davis explained. "[Jones] told me he was going to pie me before he even came out there, and [I said], 'Make sure it's something tasty.'"
It was -- just like his game-winning homer.
Ben Standig is a contributor to MLB.com. This story was not subject to the approval of Major League Baseball or its clubs.