After working four straight days, Rodney gets night off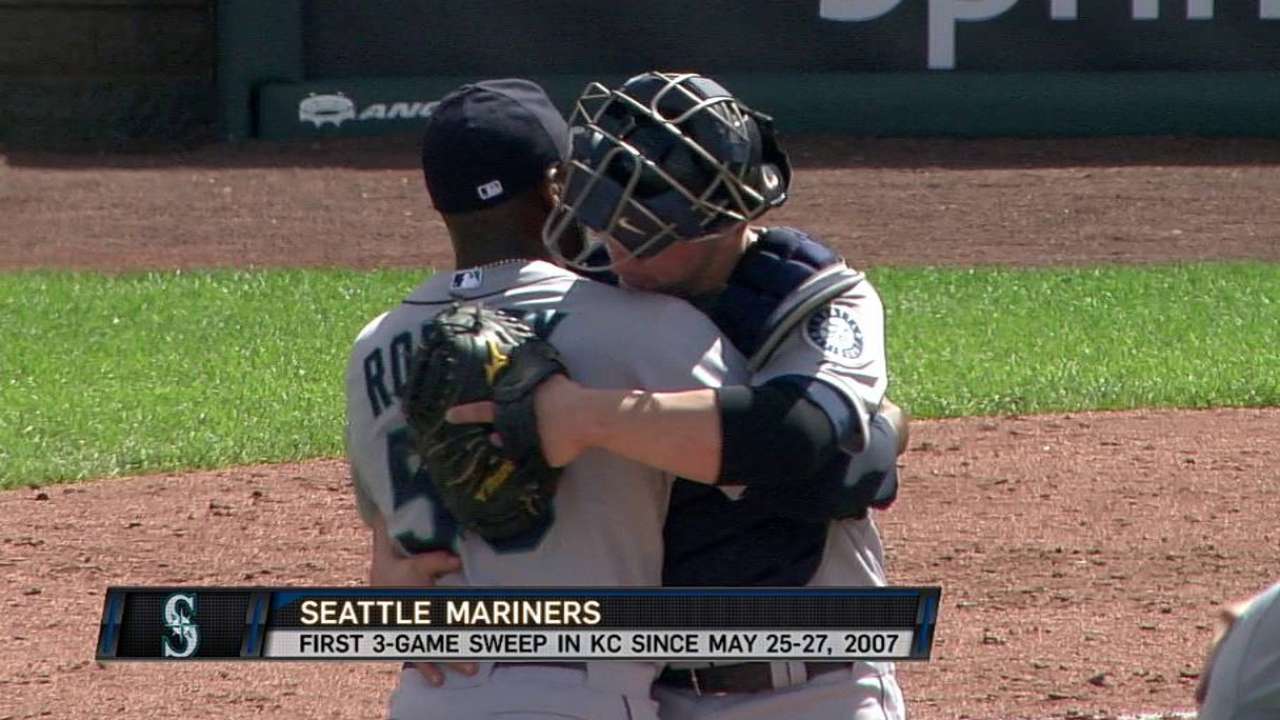 SEATTLE -- After pitching four straight games and recording saves in each of the Mariners' three wins over the Royals in a weekend sweep in Kansas City, closer Fernando Rodney was given Monday off by skipper Lloyd McClendon.
However, the hard-throwing 37-year-old insisted he didn't need or want the break as he's been on an outstanding roll over the past three weeks while allowing just one run in his last 15 appearances.
"I don't want a day off," Rodney said prior to Monday's series opener with the Red Sox. "I understand, but I'm ready to go. Whatever they say is their decision to make. I can do more than that, but I have to follow orders. I feel good. I'm ready to go, ready to compete."
When McClendon told Rodney he'd give him a break if he pitched his fourth straight on Sunday, Rodney jokingly told him he might fly home to the Dominican Republic with his day off. The two spent four years together when McClendon was a coach with the Tigers, and that relationship has been critical in Rodney's opinion.
"The important thing is good communication," Rodney said. "We were in Detroit together and he knows what kind of person I am and the kind of attitude I bring to the ballpark and how I talk to my teammates. I try to be happy and make jokes when they need it. And he understands."
The veteran closer went into Monday's games tied with the Royals' Greg Holland for the American League lead with 21 saves. Rodney became just the fourth Mariners closer in club history to hit 20 saves in his first 75 games of the season and the three previous relievers to achieve that all earned All-Star bids -- Kazahiro Sasaski in 2001, J.J. Putz in '07 and Brandon League in '11.
"That's a good number, 21 saves in early June," Rodney said. "Maybe it's surprising because sometimes we don't win, but I take advantage of every chance I get when we have save situations. I think that's good. We'll keep it quiet and not look back right now. I want to continue like that. If we just hit a little bit with runners in scoring position, I think we can get better because we've got a good bullpen."
Rodney, who was an AL All-Star for the Rays in 2012 when he racked up a career-high 48 saves, spent much of the early season pitching his way in and out of trouble. But he's been extremely efficient of late and has a 0.64 ERA over in 14 innings over his last 15 outings, with eight hits, two walks and 13 strikeouts.
In his last four games, Rodney pitched four scoreless innings with three hits, one walk and five strikeouts while facing just 15 batters. It was just the third time Rodney has worked four straight games in his career. He's never pitched in five straight games.
Rodney's 106 saves since the start of the 2012 season are second in the Majors behind only the 113 of Atlanta's Craig Kimbrel.
Greg Johns is a reporter for MLB.com. Follow him on Twitter @GregJohnsMLB as well as his Mariners Musings blog. This story was not subject to the approval of Major League Baseball or its clubs.