Rockies' slide continues against Cardinals
Walks, big hits cost Chacin, while Lynn cools Colorado bats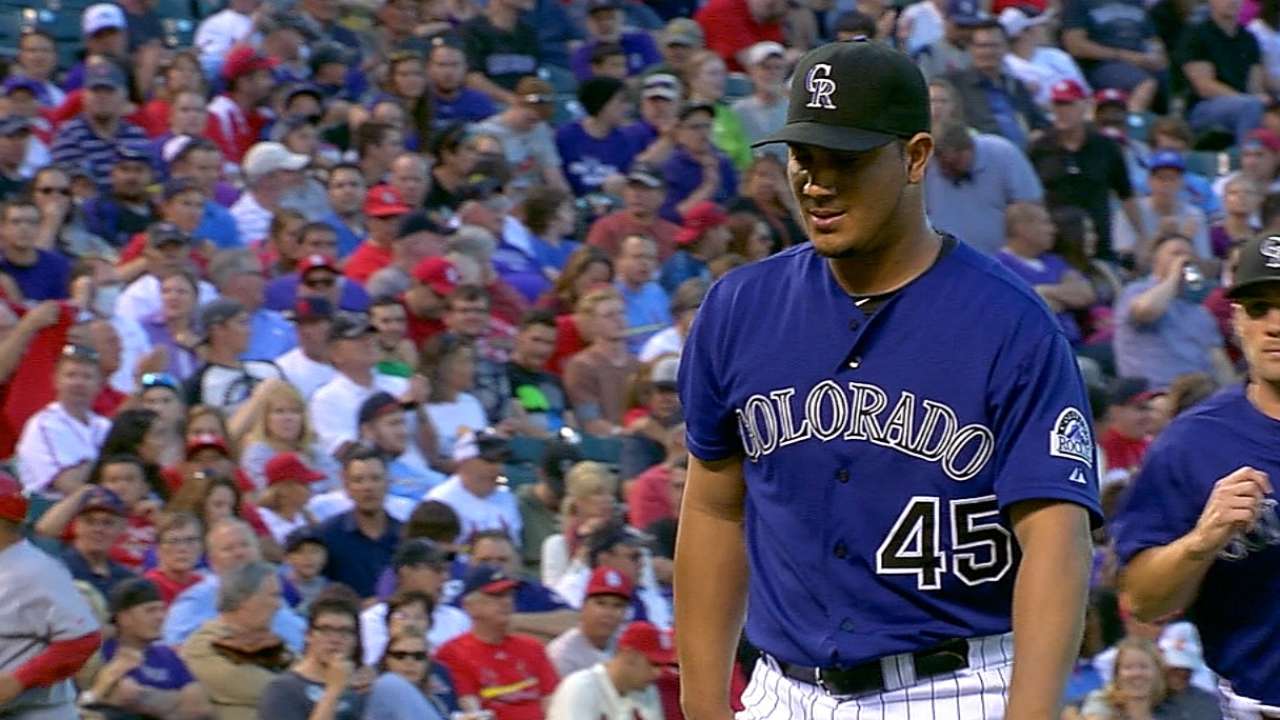 DENVER -- The Cardinals made much of a little, while the Rockies made nothing of the next to nothing that Cardinals pitcher Lance Lynn gave them on Monday night.
Jhoulys Chacin went six innings, allowing only four hits, but five runs, which included the first of Matt Adams's two homers as the Rockies lost their seventh straight, 8-0, in front of 37,078 at Coors Field.
Adams had his third career multiple-homer game, his first this season, and finished with six RBIs. The performance was way more than enough for the right-hander Lynn (8-5), who held the Rockies to three hits -- Corey Dickerson's first-inning single, and no more until Charlie Blackmon and Dickerson singled in the sixth -- in eight innings.
Lynn struck out seven with no walks.
"He was in complete control," Rockies manager Walt Weiss said.
Cardinals relievers Randy Choate and Jason Motte completed the fifth shutout of the Rockies this season, and their first suffered at home since July 2, 2013, against the Dodgers.
This came against a Rockies team that, although it was swept, scored 19 runs in three games against the Brewers over the weekend. The loss dropped Colorado to 19-18 at home, in a season in which it started 16-7.
Dickerson went 2-for-4 and is hitting against most everyone -- 10-for-17 (.588) in his last four games -- but he understood why he didn't have much company in providing offense against Lynn.
"When somebody is pitching that well and they get up a lead like that, 8-0, it's hard to battle back," he said. "It's hard to get something going because it feels like the pitchers can do whatever they want then. They don't feel like we've got them on the ropes.
"I felt pretty comfortable up there against [Lynn]. But I think he controlled his fastball on both sides of the plate. He was making it run when he threw it away, but it seemed like it cut away from a righty and into a lefty. I think righties were having a tough time picking it up."
Lynn had little trouble.
"Lance was terrific," Cardinals manager Mike Matheny said. "He had the four-seamer and the two-seamer working. And the slider-cutter had more depth than it's had. … But he really did it with controlling the bottom of the zone with his two fastballs."
In his disjointed performance, Chacin (1-6) struck out four and at times got quick outs. But he was undone by three walks -- two to players who scored. When he was hit, he was hit hard. Matt Holliday doubled in one run and Adams singled in two for 3-0 lead in the third inning.
Jon Jay walked to open the fourth and scored on Jhonny Peralta's double. Adams added a solo shot off Chacin in the fifth.
"Whenever you walk a lot of guys or don't make good pitches, especially against a team like St. Louis, you're going to pay for it," Chacin said. "You have to make pitches and throw strikes to them to pitch good."
Chacin missed the season's first month with a right shoulder strain. Since returning, he's had difficulty finding consistency, usually early in games. He walked Matt Carpenter to start the game, but retired the next three in order. The inconsistency showed up in the third, however, and Chacin had another start in which he didn't approach his 14-win form of last season.
"A few balls got hit hard, and there were guys on when they got hit hard," Weiss said.
Adams did most of the hard hitting.
"I would say this is probably the best day I've had so far [in my career]," Adams said.
Rockies reliever Franklin Morales walked Lynn to open the seventh. Carpenter was ruled to have been hit by a pitch, and replays were inconclusive after Weiss challenged. Adams then followed with his sixth home run this season, a three-run shot.
The Rockies' only threat came after the Blackmon and Dickerson singles with two out in the sixth. Troy Tulowitzki, however, popped to short right field and flung his bat in disgust.
"I was thinking I'm going to get him out no matter what," Lynn said. "I doesn't matter who is in the box, I think I can get him out."
Thomas Harding is a reporter for MLB.com. Read his blog, Hardball in the Rockies, and follow him on Twitter @harding_at_mlb. This story was not subject to the approval of Major League Baseball or its clubs.