Six-run fourth inning too much for Sox to overcome
Papi notches RBI, Napoli goes deep, but offense does little else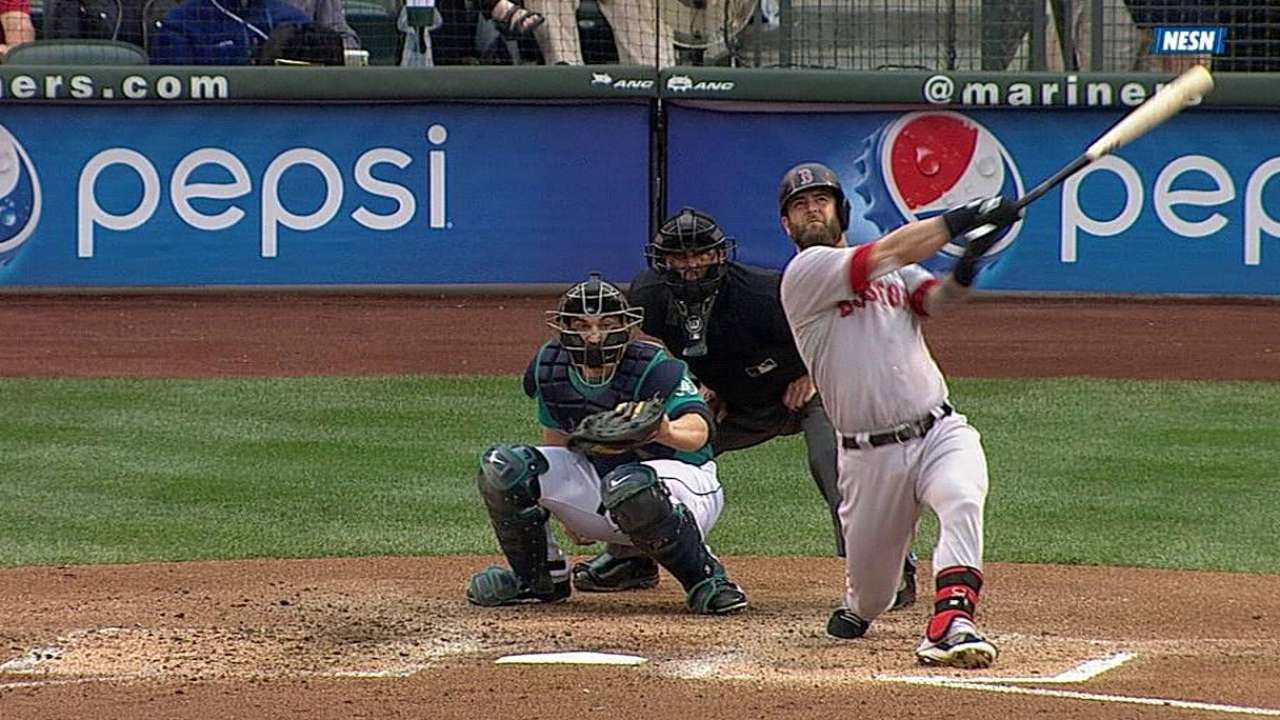 SEATTLE -- John Lackey had been a machine with his consistency this season, giving the Red Sox innings and performance.
But the righty didn't provide his team either of those ingredients on Monday, and the Red Sox wound up taking a 12-3 walloping at the hands of Felix Hernandez and the Mariners.
A disaster-filled bottom of the fourth inning, in which Lackey threw 38 pitches and gave up six runs, put the Red Sox in a 7-2 hole.
"I felt pretty good in the first couple of innings," said Lackey. "Struggled obviously in the fourth inning, but wasn't able to make a pitch to get out of there. Started going downhill and couldn't stop it."
The big hit was a three-run triple by Endy Chavez that went over Brock Holt's head in right. It was Lackey's last pitch of the night.
"We're shifted over," said Holt. "I didn't get the best read on it, but there was backspin on it and it got over my head."
Another pivotal sequence in that fourth was a 13-pitch at-bat by Dustin Ackely, which resulted in a fielder's choice out at second, but not an inning-ending double play.
There was nobody covering first on the play, so Stephen Drew had to hold the ball.
Should Lackey have covered first?
"I mean, yeah, I could've gone over there," said Lackey. "I could've got over there for sure. But yeah, I'll leave that one alone."
Perhaps the toll of the at-bat impacted the outcome of the play.
"I think in the midst of a 13-pitch at-bat, he makes a quality pitch to finally record the ground ball and then whether or not he anticipated the ground ball going through the hole, Nap makes a very good backhand play, gets the lead out and just a lapse there," said manager John Farrell.
Ackley's persistence played a huge role for Seattle.
"It was a battle the whole time," said Ackley. "I was trying to put something in play the whole at-bat to score a run there and he was making pitches. I think there was maybe one or two that I could have handled that I fouled off, but the rest of them were kind of cutters down and in, curveballs down and in, backdoor stuff. I was just trying to put the bat on it the best I could and fortunately it went a long ways and he kind of got tired out a little bit, so we were able to score some right after that."
Brad Miller worked a walk and Willie Bloomquist reached on a single to load them up for Chavez, who delivered the biggest hit of the game.
Call the inning a mulligan in an otherwise solid season by Lackey.
"I'm not going to panic over one inning. I think we'll be all right," said Lackey.
It was without warning that the game turned into a Seattle romp.
The Red Sox got something going early against Hernandez. With two outs in the first, Dustin Pedroia reached on an infield hit and took second on a throwing error by shortstop Miller. David Ortiz rifled an RBI single up the middle and Boston had a 1-0 lead.
Lackey gave the run back in the bottom of the second when Logan Morrison walloped a solo shot to right.
After Ortiz flied out to deep left to lead off the fourth, Napoli followed by hammering a solo shot to left.
With a 2-1 lead against Hernandez, things seemed to be looking good for Boston.
But then the bottom of the fourth happened, and the night was never the same for the Red Sox.
"I thought we had good at-bats the first time or two through the order," said Farrell. "We take a 2-1 lead and then obviously the fourth inning was the difference in this."
Lefty Chris Capuano, who could be fighting for a roster spot when Clay Buchholz is activated on Wednesday, was shelled for six hits and five runs over 2 1/3 innings.
"At the big league level, someone's always nipping at your heels," said Capuano. "That kind of goes with the territory. You don't really think about that. For me, I'm just so focused on my daily work, of trying to get myself right and get myself feeling good. You kind of let that stuff take care of itself."
At 35-42, the Red Sox are 7 1/2 games back in the American League East. They are 1-3 on the current road trip, with five games left.
Ian Browne is a reporter for MLB.com. Read his blog, Brownie Points, and follow him on Twitter @IanMBrowne. This story was not subject to the approval of Major League Baseball or its clubs.