Backed by LoMo's four hits, Felix cruises
Slugger goes yard twice while ace fans six over seven strong innings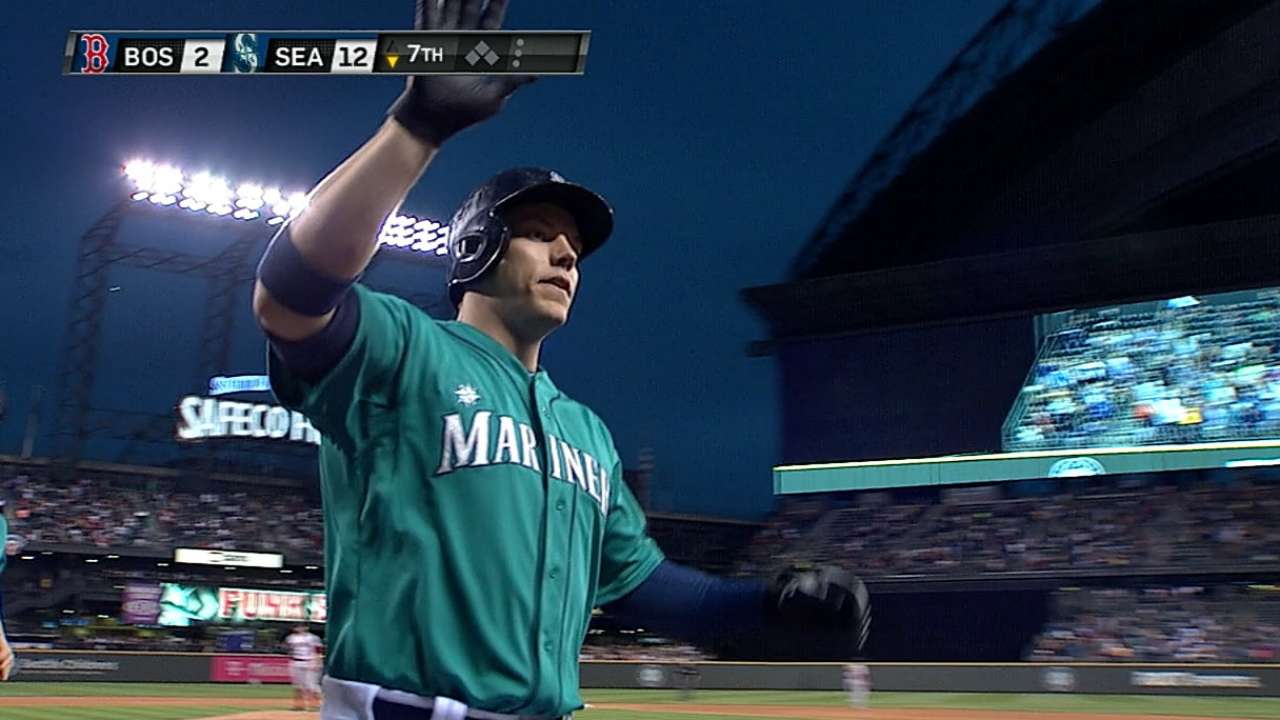 SEATTLE -- After scoring just one run for Felix Hernandez while he was on the mound in his last three starts, the Mariners took the offensive Monday night in a 12-3 victory over the Red Sox at Safeco Field as Logan Morrison led the way with two home runs.
Morrison went 4-for-4 with a walk, four RBIs and three runs scored as he doubled his home run total for the season on a night the Mariners equaled their season high for runs in a game.
It was perfect timing for Morrison to come through with the first two-homer game of his career.
"It feels good if anybody is out there, but obviously Felix goes out there and competes every single time out," Morrison said. "You know, all we need to score is three and we haven't been able to do that. If we could spread these out over his starts, it would probably be a little better for him and better for our win-loss record. But we'll keep it going and hope it's a snowball effect and we can keep it going."
Hernandez pitched seven innings of two-run ball with six hits, no walks and six strikeouts in improving to 9-2 with a 2.24 ERA. Coming in his 17th start, it's the earliest the Mariners' ace has ever reached nine wins in his career. He won his ninth game on his 18th start of 2009 on July 9, when he hit 9-3 on the way to a career-best 19-5 season.
The win was the fourth in a row for the Mariners, who improved to 41-36, a seven-win improvement over their record through 77 games last year. The defending World Series champion Red Sox fell to 35-42.
Hernandez had pitched extremely well his last three outings without benefit of any support as he went 0-1 with a pair of no-decisions despite allowing just two earned runs in 22 1/3 innings. Seattle totaled just 13 runs in five games on its just-completed road trip and has struggled much of the year to score at Safeco Field.
But this time Seattle jumped on Red Sox right-hander John Lackey for seven runs in 3 2/3 innings, knocking him out with six runs in the fourth as Endy Chavez supplied the finishing blow with a bases-loaded triple.
"I was so happy they came through," said Hernandez, who is 5-1 with a 1.48 ERA over his last eight starts.
The fourth-inning eruption also included a double from Robinson Cano and an RBI single by Kyle Seager, along with two walks and a run-scoring wild pitch. But the killer at-bat might have been a 13-pitch, bases-loaded duel with Dustin Ackley, who eventually drove in a run on a fielder's-choice grounder when Lackey didn't get over to first to cover a potential double-play relay throw.
"It was a battle the whole time," said Ackley. "I was trying to put something in play the whole at-bat to score a run there and he was making pitches. I think there was maybe one or two that I could have handled that I fouled off, but the rest of them were kind of cutters down and in, curveballs down and in, backdoor stuff. I was just trying to put the bat on it the best I could and fortunately it went a long ways and he kind of got tired out a little bit, so we were able to score some right after that."
That lengthy duel seemed to tire Lackey, who proceeded to fire the wild pitch, issue a walk and reload the bases with a base hit by Willie Bloomquist before Chavez hit a shot over right fielder Brock Holt's head for his first triple since 2011 with Texas.
"Ackley put up a heck of an at-bat and John was making quality pitches," Red Sox manager John Farrell said. "Any time you get into an extended at-bat like that, there's a little bit of frustration that's going to take over."
Lackey, who hadn't allowed more than three runs in his previous six starts, fell to 8-5 and saw his ERA jump from 2.96 to 3.45 with his shortest outing of the year.
Morrison ripped a solo home run in the second and a two-run shot in the seventh, his third and fourth long balls since coming off the disabled list on June 10. Seager had a three-hit night with a double, two RBIs and two runs.
Hernandez gave up his first home run in his past 12 starts when Mike Napoli just cleared the left-field fence in the fourth inning. Ackley went to the top of the fence to haul in a David Ortiz drive on the previous at-bat, but he ran out of room on Napoli's blast as the Red Sox took a 2-1 lead.
The four-time All-Star then dug in and allowed just two singles the rest of his night before turning the game over to the bullpen in the eighth with a 12-2 lead. It was Hernandez's eighth straight start with seven or more innings pitched with two or fewer runs allowed, breaking Randy Johnson's record for the longest such streak in franchise history.
Putting his name ahead of the Big Unit on that list brought a smile to Hernandez's face as well on a night when there was plenty to enjoy in the Mariners clubhouse.
"He was really good," Hernandez said. "I'm happy. That's all I can say. I'm happy."
Greg Johns is a reporter for MLB.com. Follow him on Twitter @GregJohnsMLB as well as his Mariners Musings blog. This story was not subject to the approval of Major League Baseball or its clubs.