Adams homers twice behind Lynn's gem
First baseman's six RBIs are more than enough vs. Rockies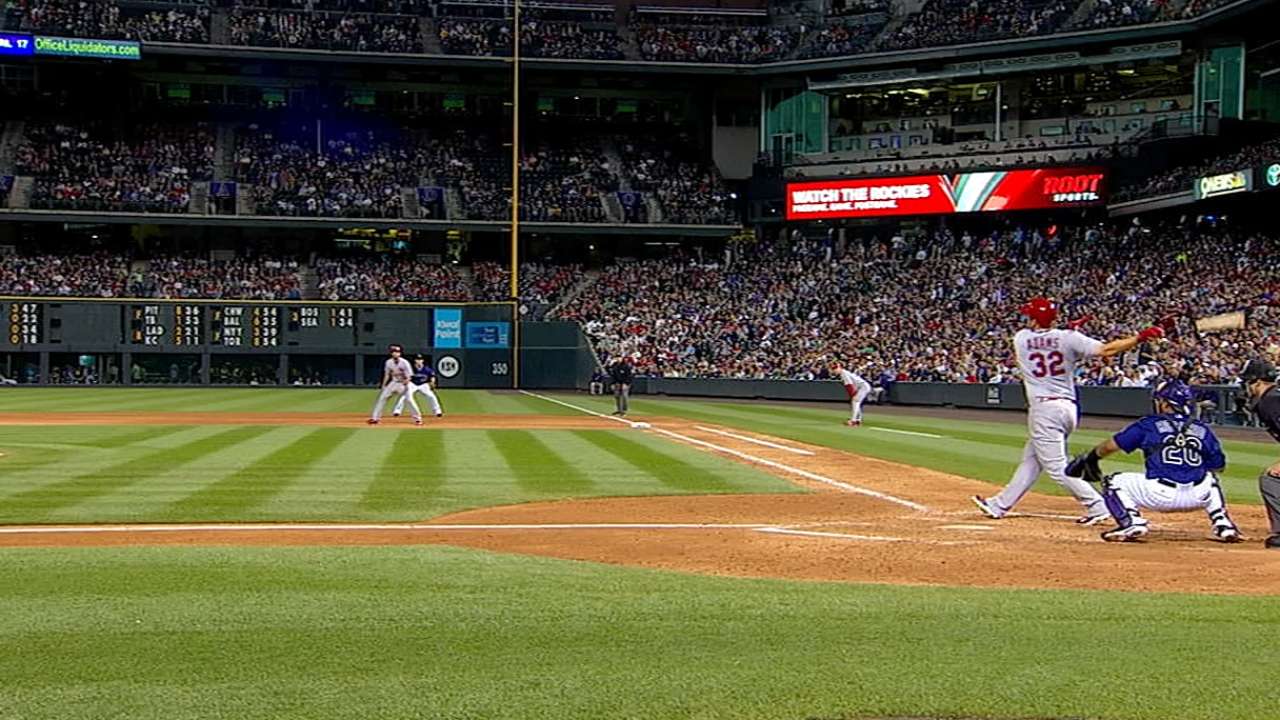 DENVER -- Lance Lynn may not be able to take the turns of the injured Michael Wacha and Jaime Garcia, but he proved he could fill the role of difference-making pitcher for the Cardinals on Monday night.
Lynn tossed eight innings of three-hit ball in the Cardinals' 8-0 win, helping to shut out the Rockies for the first time at Coors Field since July 2, 2013. Matt Adams provided more than enough offense for the Cardinals with two home runs and six RBIs.
"Lance was terrific," Cardinals manager Mike Matheny said. "He had the four-seamer and the two-seamer working. And the slider-cutter had more depth than it's had. ... But he really did it with controlling the bottom of the zone with his two fastballs."
Corey Dickerson registered a single as the second batter Lynn faced, but the right-hander didn't allow another baserunner until the sixth inning, when Charlie Blackmon and Dickerson singled. Lynn, however, escaped that threat by getting Troy Tulowitzki on a weak fly ball.
"I was thinking, 'I'm going to get him out no matter what,'" Lynn said. "It doesn't matter who is in the box, I think I can get him out."
With his three-fifths of the Cardinals' rotation already on the disabled list, also factoring in Joe Kelly, Matheny decided to play it safe, pulling Lynn at 108 pitches.
"I know he would have loved to go back out because his 108th looked as good as the first," Matheny said. "But that was plenty. ... We need him for the long hall. We just lost two starters yesterday."
Left-hander Randy Choate logged two quick outs in the ninth before handing the ball over to right-hander Jason Motte. Motte flashed his old form, running the gun up to 98 mph in his strikeout of Tulowitzki for the final out.
Lynn hasn't allowed a home run to any of the 77 batters he's faced at Coors Field in his career. He finished the night with seven strikeouts while not permitting a walk.
"When somebody is pitching that well and they get up a lead like that, 8-0, it's hard to battle back," Dickerson said. "It's hard to get something going because it feels like the pitchers can do whatever they want then. They don't feel like we've got them on the ropes."
Adams followed up Matt Holliday's RBI double in the third inning with a two-run single as the Cardinals jumped out to a 3-0 lead. In his next at-bat, Adams crushed a solo shot over the out-of-town scoreboard before repeating the feat over the center-field fence with two on in the seventh inning.
"I would say this is probably the best day I've had so far [in my career]," Adams said.
Matt Carpenter set the table all evening despite not having a ball leave the infield. After drawing two walks, Carpenter convinced home-plate umpire Will Little that he was hit by a Franklin Morales pitch in the seventh, although the ball appeared to just miss him, prompting a challenge from manager Walt Weiss. The replay was inconclusive so the call would stand and Carpenter remained on first for Adams' three-run blast two batters later.
"Great start to this trip," said Matheny. "We know they're all going to be tough. We're just going to hopefully rely on our starting pitching to set the tone but what a day by Adams, giving us some room.
Cody Ulm is an associate reporter for MLB.com. This story was not subject to the approval of Major League Baseball or its clubs.