Phils honor Rollins as franchise's hits leader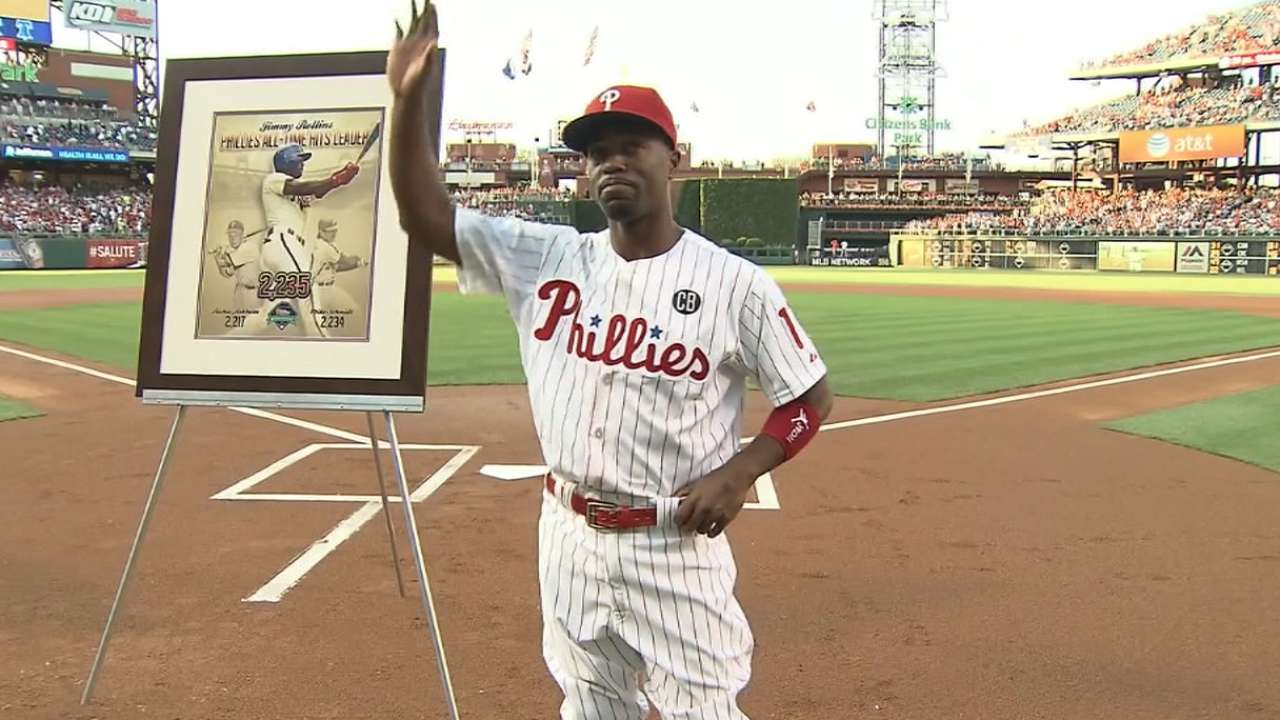 PHILADELPHIA -- The Phillies rolled out the red carpet in grand fashion before Monday's 4-0 loss to the Marlins to honor Jimmy Rollins for setting the franchise's all-time hits record.
Offering Rollins congratulations on Phanavision were Jimmy Fallon and The Roots, Kelly Ripa, Pennsylvania governor Tom Corbett, Philadelphia mayor Michael Nutter, Jill Biden, Yankees shortstop Derek Jeter, Hall of Fame outfielder Rickey Henderson, 76ers legend Charles Barkley, Eagles quarterback Nick Foles, Flyers legend Bernie Parent, Eagles running back LeSean McCoy, Al Roker and Jamie Lee Curtis.
"The organization did a fantastic job," Rollins said. "Above and beyond anything, I would have thought or even wanted, but they wanted it. They went out and got it."
The Phillies followed with a highlight video of Rollins' baseball career from childhood to the moment he broke Mike Schmidt's hits record. It included narration from late broadcaster Harry Kalas.
Former teammates Pat Burrell, Mike Lieberthal, Bobby Abreu and Marlon Anderson joined Rollins on the field, along with Rollins' family, as Chase Utley and Ryan Howard presented Rollins with a silver bat commemorating the milestone.
The Phillies then surprised Rollins, who also received framed artwork, with a trip to Italy.
"Never been to Italy," Rollins said. "Been talking about it for a couple years. I even have Rosetta Stone Italian down in Tampa [Fla.]. I guess I've got to press fast forward on that."
Todd Zolecki is a reporter for MLB.com. Austin Laymance is a reporter for MLB.com. Follow him on Twitter at @jalaymance. This story was not subject to the approval of Major League Baseball or its clubs.