Guthrie, Royals get best of Greinke at The K
Offense chases LA righty in sixth in his third return trip to Kansas City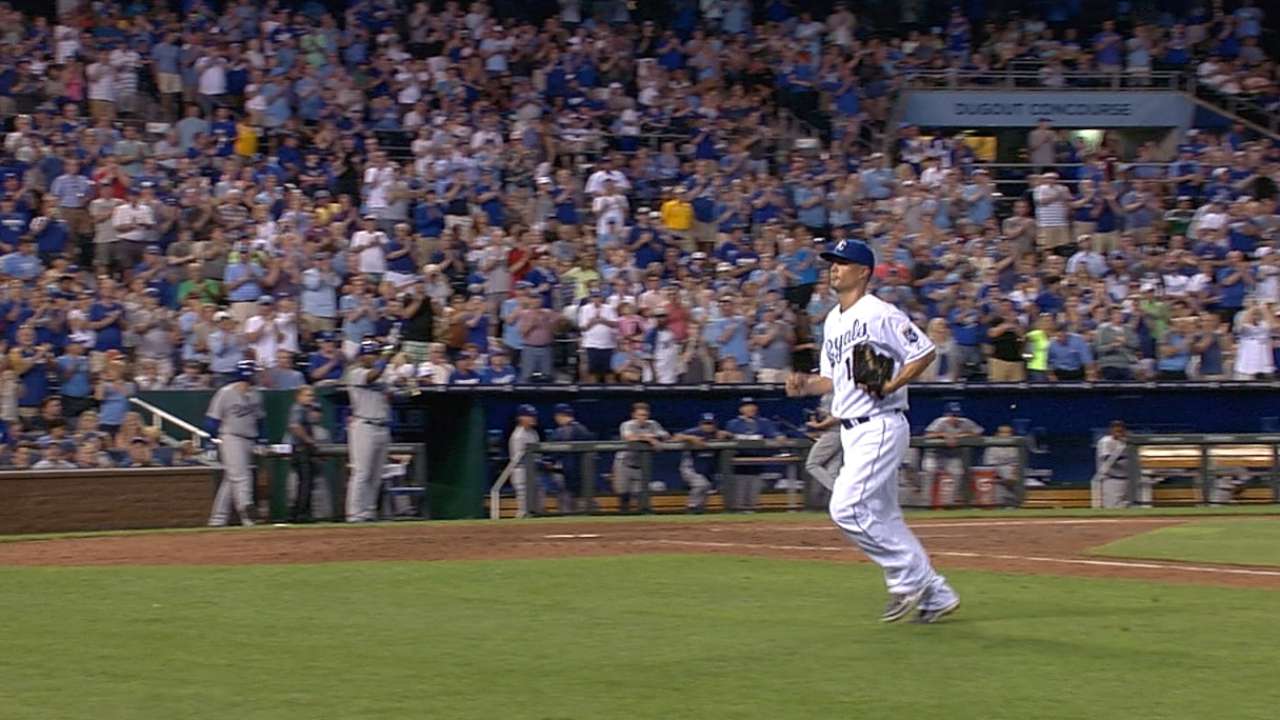 KANSAS CITY -- Much of the pregame attention for the Royals-Dodgers Interleague opener fell on Dodgers starter and ex-Kansas City hurler Zack Greinke.
And rightfully so: Greinke, with his 2.57 ERA entering Monday and $26 million annual salary, deserved the headlines in his third start back at the place where he won the 2009 American League Cy Young Award.
But Greinke's counterpart on the mound, Jeremy Guthrie, made sure that the postgame chatter would be directed toward him.
Guthrie limited a potent Dodgers lineup to two runs in 7 2/3 innings and helped the Royals snap a four-game losing streak in their 5-3 win over Los Angeles at Kauffman Stadium.
"[Guthrie] did everything he needed to do to be successful: changed speeds, great location, and some really, really nice defense behind him," Royals manager Ned Yost said.
The 11-year veteran brought a shutout into the eighth inning, but a two-run double by Hanley Ramirez ended his night. He allowed seven hits, walked none and struck out five.
After a three-game sweep in which its bats went silent for the final two games against the Mariners, Kansas City's offense was rejuvenated against one of baseball's best pitchers.
Jarrod Dyson (3-for-3, two RBIs, two steals), Salvador Perez (2-for-4, home run, double), Alcides Escobar (2-for-3, RBI triple, two runs) and Lorenzo Cain (2-for-4, RBI single) pitched in to end Greinke's night before he could complete six innings.
"It's a funny game," Yost said. "You get up against a guy like Zack Greinke, who's had so much success this year in the National League, a former Cy Young Award winner, and we had some great at-bats."
The Royals jumped on Greinke (5 2/3 innings, five runs, 11 hits) early, scoring two runs in the second inning for a 2-0 lead.
Perez launched a first-pitch slider into the left-field fountain to start the second. Then Kansas City took advantage of a mistake by Greinke, as Dyson drove in Escobar with a base hit after the Royals shortstop singled with two outs, then moved into scoring position on a wild pitch.
"It wasn't good," Greinke said. "The fastball was good, but really bad offspeed, that was the problem today. They didn't have to respect it. It was like I did them a favor when I threw offspeed."
Guthrie breezed through the first four innings with just 28 pitches and one hit allowed.
He had four- and five-pitch innings and received two stellar defensive plays.
First baseman Eric Hosmer took a hit away from Andre Ethier in the second, and Dyson robbed extra bases from Yasiel Puig with a full-speed catch against the center-field wall in the fourth inning.
"They were aggressive early, especially those first four innings it felt like they swung first pitch the majority of the time and we made a couple of great plays to make those first-pitch swings become outs," Guthrie said.
In the next frame, Dyson served as the sparkplug for the Royals' third run. He led off the fifth inning with a hard single up the middle, then took off for second on the first pitch to the next batter Cain. He slid into second easily for his 11th steal of the season.
Cain dumped a single into right, and Puig was unable to throw out Dyson as the Royals went up, 3-0.
Escobar (triple) and Dyson (single) knocked in the final two runs in the sixth inning.
"Those are big runs to pick up, especially with that crew they got over there, they can hit the ball out of the ballpark anywhere up and down that lineup, so any run you tack on is a big run," Yost said.
And Los Angeles did push back with two runs in the eighth to cut the deficit to 5-2, then an Adrian Gonzalez home run off closer Greg Holland to lead off the ninth.
But Holland settled down after the Gonzalez home run and retired three straight for the his AL-leading 22nd save.
Jackson Alexander is an associate reporter for MLB.com. This story was not subject to the approval of Major League Baseball or its clubs.