Return to Kansas City unkind for Greinke
Dodgers righty chased in sixth after allowing five runs vs. old team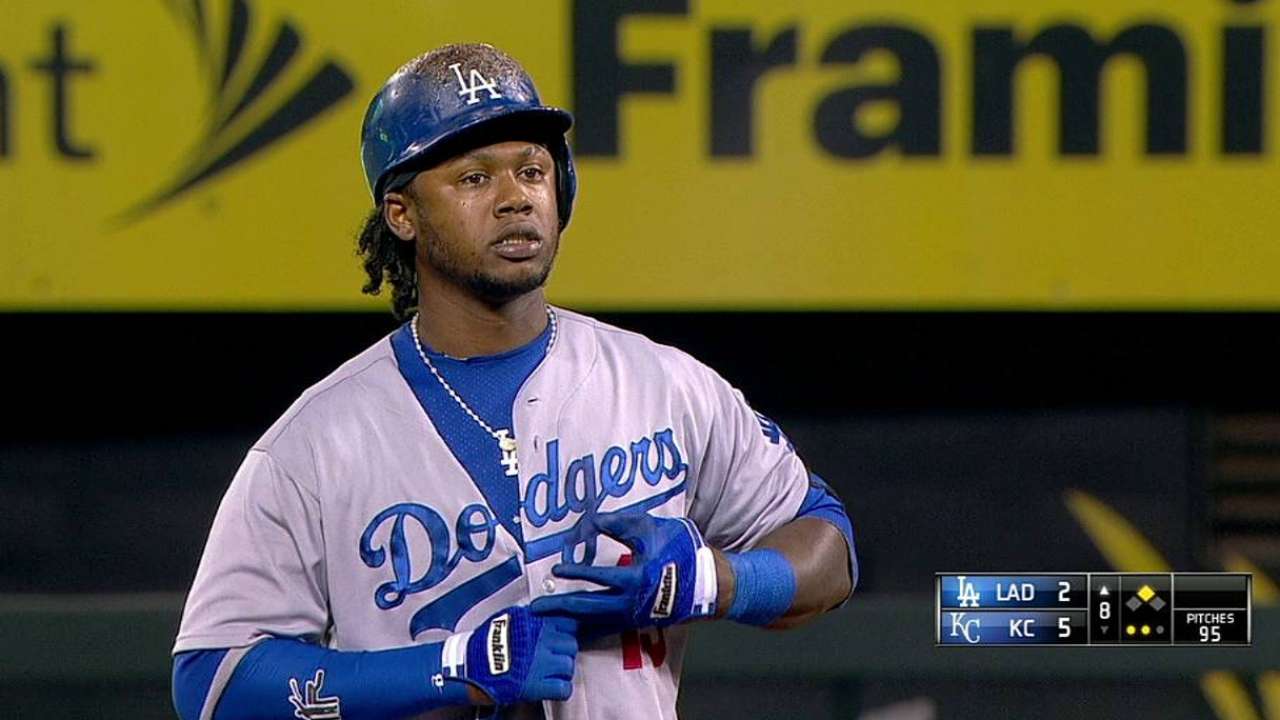 KANSAS CITY -- Zack Greinke visited his old home mound Monday but didn't take with him the Cy Young form of his 2009 Royals season.
Outpitched by Jeremy Guthrie, Greinke allowed five runs and 11 hits in 5 2/3 innings as the Dodgers lost the Interleague opener to Kansas City, 5-3, at Kauffman Stadium.
"It wasn't good," Greinke said. "The fastball was good, but really bad offspeed, that was the problem today. They didn't have to respect it. It was like I did them a favor when I threw offspeed."
Greinke allowed hits every inning and was particularly ineffective against the bottom of Kansas City's lineup, as No. 8 hitter Alcides Escobar went 2-for-3 with two runs and an RBI and No. 9 hitter Jarrod Dyson was 3-for-3 with two RBIs, two steals and a run scored.
Although he was bidding for a 10th win, Greinke and the team have only one win in his last five starts, his ERA climbing from 2.18 to 2.89.
"I don't think he's been exactly sharp for three or four starts, but he's still been good," manager Don Mattingly said.
Greinke allowed an early home run to Salvador Perez, his 11th given up this year, compared with 13 for all last season. Greinke is 9-4, already matching his loss total of last year in 12 fewer starts.
"The last game I was trying to go deeper in the game and was too fine and made 116 pitches in six innings with only six hits," he said. "Today, I was trying to throw strikes and gave up hits. I have to find a happy medium."
Greinke was cheered when announced, but booed when he was removed in the sixth inning.
"I don't know, it's weird," he said. "I pitched good here last time and they cheered. This time they cheered when they announced me and I gave up runs and they booed."
Greinke said he couldn't really explain it -- "I'm not a psychologist" -- but offered a theory after only his third start in Kansas City since talking his way out of the Royals' rebuilding effort after the 2010 season. Escobar and right fielder Lorenzo Cain are two of the players the Royals received from Milwaukee in exchange for Greinke and Yuniesky Betancourt.
"I was pretty rude on my way out," Greinke said. "They have every right to be mad at me. I don't want to be rude, but I felt like I had to be to get traded. They're playing good now. You knew it would take time, and now's the time."
One Dodgers pitcher that had something to celebrate was Jamey Wright, who retired all four batters he faced and surpassed 2,000 innings pitched in his career. He left the clubhouse with his son holding the encased ball commemorating the achievement.
Guthrie (5-6) allowed two runs on seven hits over 7 2/3 innings but was lifted from the game after Hanley Ramirez broke up the shutout with a two-run double after singles by Miguel Rojas and pinch-hitter Justin Turner. Ramirez has a 10-game hitting streak.
The Dodgers made it easy on Guthrie in the early half of the game with innings of four, eight and nine pitches and only 28 through the first four frames.
"They were aggressive early, especially those first four innings it felt like they swung first pitch the majority of the time and we made a couple of great plays to make those first-pitch swings become outs," Guthrie said.
Adrian Gonzalez pulled the Dodgers to the final margin by leading off the ninth inning against Greg Holland with his first home run since May 21 and 13th on the year. It capped a day that began with Gonzalez racing around the clubhouse celebrating one of the goals in Mexico's World Cup soccer win.
The Dodgers had a pair of decent chances to score. They opened the fifth inning with singles from Gonzalez and Matt Kemp (11-game hitting streak). But Andre Ethier struck out, A.J. Ellis bounced into a force and Rojas grounded out.
In the sixth, Dee Gordon bunted for a one-out single and took second on Ramirez's groundout, but he was stranded there when right fielder Cain ran down Yasiel Puig's line drive. It was the second hard-hit out for Puig, who lost another bid for extra bases in the fourth when center fielder Dyson ran down his long fly at the wall.
Ken Gurnick is a reporter for MLB.com. This story was not subject to the approval of Major League Baseball or its clubs.