Davis starts on bench, ends in celebratory pile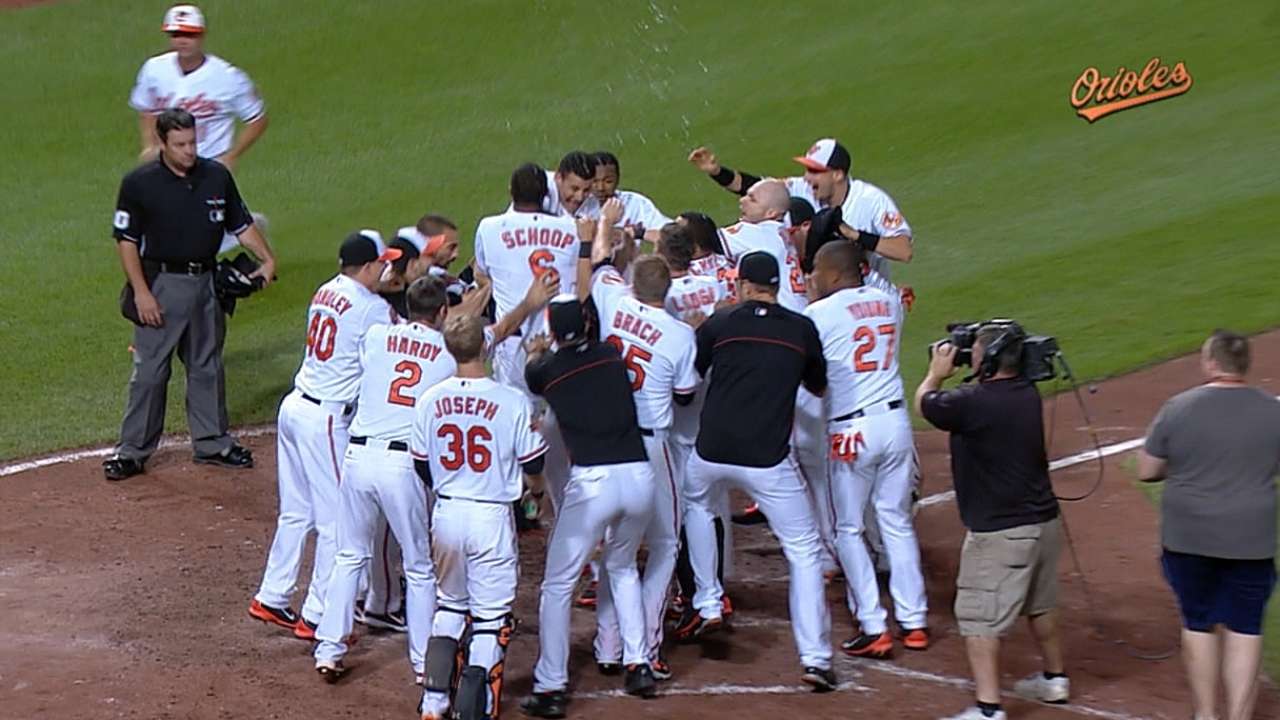 BALTIMORE -- Chris Davis wasn't in the Orioles' starting lineup for Monday's opener of an 11-game homestand against the White Sox. The slumping and frustrated slugger understood why.
With Chicago starting lefty ace Chris Sale, manager Buck Showalter replaced Davis at first with Steve Pearce. Delmon Young entered the lineup in left field.
Asked pregame if any ailments led to the benching, Davis said, "Physically, no. It's because I've been sucking."
How quickly times can change.
On a night when the Orioles were unable to capitalize on multiple scoring chances -- they left 10 men on base -- Davis was summoned to pinch-hit in the ninth inning with his team trailing, 4-3, and runners on first and second.
After working the count full against White Sox closer Ronald Belisario, Davis got a breaking ball and belted it well over the right-field wall for a three-run, walk-off homer to give the Orioles a stirring 6-4 come-from-behind win.
Suddenly, the woes that were plaguing Davis this month -- he entered Monday batting just .186 in June -- seemed a bit further in the rearview.
"It's good. Any time you're able to deliver and come through for your team, it's big," Davis said. "Like I said earlier today, I'm working as hard as I can to get back on track, doing everything I can and just knowing that as long as I continue to work, the results would be there."
In giving Davis the reprieve, Showalter had also wanted to get Young's bat in the lineup.
Young had received only one at-bat since his previous start on June 15, hitting a pinch-hit home run on June 16.
"About 90 percent of the [lineup change] is Delmon Young," Showalter said before the game. "I need to get Delmon in a ballgame. I am not going to let him sit around."
Young made his manager look good, going 3-for-4 with a double before giving way to Davis in the ninth.
Ben Standig is a contributor to MLB.com. This story was not subject to the approval of Major League Baseball or its clubs.