Stroman quiets Yanks as Lind powers Blue Jays in win
Righty tosses career-high eight innings; DH leads big night for bats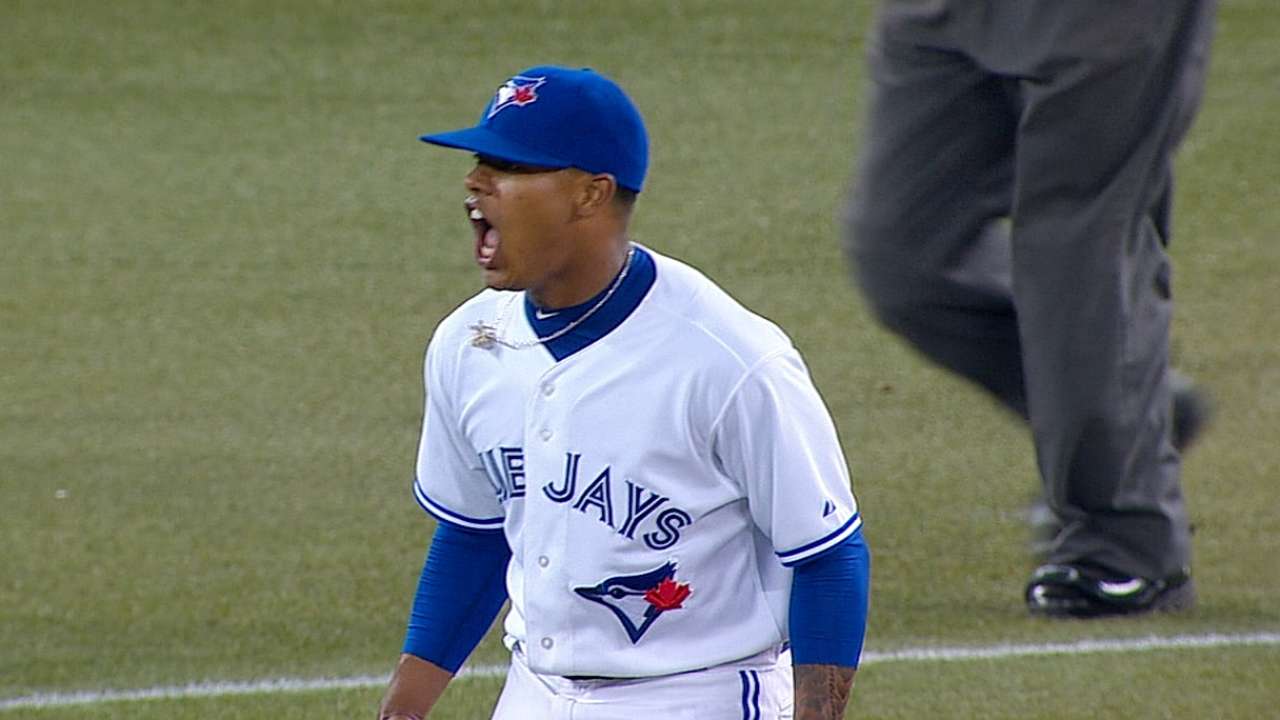 TORONTO -- In a big showdown against the division-rival Yankees, Marcus Stroman and the Blue Jays got revenge.
After being unable to complete four innings in his last start at Yankee Stadium in New York -- where the Blue Jays have lost 16 consecutive games -- Stroman turned in an impressive performance and helped the Blue Jays get back into the win column.
Stroman worked a career-high eight innings, while Adam Lind homered during a six-run second inning to power the Blue Jays to an 8-3, series-opening victory over the Yankees at Rogers Centre on Monday night.
The win snapped a mini two-game skid and helped the Blue Jays move 2 1/2 games ahead of the Yankees in the American League East while remaining 1 1/2 games ahead of second-place Baltimore.
"He was really on," Blue Jays manager John Gibbons said of Stroman. "It was a fantastic job, we needed that."
Less than a week ago in New York, the Blue Jays couldn't get much of anything going against the Bronx Bombers. The Yankees swept the three-game set, and Toronto was held to eight runs combined over the series, which came in the middle of a three-city road trip that saw the slumping Blue Jays go 3-7.
Stroman pitched the opener of that series, as well, but did not have the same success he did Monday. The rookie needed 98 pitches to get through 3 2/3 innings at Yankee Stadium, the shortest of his five starts, and walked a career-high three batters to take his second loss of the season.
Monday night, however, was a different story. Stroman limited the Yankees to one run on three hits and started the game by retiring eight straight batters before Brendan Ryan hit a two-out single in the third. The only damage off Stroman came in the fourth inning, when Mark Teixeira hit a solo homer, his 13th of the season, to center field, just out of the reach of a jumping Colby Rasmus.
Stroman bounced right back after surrendering the long ball, and walked one on the evening while matching a career high with seven strikeouts in front of 31,554. The 114 pitches he threw marked the first time he has reached the century mark in a contest.
Pounding the lower portions of the strike zone, Stroman said, was the key in his second outing against the Yankees.
"Sometimes I just get too excited and overamped, and that's when I elevate," Stroman said. "[Pitching coach] Pete [Walker] is always reminding me in my ear, in between each inning, just really drive in down through the zone, and when I'm down there, I feel like I can be effective."
After a rough experiment in the bullpen in which he allowed 10 runs (nine earned) on 13 hits over five appearances -- good for a 12.79 ERA -- Stroman has been as good as any Blue Jays starter since joining the rotation.
Over his five starts, Stroman has a 2.43 ERA and has punched out 26 while walking six. He has turned in four quality starts, and his 4.33 strikeout-to-walk ratio is better than any member of the rotation.
"He seemed to be in command of a good breaking ball, and he used it effectively," Yankees manager Joe Girardi said of Stroman.
Lind provided Stroman with all the support he needed.
The 30-year-old Lind, who had been limited to pinch-hitting duties after missing three games with a foot injury, returned to the starting lineup for the first time since June 14, and the designated hitter made his presence felt right away.
Lind drove in Toronto's first run of the game with an RBI single in the opening frame, and then followed with a three-run homer -- his fourth of the season -- to center field in the second. Lind later walked in the fourth and came around to score on a Dioner Navarro single.
"You take him out of our lineup, that's a big hole," Gibbons said of Lind, who went 2-for-4 with a season-high four RBIs. "We aren't the same without Adam in there. Lind is a big part of this offense."
Every Blue Jays player reached base on a night the club was in need of some good news after Brett Lawrie was placed on the 15-day disabled list with a fractured right index finger and an MRI revealed Jose Bautista suffered a Grade 1 hamstring strain.
Lind, a nine-year veteran who has spent his entire career with the Blue Jays, didn't downplay the challenge the Blue Jays face without those two.
"It's going to be hard, we all know that," said Lind, who is batting .364 over his last 38 games. "You aren't going to replace Jose Bautista. If we play as a team and do our job in certain situations, we'll hopefully be good, and maintain where we are."
Toronto pounded Yankees starter Chase Whitley for 11 hits to begin a pivotal three-game set with New York. Whitley allowed all eight runs and was yanked from the contest after 3 1/3 innings, the shortest outing of his young career. The right-hander had limited the Blue Jays to two runs over five innings in his last start to earn his third win of the season, but the Blue Jays were all over him from the start this time around.
Melky Cabrera was one of seven Blue Jays to record a hit in the second inning, which extended his hitting streak vs. the Yankees to 20 games.
New York added a pair of ninth-inning runs against reliever Chad Jenkins, but lefty Aaron Loup got Brian Roberts to line out to end the contest.
Chris Toman is a contributor to MLB.com. This story was not subject to the approval of Major League Baseball or its clubs.