McGehee's early knock helps shut door on Phils
Two-run double in first sets tone, helps Eovaldi collect fifth victory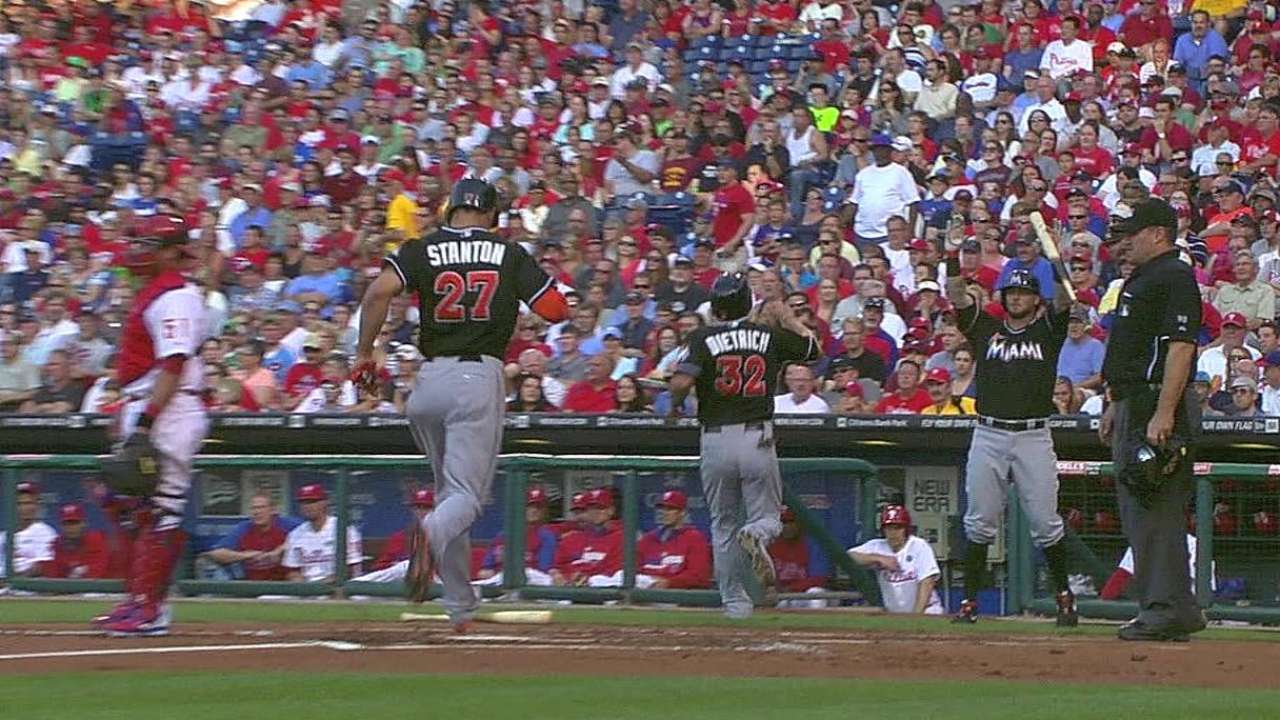 PHILADELPHIA -- Casey McGehee hasn't garnered anywhere near the All-Star attention that Giancarlo Stanton -- the National League's leader in homers and RBIs -- has this season. Heck, McGehee has only one home run in 288 at-bats in 2014.
"I'm sure he's tired about talking about [that]," manager Mike Redmond said.
That's because McGehee has no reason to defend his power outage; all of his other numbers have put a charge into the Marlins' offense. McGehee's two-run double in the first inning of Monday night's 4-0 win over the Phillies at Citizens Bank Park was just the latest example of the third baseman's unsung heroics.
"Just trying to use the whole field and just hit the ball hard," McGehee said. "Not necessarily trying to hit balls out of the ballpark, just trying to stick with my approach and barrel up as many as I can."
McGehee is hitting .390 (32-for-82) with runners in scoring position, which ranks first in the NL. His 46 RBIs are good for fifth in the league, and his .979 fielding percentage ranks second in all of baseball and first in the NL. But just as big of a contribution as anything has been the protection McGehee has provided to Stanton as the Marlins' cleanup hitter.
On Monday night, Stanton was given a free base three times -- he was hit by a pitch twice and walked once. McGehee proceeded to lace doubles in two of the following three at-bats.
"We've talked about it a lot, needing a guy to hit behind Stanton and give him some protection. As much protection as he possibly can get. And he's done a great job," Redmond said. "The chances when they've walked [Stanton], he's come up big and got some big hits and won some games for us."
McGehee's first-inning double provided an early cushion for Nathan Eovaldi, who had surrendered 11 earned runs in 10 2/3 innings in his previous two starts. But Monday night was a different story for the right-hander.
"I think it's pretty easy to put those [poor starts] behind you," said Eovaldi, who picked up his fifth win.
Eovaldi had to work hard in his first three innings, using 56 pitches to dance around trouble and keep the Phils off the scoreboard. But he found his rhythm as the game progressed, and needed only 33 pitches to get through the next three frames.
"Later in the game, I was able to locate my fastball on both sides of the plate and get ahead with some offspeed pitches, so I think that was one of the main factors," Eovaldi said.
Left-handed hitters entered the night hitting .305 against Eovaldi, so Phillies manager Ryne Sandberg packed his lineup with six lefties. Cody Asche went 3-for-3 against Eovaldi, but the rest of Philly's left-handed bats went 2-for-16.
"It wasn't easy for him," Redmond said. "He had to make some pitches against a heavy left-handed lineup, but he did it. He got through it. Put up the zeros and did a nice job."
Eovaldi went 6 1/3 scoreless innings, allowing six hits and a walk while striking out two.
"Sometimes when things aren't going your way, especially the last couple of days at home, you need someone to step up on the mound and take control and Nathan did all we can ask for," McGehee said.
Miami tacked on two insurance runs in the ninth. The Phillies, whose 10 consecutive games without an error was the longest current streak in the Majors, committed two errors to the first two batters of the inning to set the table. Reed Johnson and Derek Dietrich each had RBI singles to give the Marlins a 4-0 lead and spare closer Steve Cishek from making an appearance.
Mike Dunn, A.J. Ramos, Kevin Gregg and Chris Hatcher combined for 2 2/3 scoreless innings of relief.
The Marlins had dropped eight of 11 games coming into the contest, but they moved back to .500 with the win and remain 2 1/2 games out of first place in the NL East standings.
"We've had some struggles at that over the last week or 10 days, so it was nice to see us keep executing and put some pressure on them, and make them make plays and get a couple hits to extend that lead," Redmond said.
Erik Bacharach is an associate reporter for MLB.com. This story was not subject to the approval of Major League Baseball or its clubs.