MLB.com Columnist
Roger Schlueter
MLB Notebook: Rays en route to historic K's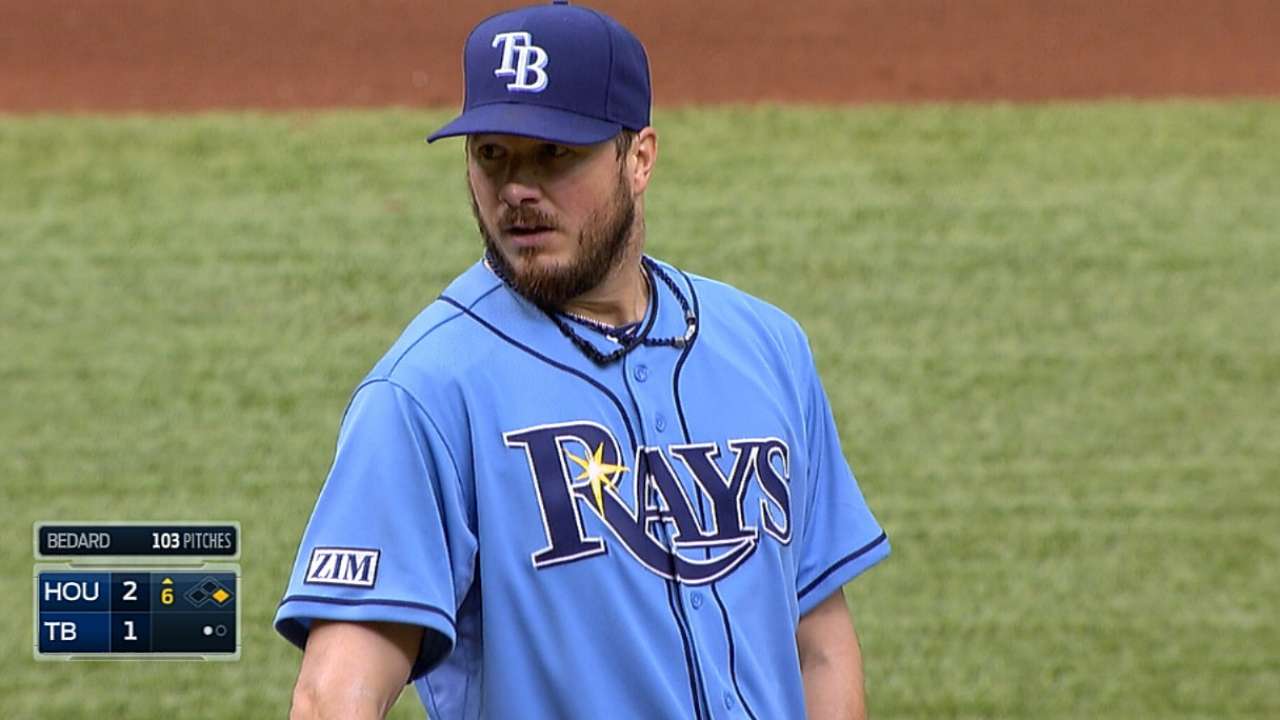 On Aug. 31, 2013, Tigers pitchers struck out a measly six batters in a 10-5 victory over the Indians. With the effort, Detroit's staff had 1,163 strikeouts, 241 shy of the Major League record for K's in a season. The Tigers also had 26 more games in which to record those 241 (or 242, depending on the breadth of their aspirations); they were going to have to increase the pace.
And Detroit did just that, averaging an extraordinary 10.27 K's per nine innings the rest of the way to reach and surpass the single-season mark of 1,404, set by the 2003 Cubs. How extraordinary? No team in the live-ball era had ever posted a strikeout rate of at least 10 per nine in any monthly split (minimum 20 games).
But the Tigers' monthly superiority may be fleeting, as the 2014 Rays are sitting on 212 K's in 185 June innings, for a spectacular rate of 10.31 per nine.
The Rays defeated the Astros, 5-2, on Sunday to take three of four in the series and -- with 13 K's by their pitching staff in this win -- conclude the set with 48 strikeouts. It's a run that's special for the team and a part of what could be a historic month for the club:
Tampa Bay has fanned at least 11 batters in four straight games, the second-longest run in team history. The longest -- a five-game stretch -- occurred a month ago.
The Rays' pitching staff has compiled 212 strikeouts this month, the most in the Majors. Dating back to 1914, the high mark for K's in any June is 253, recorded by the 1964 Indians. Tampa Bay has eight more games to play before July.
Through 77 games, the Rays have 669 strikeouts, the most in the Majors. When the 2013 Tigers were on their way to setting a Major League record for strikeouts in a season, they had 722 through 77 games.
Cueto quickly lowering ERA
Reds right-hander Johnny Cueto picked up his seventh win, allowing three runs (one earned) in eight innings for the victory. In his 16th start, he lowered his National League-leading ERA to 1.86. Among all Cincinnati pitchers since 1914 with at least 16 starts through the first 74 games, Cueto's ERA stands fourth lowest: Dolf Luque had a 1.44 in 1923. He finished at 1.93 to capture the NL crown. In 1944, Bucky Walters was at 1.51, and he finished with a 2.40 ERA to capture the NL title (as recognized by Elias). At this point of the season in 1920, Dutch Ruether had an ERA of 1.82 en route to a season-ending 2.47 that was fifth lowest in the NL.
Since 1933, 48 pitchers have ended the first half of the season with at least 16 starts and an ERA below 1.90, most recently in 2011 -- the Braves' Jair Jurrjens and the Angels' Jered Weaver. Two Reds are among this class of 48: Walters in 1944 and Gary Nolan in '72.
Grandy shining in role of leading man
Batting leadoff, Curtis Granderson had three hits and a walk, and was one of seven in the starting lineup to produce a multihit game in the Mets' 11-5 victory over the Marlins.
Granderson has started five games in the leadoff spot this season, all since June 15, and has reached safely four times in two of them. Since 2012, the Mets have had nine other games in which their leadoff hitter has reached safely at least four times.
On May 16, Granderson had a .287 on-base percentage (and .615 OPS) in 164 plate appearances. Since then -- 138 plate appearances -- he has a .442 on-base mark and .937 OPS.
In the Mets' victory, David Wright picked up his 18th double of the season and drove in a run, giving him one RBI in six straight games. Among all third basemen through their first 11 seasons (minimum 75 percent of their games played at third), Wright has the second-most doubles (behind Wade Boggs), the sixth-most total bases (seven behind Mike Schmidt, in fifth) and the fourth-most extra-base hits (behind Eddie Mathews, Schmidt and Scott Rolen).
Dozier has doozy of a day
Minnesota second baseman Brian Dozier drew a pair of walks, scored, drove in a run and had a hit in a 1-for-2 day as the Twins topped the White Sox, 6-5. Dozier leads the American League with 58 runs scored, is third with 47 walks, is tied for seventh with 15 steals and is in the top 25 with 37 RBIs.
Having some essentially useless fun with round numbers, Dozier should reach 60 runs, 50 walks and 40 RBIs by the end of the season's first half. The last five players to reach those marks in a first half: Joey Votto in 2013, Miguel Cabrera in '13, Jose Bautista in '13, David Ortiz in '12 and Granderson in '12. Those five combined for 18 stolen bases during their productive first halves. The last first half to see players hit those three round-number marks and add 15 steals to the mix came in 2008, when Grady Sizemore, Lance Berkman and Carlos Beltran all did it.
With upped OPS, Aramis joins special Brew crew
Milwaukee's Aramis Ramirez put together his fourth straight multihit game, doubling and homering and driving in two runs. Ramirez has a .377/.403/.696 slash line for June, with his 1.098 OPS the fourth highest in the NL (minimum 60 plate appearances). Ramirez's teammates Scooter Gennett (1.138) and Jonathan Lucroy (1.061) are second and seventh, respectively.
The highest June OPS for a Brewers player with at least 75 plate appearances belongs to Tyler Houston, who posted a 1.254 in 2002.
Only twice has a trio of Brewers finished June with at least 75 plate appearances and an OPS of at least 1.000: Kevin Seitzer (1.007), Greg Vaughn (1.230) and John Jaha (1.070) did so in 1996. In 2009, it was Ryan Braun (1.022), Casey McGehee (1.100) and Prince Fielder (1.177).
Madison has hitters feeling bummed
Madison Bumgarner worked eight innings of two-hit, one-run ball (the run unearned) and picked up his ninth win as the Giants defeated the D-backs, 4-1. Bumgarner has 18 starts since the beginning of 2010 in which he went at least seven innings with no more than three hits allowed. That's the third most in the Majors for a left-hander, behind Clayton Kershaw's 24 and Gio Gonzalez's 21.
No lead safe around Papi
After taking a five-run lead into the bottom of the eighth and then seeing it disappear by the end of the ninth, the Red Sox got a 10th-inning home run from Ortiz and eventually defeated the Athletics, 7-6. Ortiz has 17 career homers in the ninth inning or later that have given his team the lead (this includes walk-offs), tying him for the fifth most for any player in the past 50 seasons.
21: Tony Perez
20: Jason Giambi
19: Schmidt, Jack Clark, Eddie Murray, Jim Thome, Adam Dunn
18: Willie Stargell, Chipper Jones, Andruw Jones
17: Reggie Jackson, Graig Nettles, Barry Bonds, Ortiz
Roger Schlueter is senior researcher for MLB Productions. This story was not subject to the approval of Major League Baseball or its clubs.