Baseball stadiums house World Cup mania
Major League players, fans show enthusiasm for countries competing in Brazil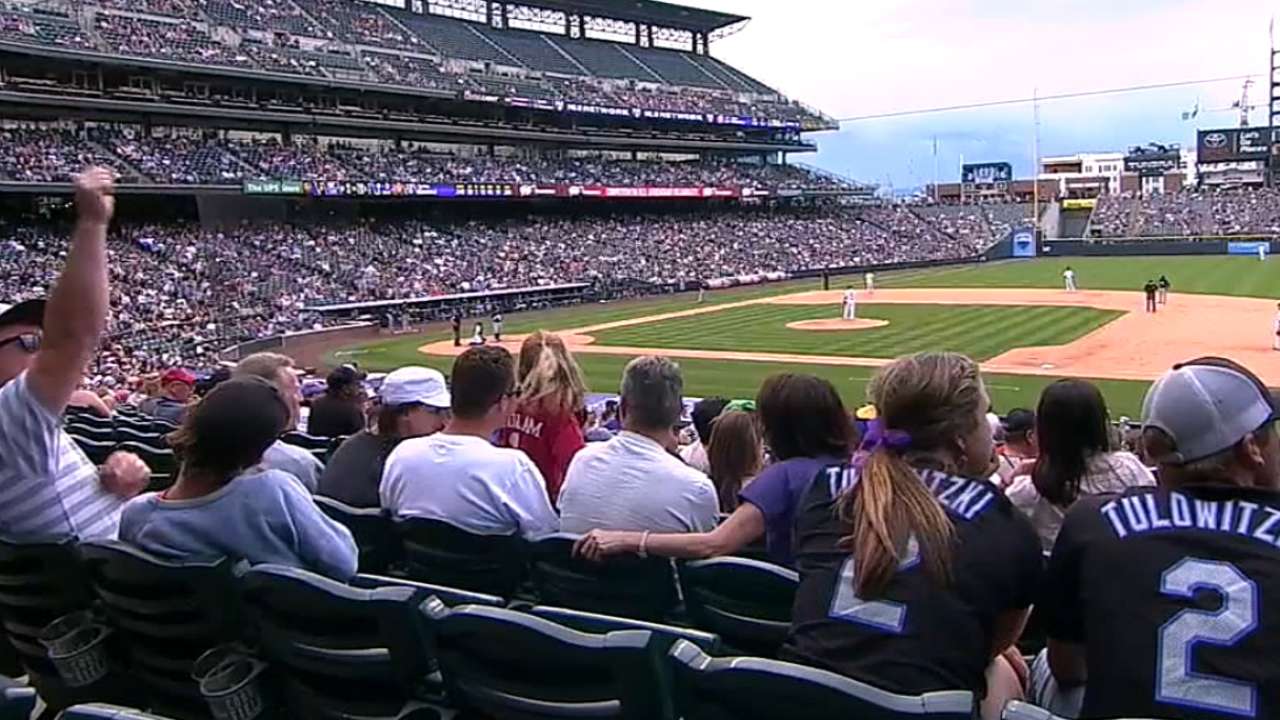 The Angels and Rangers were getting ready to play a nationally televised Sunday night baseball game, and the drama was exploding throughout Angel Stadium well before the first pitch was thrown.
First, elation: An explosion of joy when a ball went off United States Men's National Team forward Clint Dempsey's chest and into the net to give the United States a 2-1 lead over Portugal in the 81st minute.
Then, deflation: Cristiano Ronaldo's perfectly placed cross pass landed on the head of Silvestre Varela and bounded past bewildered American goaltender Tim Howard in the 94th minute, mere seconds before the referees would call the game over.
This was being watched at a baseball venue, sure. But this was World Cup soccer played by the American team, and it was as captivating to the fans and players of the Major Leagues as it was to the rest of the football-loving globe on Sunday night.
Angels outfielder Kole Calhoun, for example, was as happy-go-lucky as they come watching his favorite soccer team inch to the precipice of advancing to the round of 16. All the team had to do after Dempsey's clutch go-ahead score was hold off Portugal for a few minutes and it wouldn't even need the points from its next match against Germany to move on to the knockout stage.
But when Ronaldo and Varela struck, the frustration of letting one slip away hit hard. Calhoun couldn't help but slam his bat down on the field upon watching the final goal.
Yes, baseball cares about soccer, the other beautiful game. It's been seen throughout this tournament in the clubhouses and dugouts of the very international big leagues, and it's only getting more intense.
Any Dodgers or Giants fans, for example, had to notice the uncanny resemblance between bearded, mohawked Portuguese player Raul Meireles and one of MLB's most colorful relievers, Brian Wilson.
And how's this for partisan passion? Prior to the USA-Portugal match, Cardinals ace Adam Wainwright painted his face in red, white and blue to show support for his countrymen going after glory in Brazil.
"Besides our game, it's the biggest game of the day, biggest game of the year," said Wainwright, who played soccer as a kid. "All these other people from all these other countries are getting fired up, painting their face and wearing flags and all that. It's time for the United States to stand up and be patriotic, too."
Wainwright's wife, Jenny, did the artwork on the mug of her husband, who arrived at Busch Stadium with a USA soccer scarf and a few washable tattoos for his teammates.
In Arizona, D-backs pitcher Josh Collmenter has been hanging a USA banner in his locker. He was among the thousands watching the Americans' stirring opening 2-1 victory over Ghana last Monday at Chase Field. It was on in the D-backs clubhouse and on the video screen in center field.
"It's fun, because we have an interesting dynamic," Collmenter said. "Oliver Perez, being from Mexico, was, of course, on the Mexican side. ... A lot of the other Latin guys that don't have a specific country -- because most of them are from Venezuela and Venezuela doesn't have a team in the Cup -- [are] kind of picking sides.
"It's fun to have different cultures and different countries represented just to see whose side each person is on."
Doug Miller is a reporter for MLB.com. Follow him on Twitter @DougMillerMLB. This story was not subject to the approval of Major League Baseball or its clubs.